Audie Murphy Plays Himself in True Tale of WWII Valor
DIRECTED BY JESSE HIBBS/1955
BLU-RAY STREET DATE: NOVEMBER 30, 2021/KL STUDIO CLASSICS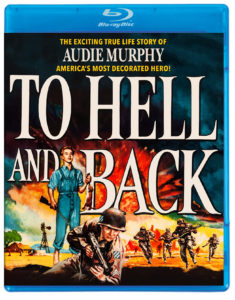 War, we know, is hell. Thankfully, movies about war don't have to be. It's a mighty thin line between depicting heroics amid horrific real-life combat situations and glamorizing the notion of military service.
To Hell and Back, the wartime story of highly decorated Army veteran Audie Murphy who later became a successful Hollywood actor, manages to do it right, even as it can't help but have latent degrees of recruitment propaganda baked into it. It is, after all, a World War II film of the Eisenhower age, when said war, and all the patriotism that went with it, was in the rear-view mirror, but still actively potent. Stories of the war were continuing to be told- and told in very certain ways. In retrospect, it's rather safe to say that the many mid-century clichés of the form took a toll of their own. To Hell and Back, one of the biggest box office triumphs of the 1950s, did what it could to fight back against such clichés and venerations. It's a far from perfect attempt, but it hits its target more often than not.
The combat film genre, despite its subject matter being one of the most cinematic, has toppled in appeal over the years. As explicitly nightmarish realities of the nature of war itself have permeated civilian cultures in past fifty or so years, our collective appetite for stories of bravery and valor on the battlefield in the service of one's own country has dwindled. As our understanding of propaganda, the geo-political landscape, and overall media awareness evolved, so too did a kind of informed and/or cynical rejection of old-fashioned wartime Hollywood patriotism.
Audie Murphy would likely be among the first to sympathize with the reasons for such a rejection. As an actor following the war, Audie Murphy made a decent name for himself starring primarily in Westerns. Prior to that, though, following his outstanding service in the Second World War, fame found Murphy. Over the course of seven major battles, his continued bravery and selflessness in the Army resulted in his becoming the most decorated veteran in U.S. military history. To Hell and Back, based on Murphy's 1949 memoir of the same title (co-written by David "Spec" McClure), is his story- complete with him playing himself.
Murphy, however, was not one to flaunt his achievement. For him, it was his many fellow soldiers who did not make it back that he insisted were the true heroes. According to the new audio commentary by filmmaker/historian Steve Mitchell and author Steven Jay Rubin (Combat Films: American Realism), Murphy was understandably apprehensive about playing himself in a recreation of some of his most traumatic and painful life experiences. For him, the process of writing the book was more than enough. Reportedly, and perhaps jokingly, Murphy suggested his fellow Universal International contract player Tony Curtis for the lead in To Hell and Back.
So why did Murphy do the movie?  According to Mitchell and Rubin, he was also given advisory status over the production which enabled him to not only manage small but enriching details, but to make certain that the film ultimately pays tribute to the fallen Americans.  Director Jesse Hibbs, who'd worked with Murphy previously on the Western Ride Clear of Diablo (1954) and would re-team with him for several others, including Ride a Crooked Trail (1958), guides Murphy's autobiographical ride in and out of combat hell with reasonable fortitude.  To Hell and Back is not a flashy nor pretty movie, but aesthetically utilitarian in terms of its visuals.  Aside from a few obviously degraded process shots throughout, KL Studio Classics' recently released Blu-ray edition does the CinemaScope film justice.
The new Mitchell/Rubin commentary track, aside from the film's trailer and a few others, is the only bonus feature on the KL disc. Considering that To Hell and Back is said to be Universal's most financially successful movie up to that point, and remained so until Jaws came along in 1975, it's somewhat surprising that the studio saw fit to license away its Blu-ray rights- even as it is undeniably a product of its time. Murphy, though, heads up the platoon of character actors (including Marshall Thompson, Charles Drake, Jack Kelly, Paul Picerni, Gregg Palmer, Denver Pyle, and David Janssen) with vulnerable dignity and palpable selflessness. Although Murphy was always a better screen presence than he was an actor (though he was not bad), this is one role he couldn't help having been born to play.
The images used in this review are purely to represent the film itself, and do not at all visually reflect the superior image quality of Kino Lorber's Blu-ray release. Thanks to Kino Lorber for providing this Blu-ray review copy.