DIRECTED BY: François Truffaut/French/1973
Day for Night is screened as part of the Ninth Annual Robert Classic French Film Festival — co-presented by Cinema St. Louis and the Webster University Film Series — celebrating St. Louis' Gallic heritage and France's cinematic legacy. The festival runs through March 26 at Webster's Winifred Moore Auditorium.
François Truffaut's thirteenth feature-length movie in fourteen years is a love letter to his profession. He stars as a film director, Ferrand (le réalisateur), trying to wrangle actors, crew, and animals (on a scale from feline to human) on the set of his latest film, Meet Pamela. We shadow Ferrand/Truffaut through the whole whack-a-mole process, carried by his own ebullient energy, even reveling in the tedium of take after take, the minutia of the day-in-day-out grind, the daily setbacks, the temperamental actors, and on and on. If the premise sounds familiar, it's because, as a subgenre, the "making of a movie" movie can be a dime a dozen, though the trope has generated its share of gems: The Bad and the Beautiful, 8 1/2, The Stunt Man, Living in Oblivion, State and Main, and many others, all of which allow us into the on-set dramas created by the creation of a motion picture. But few besides Day for Night can be said to do it with such a sense of fond whimsy rather than above-it cynicism.
Day for Night is a compendium of the kinds of people you'd find populating the insular, always-short-lived universe of a film set: the earnest technician, the alcoholic aging actor, the young lothario on the make, the seasoned and condescending vet, the starry-eyed newbie. But what makes this film worthy of the foreign language Oscar it received the following year is Truffaut's organization of those types against a non-judgmental background of floating life. There's a kind of rarified sense of the ephemeral passage of time that is central to the tone of most of his films, as if the camera's picking up a transmission from a memory. Things move so breezily that even the most tense moments (that which would be wall-to-wall on a real set) feel like they're being dotingly told from twenty years hence to a biographer.
Deeper, throughout his body of work, Truffaut's movies share a palpable sense of aloneness, no matter the genre – his camera somehow capturing the fleeting moments of life in a way that can ever-so-subtly set a person apart from their immediate environment, nearly but not precisely casting them as a walking emotional anachronism. In Day for Night particularly, you get a real feeling that these people never really belong anywhere they are. There's an unrootedness in his typical characters, who here find their ideal scenario in the temporary trappings of a temporary construct – it's the typical mid-century conceit of alienation, here scaffolded out from Truffaut's own most-loved world – perhaps his own existential crisis writ as close to home as possible so as to at least create a glimmer of meaning beyond the impermanence.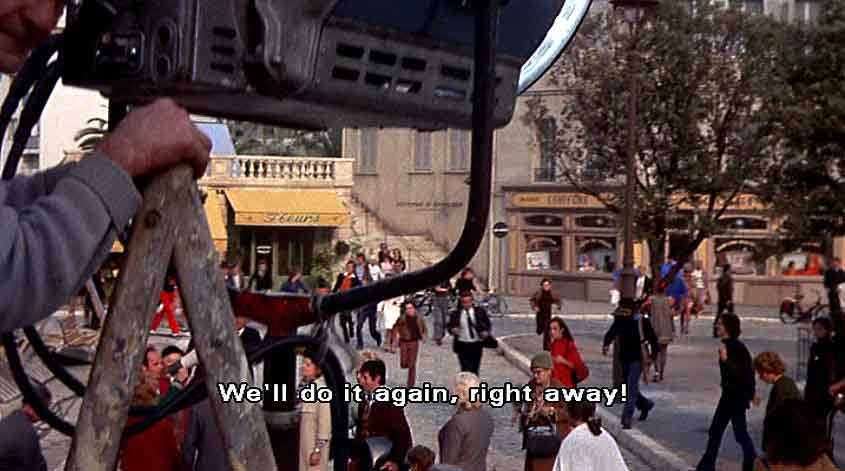 The effect of all of this is to be removed enough that you can enjoy the vignettes anecdotally instead of viscerally. Truffaut's not interested in making the audience think filmmaking is a chore or a regret, but that it's a pure artistic expression and a joy. The single, clearest moment that proves this is a detour into Ferrand's office where he takes a call from Meet Pamela's composer (Day for Night's actual composer, Georges Delerue), who plays a portion of the theme over the phone – meanwhile, Ferrand is opening a package of books he's just received. As the romantic music swells from the phone, we push in close on the books spilling out across the desk, and they're all biographies of great filmmakers: Renoir, Hawks, Hitchcock, Bergman, Buñuel, etc.
It's a single-shot encapsulation of Truffaut's love for movies in general and specifically his respect for the artists who came before him, and all with the added benefit of entrenching our own love for film by way of this man's art. As Ferrand says to despairing Jean-Pierre Léaud (tellingly, Truffaut's alter ego in many of his movies, as if he's giving himself a pep talk): "Tomorrow we work, it's all that matters. No one's life moves smoothly. That only happens in the movies. People like you and me are only happy in our work." One watches the scene and can only begrudge him the fatalism at the core of that statement if it means that he'll continue to make movies as entertaining and life-affirming as this one.