Is Tom Hanks Back in Oscar Form?
Director: PAUL GREENGRASS/2013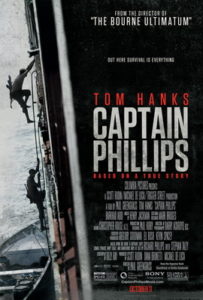 Paul Greengrass (Bourne Supremacy, United 93) directs the story of Captain Richard Phillips, whose ship, the Maersk Alabama, was captured by Somali pirates in April of 2009.  With this being such a recent event, it can be a difficult task for the director to create an atmosphere of suspense that will capture the attention of the audience, who, many times, already know the outcome.
Despite this challenge, Paul Greengrass largely succeeds in crafting a tale that stays true to the spirit of the events that inspired the film, as well as communicating an effective story of survival that keeps us glued to our seats.  Billy Ray (Screenwriter for Hunger Games) is credited with the screenplay based on the book "A Captain's Duty: Somali Pirates, Navy Seals, and Dangerous Days at Sea" by Richard Phillips, and his co-writer Stephan Taity.
As a side note, some of the actual crew of the Alabama are currently suing Captain Richard Phillips in court claiming that he was to blame for steering the ship into pirate infested water despite receiving warnings to sail further out to sea. The film itself seeks to separate itself from the controversy brewing in court and simply tell a story where a man captured by pirates is simply seeking to survive.
What the screenplay of Billy Ray, and the direction of Paul Greengrass, gets right is that they have created a very complex situation and reduced it to its bare elements.  By doing so, we get a straightforward story that is accessible to everyone, yet allows for the danger inherent to the events themselves, to drive the narrative forward.
In this way, I believe Captain Phillips is much like Gravity, which is enjoying great success largely because the director, Alfonso Cuaron, was able to cut the superfluous excesses of the story and pare it down to its bare essential elements and themes of survival.  This has allowed the human emotions of those enduring such moments to be displayed in a way that compels you to empathize with their plight and be drawn into the story itself. This is what Paul Greengrass has also done with Captain Phillips.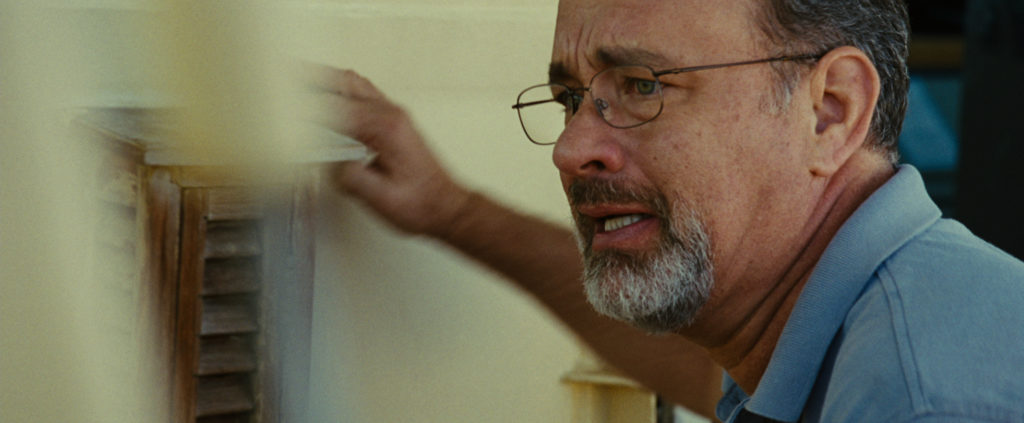 Good actors can subtly convey a whole range of emotion, especially in tight spaces.  When you are looking for someone to demonstrate the full range of emotions that are present in this story, and put them in a small space, you can really find no better actor than Tom Hanks.  Despite having found himself in a tight space in Apollo 13, the life boat of the Alabama actually felt smaller to me than the Apollo rocket.
In many ways, I feel that this is Tom Hanks' return to the Oscar-winning level he displayed in films such as Forrest Gump and Philadelphia.  I don't mean to suggest his performance here rises to the artistic level of those two films (it does not), but it is able to pull you into the story and convince you that what we are seeing is in fact real, even if they are being disputed in court.
The crew who are angry at the way they are being portrayed in the film might have some reason to complain.  This film is solely about the captain.  While the crew are given some good action sequences in which they are shown to be trying to deal with the hijacking in a heroic fashion, the camera really stays on Captain Phillips' perspective, and doesn't provide enough of the crew's narrative.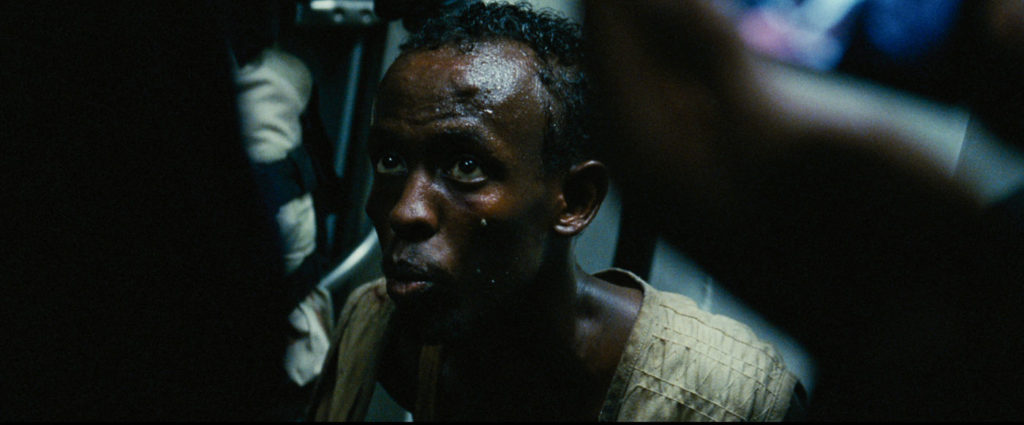 The real win for this film, and a credit to the casting directors, is how well those individuals did playing the Somali pirates despite having had no acting experience at all, much less being in such a big-budgeted story like Captain Phillips.  Barkhad Abdi, who plays the leader of the small band of pirates named Muse, is able to match the intensity of Hanks' Captain Phillips and also provide some depth to his character so as to escape being a two-dimensional "bad guy" that this movie could have easily had.
Greengrass doesn't seem to really want to make this a purely "us against them" type of film, but instead lets us see who these pirates are in their village, and why many are so easily manipulated into "serving" as pirates on behalf of the warlords in their country.  This background view of these people from Somalia, prior to their crossing paths with the Maersk Alabama, helps complicate the tension that is present once the hijacking commences.  You mind find yourself identifying with the captors' plight as much as that of Captain Phillips' and the crew of the ship.  This is especially true, when the Navy Seals get involved.
Captain Phillips is a really strong film that I believe will pack a one-two punch at the box office alongside Gravity. Captain Phillips, while not as compelling as Gravity overall, will draw you in  and keep your interest from waning.  And while there will surely be talk of Oscar nominations for Tom Hanks (because he is both really good in this film, and for no other reason than he is Tom Hanks), the real justice would be a nomination for Barkhad Abdi, especially given the level of performance he exudes in the face of literally no experience acting.
Hollywood is often ridiculed for having so few original thoughts these days in light of all the sequels being green lit, and reboots being done. Yet, I think that Captain Phillips shows us all that there are plenty of events happening all around us that celebrate the human spirit, and provide for a compelling story for filmmakers to tell.  This is one of them.