Baz Luhrmann and Tom Hanks Make Elvis' Latest Comeback Special
DIRECTED BY BAZ LUHRMANN/2022
As you may've heard, Elvis has left the building. Not only that, he's left the planet, the universe, and yes, this mortal coil. But ironically, outside of his military service, he never left the country. By the end, the King had a whole kingdom that was seemingly cast in his image well before he ever arrived. Las Vegas, in retrospect, had to have been done up as it was (and is) as a harbinger of sequined jumpsuited Elvis' famed years-long late-career residency at the International Hotel. His immaculate arrival there was imminently foretold in its very design, it's very insularity. At least, that's the mythically tinged lens through which Baz Luhrmann would have us see it. Mythmaking. Always with the mythmaking.
Some may say that Luhrmann's caught in a trap he can't walk out of, that he can't help falling in love with whatever grandiose classic myths he can graft onto his projects, or vice versa. That's not a criticism per se; he has demonstrated in films such as Strictly Ballroom and Moulin Rouge! that he does this quite well, sometimes achieving the timeless hipness he aspires to. Here we witness a Memphis-baked Faustian tale of young Elvis Aron Presley (Austin Butler) lured into the vampiric clutches of devious entertainment promoter Colonel Tom Parker (Tom Hanks). The Elvis story, already told time and time again, ultimately benefits from the treatment- though not altogether smoothly.
Insofar as Elvis movies go, Luhrmann's is the biggest, longest anomaly in that particular camp. It's a loudly layered, bigly ambitious clambake about a singularly consummate entertainer who made it big shattering taboos and was subsequently made to play it safe from then on. Elvis' commitment to the telling of the performer's real-life story completely nullifies any chance of the old "boy gets girl/boy loses girl/boy gets girl back again" formula. Here we have an overt spiritual tragedy of the kitschiest order. And also, the latest rock star biopic to come tumbling down from Mt. Olympus. The telling of the familiar tale is all beginning and end with no middle, reducing the afore-mentioned "Elvis movie" phase to a busy montage. And did Elvis really hijack his own 1968 comeback special? The drug problem that killed him is glazed over in favor of a wholly depressive fate, capped slyly with a downright evil explanation by Col. Parker's narration.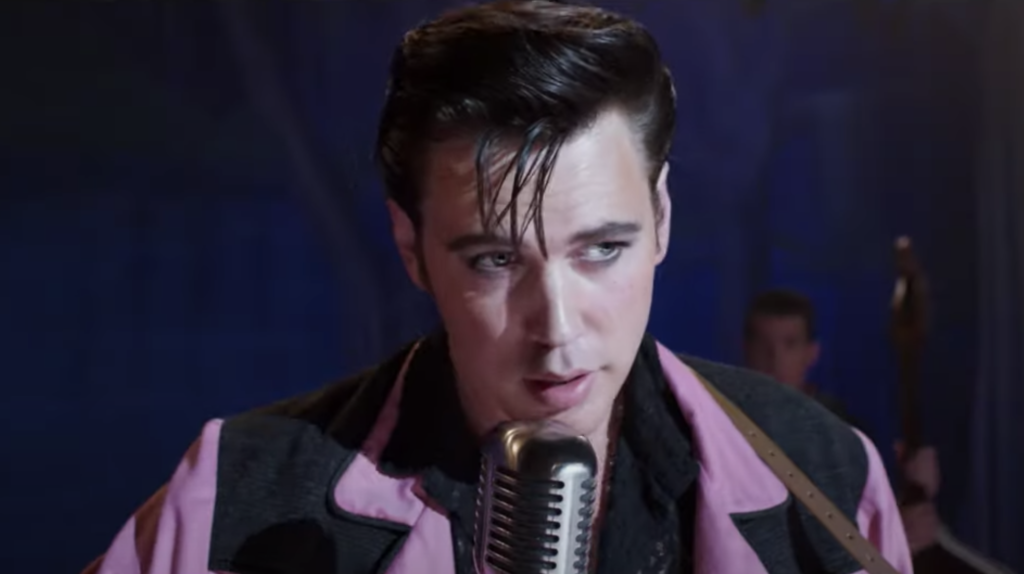 While Butler gives it his extraordinary all playing The King at length both during the beginning and twilight phases of his career, Luhrmann (with his spouse and professional partner Catherine Martin) look on enthusiastically, rolling their ever-expanding rock of a film forward.  He wants to address the racial factor in Elvis' music and influence; he wants to tell the story truthfully but as only he can tell it, and he wants us to feel every bit of it like he does.  At times, it stings of an artist who's too willingly susceptible to every influence he comes across.  (Is the reoccurring refrain of Elvis' boyhood fascination with Captain Marvel comics and their "Rock of Eternity" really necessary?  More to the point, the statement being made about Elvis having been a real-life superhero, so take that, MCU!! probably could've stayed on its particular dime store spinner rack).  
But, it's all brought forth in the name of beauty. Baz can't help falling in love with everything. And doggonit, neither can we. If one doesn't count Luhrmann's impressive work directing the debut episode of Netflix's The Get Down, Elvis is his best work in a very long time. Granted, one needs to go back to The Great Gatsby for even the previous theatrical outing.
Kinda weirdly, Baz's great love extends to even the historically villainous, devilishly manipulative Col. Tom Parker. Casting Hanks in this part played this way is by far Elvis' biggest gamble. It absolutely will hold people out if this film on a very surface level, but the casting does bear a logic: If Satan comes to us as the beautiful son of the morning, then it's only apropos that Elvis' notorious manager comes to us as America's Dad.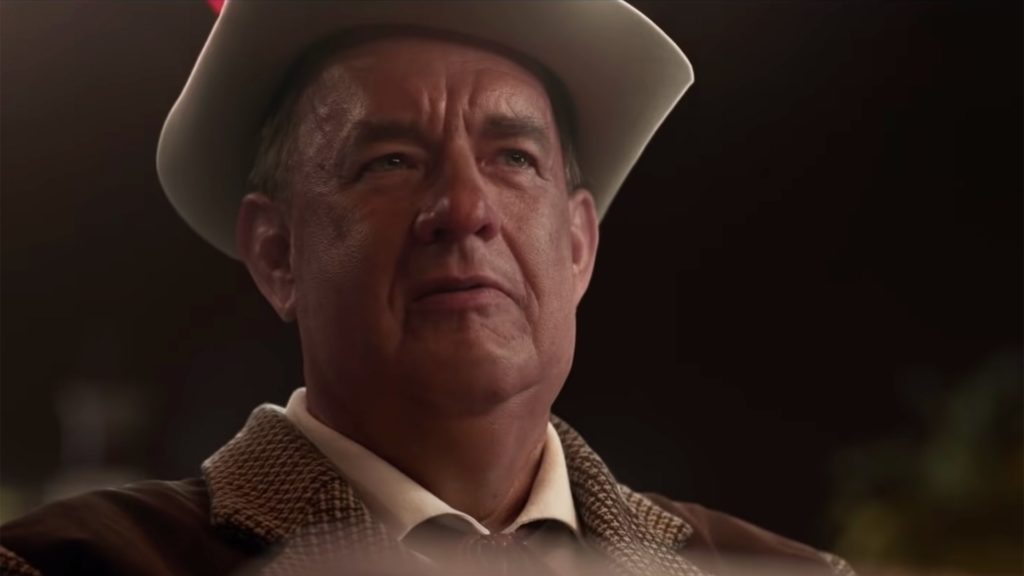 In any case, it's tempting to say that Hanks here is overpowering the sheer oddity of his performance in Joel and Ethan Coen's The Ladykillers. He's honestly more in David S. Pumpkins territory. Wild eyed, fat-suited, bald and hobbly, and Dutch accented as to trigger xenophobia, Parker is our serpentine narrator, coming and going throughout the story as needed. Hanks stops just short of swiping the movie from the earnest (and rightly top billed) Butler. Famously, Hanks was in Australia shooting this when he and his wife came down with COVID during the earliest weeks of the pandemic. That's right, Australia- a place where Elvis never set foot, but where Luhrmann lives. That's a loooong way from Vegas, but it's apparently where they filmed Elvis. It's enough to make one wonder just how much of a visual effects picture this is. Vintage Beale Street does look awfully good…
The bumps (and grinds) on this very particular speedway are the direct result of the largeness and grandiosity that Luhrmann can't not infuse. It's a grand film, though one wrought with ego. Luhrmann somehow claims multiple screenplay credits (!) and in the overall, positions himself above the star of Tom Hanks; even above even the star of Presley). With its velvet textures and sequins and rhinestones and creative musical usage and whatnot, Elvis might as well be part four of the director's "Red Curtain Trilogy".
In short, (and it's two hours and thirty-nine minutes short, to be exact), many will stroll into Elvis looking for a typical musical biopic about Elvis. What they will instead get is a Baz Luhrmann! movie. There's no sense in accusing the auteur of goofin' on Elvis; Luhrmann is incapable of goofing on anything. Not when it can all be taken and celebrated.