Italian Documentary Finds Itself in the Swing of Things
DIRECTED BY MAURO RUSSO ROUGE/ITALIAN/2021
BLU-RAY STREET DATE: SEPTEMBER 13, 2022/KINO LORBER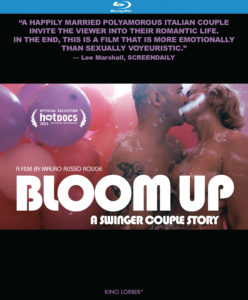 If "Bloom Up" fails to register as any kind of apt descriptor for Mauro Russo Rouge's new documentary film, the title's extended portion makes it entirely clear. Bloom Up is, if absolutely nothing else, an intimate venture into the day-to-day functioning of a swinger couple.
We gather that the bulk of Bloom Up was shot circa 2018- a world-gone-by of the "before times". Elisabetta Barbero and Hermes Osnato are a devoted couple who spend their days together managing some sort of pet supply business in Italy. Although rather obviously middle aged, Elisabetta and Hermes have managed to maintain a certain flirty charisma, she with her perpetually twinkling eyes and he with his Vin Diesel-esque veneer. When they're not seeing to the mundane shelves of dog food and cat food and customers, they're planning their next swinger's party. Who should be invited? Who might make for good combinations? Where should it be?
The appeal of a film like Bloom Up is essentially its promise to satisfy some collective curiosity on behalf of outsiders to the lifestyle in question. Practicing swingers would likely have little use for or even patience with Bloom Up, as it seems entirely interested in explaining how a committed couple can live a life of swinging. Meanwhile, everyone else in the world is wondering things like "What's it like, to actively pursue being with others, together?" Or, "What are these 'parties' actually like?". Rouge's film, defaulting to a fly-on-the-wall approach (albeit occasionally with the filmmaker's voice), has answers for these and other such questions.
We learn how Elisabetta and Hermes have their "vertical friends" and their "horizontal friends", and never the two groups should mix. Bloom Up isn't interested in the "vertical friends". As far as the always anonymous "horizontal friends" go, it keeps their humanity very distant, just as Elisabetta and Hermes tell us that they also must. The need to fully perceive the other swingers as only for lovemaking, they admit, doesn't sound good today. But there it is. That's merely one of the least surprising aspects of the experience of Bloom Up.
I doubt it's actually the case, but so much of Bloom Up comes off simply as a glorified attempt to infiltrate this closed, hush-hush culture, camera running. Rouge works hard to protect the identities of everyone but our central couple… leaving only their anonymous sweaty, exposed flesh, often unflatteringly grinding away. Between the raw depictions of the many sex party sequences and their roughly every-fifteen-minutes frequency, Bloom Up ends up feeling a lot more prurient than advertised. While any "inside look" docs come with a degree of expected filmmaking voyeurism (some would argue that this is true of all of cinema), this feels different. And not in a good way.
Following its brief theatrical outing, Kino Lorber has released Bloom Up to Blu-ray. Although this particular film practically demands follow-up bonus features as well as perhaps some additional filmmaker insight, there is nothing but a trailer. The image is plenty apt, maintaining an ethereal RED camera-esque look. The party scenes tend to be very dark with large pink balloons providing color and kick. As more and more Caucasian flesh asserts its way into these frames, the atmosphere grows as weirdly ominous as it is intended to be festive.
Another common questions that non-swingers have is, what happens when feelings develop for other "horizontal friends"? It gets to the heart of the age-old conundrum about the feasibility of separating sex and love. Bloom Upeventually stumbles into addressing this question. In the final twenty-ish minutes of the film, Rouge breaks his verité style to sit down with Elisabetta and Hermes several years later for what seems to be a "post-pandemic epilogue". The formal interview is actually a very much needed bit of narrative closure, harkening back to unexplained opening footage from the same interview of a weepy Elisabetta. This closing chat is where the feelings come in, and the consequences become real. Although it has the feeling of something that Rouge came to realize he needed once the rest of Bloom Up was edited. Without it, the movie really would be a glorified series of pervy voyeuristic sequences separated with scenes from a pet food facility.
Even with the newer closure footage, Bloom Up doesn't always sprout in the direction that it intends. It becomes apparent rather quickly that this couple story ought to lean on more than said couple for its story. Bloom Up comes from a bold place, and with astonishing access. For a story that's ostensibly about freedom, though, it just can't swing when it's just one couple.