Filmmaker Nina Menkes steps up to give a Vital talk on Women on film.
DIRECTED BY NINA MENKES/2022
BLU-RAY STREET DATE: JANUARY 24, 2023/KINO LORBER
As this review is being completed, legacy sex symbols of the cinema Raquel Welch and Stella Stevens died within days of one another. Social media has been overflowing with sexy stills of each in their respective heydays. For the most part, this is the world acknowledging these actresses via the personas they forged, and quite successfully. All the while, however, the bigger truth of such success being the product of "a man's world" lingers.
No one's saying that it's bad to film women in such a way to honor their attractive qualities. What Nina Menkes is saying in the new documentary Brainwashed: Sex-Camera-Power is that we've long ago collectively come to accept that attractive women should be filmed in very particular ways. There's the fragmented and focused-upon choice body parts, prolonged gaze upon provocatively posed actresses, and of course the leering classic toes-to-head full body pan. Truly, no one is immune to the dominant influence of visual media, not even a respected female director such as Sofia Coppola, who infamously opened the great Lost in Translation with an extended shot of a relaxed Scarlett Johansson's derrière in threadbare panties.
That's just one of the many, many examples of casual female objectification that's so common in all visual media. Menkes, who not only wrote and directed Brainwashed, but is also its central personality, dips into the past with choice from films like the Marilyn Monroe vehicle River of No Return (1954) and Alfred Hitchcock's acclaimed Vertigo (1958)- a deconstructionist "male gaze" film if there ever was one. More recent examples hail from the acclaimed Jennifer Lopez starrer Hustlers (2019) and Quentin Tarantino's Once Upon a Time… in Hollywood (2019). Interspersed are interview segments with several experts on this pervasive yet under-discussed subject. Among them are actresses Rosanna Arquette and Charlynn Yi, directors Julie Dash, Catherine Hardwicke, Penelope Spheeris, and Eliza Hittman, and feminist film theorist Laura Mulvey.
Menkes, an experimental filmmaker in her own right, recently became the subject of her own career-encompassing anthology Blu-ray release (titled "Cinematic Sorceress: The Films of Nina Menkes") courtesy of the small label, Arbelos. Coupled with the well-received Brainwashed, this certainly seems to be a great moment for her. She is absolutely committed to getting the message of Brainwashed out there, which is fully justified, considering her central triangular thesis that long-standing female objectification via the visual language of cinema leads to employment discrimination against women which gives way to sexual abuse/assault. From there, the triangular pattern perpetuates from all its corners. Prior to the film, this has been the thesis for an in-person talk that she gave.
In fact, for better or for worse, the film is the in-person talk, albeit expanded and enriched with the clips and external interview bits. Menkes' presentation is the central core of Brainwashed, recorded in front of a live audience in the CalArts Walt Disney Modular Theater. Getting that particular access probably wasn't as challenging as one might imagine, considering that the documentary is executive produced by activist/filmmaker Abigail Disney, Tim Disney, and Susan Disney Lord, all of whom are indeed descendants of the original Disney hierarchy.
For the film's limited theatrical run in late fall of 2022, Kino Lorber gave Brainwashed as strong of a promotional push as it's ever given anything. The label's strong commitment to the film continues to be evident with the subsequent Blu-ray release. On it, we get several video bonus features and an audio commentary with director Nina Menkes and editor Cecily Rhett. Menkes shares tons of details, opinions, and further findings here, also letting us know that many of the directors whose work is represented in Brainwashed flatly declined the offer to give their side of things.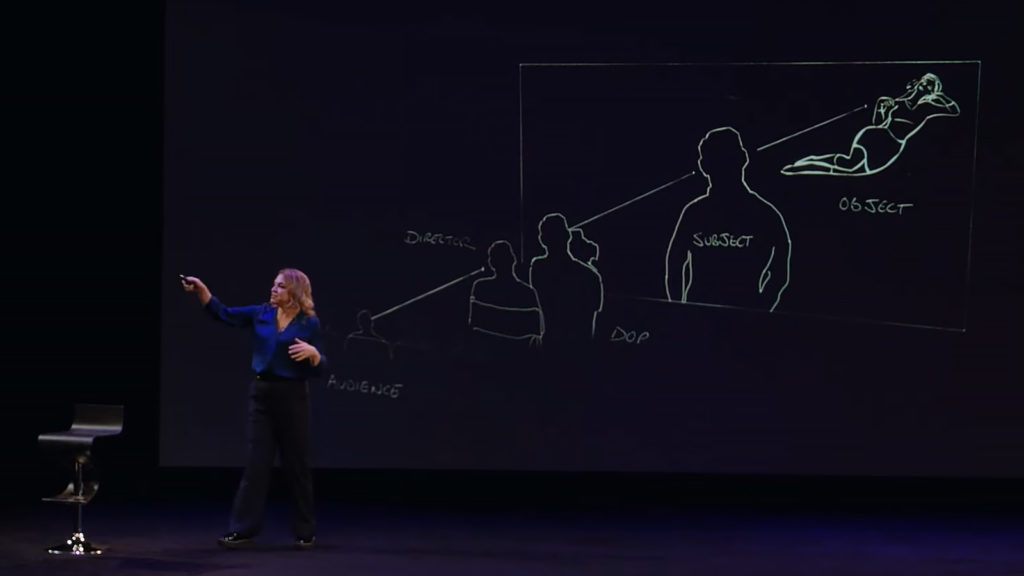 There are two featurettes centered on the film's original score by Sharon Farber. The menu claims it to be "Isolated Excerpts of the Score", although these score segments are not isolated. Rather, they are simply as heard in the mix of the finished film, along with all narration and other sound effects that accompany them in the film itself. That makes this a rather head-scratching extra. There is, however, a separate extra in which composer Farber discusses her appropriately Vertigo-esque score. A more extensive video extra is an in-person Q&A with Nina Menkes and producer Maria Giese courtesy of DCTV, moderated by film critic Violet Luca. Also, there's the film's theatrical trailer.
The central key to the successful reception of Brainwashed is that Menkes knows how to criticize specific examples without villainizing. That goes for the many directors whose work is called out as perpetuating damage, and especially the actresses made to be on display. As a straight male watching Brainwashed, it's not always easy to see Menkes' points landing so effectively. There's a temptation to scurry for any shred of viable opposition that could lobbed back at her. But now is not the time, and while watching Brainwashed is not the place.
A fair criticism of the endeavor might be to posit the dominance of traditional gender role perceptions. Perhaps that's a different talk. As someone who's spent decades studying visual language, it's fair for me to say that most of the points she makes have been around a while. Clearly, though, per the recency of many of the examples utilized, a whole lot of our brains could use a good washing, with soap. That goes for men and women, young and old. But probably especially men.