"Is Madness The Highest Form Of Intelligence?"
Street Date: July 9, 2019 / Icarus Films Home Video / English Subtitles
I'll start this review with a story… I love art, art history, curating a gallery wall and creating art. I am not a trained artist, this is something I discovered after school and college years. Six years ago I came across a DVD called Make about American Outsider artists and I was instantly drawn to their irresistible needs to create. These are artists that live with physical and mental impairments, sometimes they have visions from God and often they are institutionalized. They have not been classically trained in classes or schools but their art speaks volumes of truth about life, struggle, hope and despair. One of the artist in the documentary is named Judith Scott, she was a twin, born with Down Syndrome, deaf and mute and she was institutionalized most of her life. When her twin sister Joyce took her out of the institution she enrolled her in a creative studio space in Oakland California and Judith started making mixed media fiber sculptures. For the first time in her life she had a voice, a way to communicate what was important to her. Some of her first sculptures were bundles of sticks bound together that looked similar, they represented her love for her sister! Judith died in 2005 but her artwork lives on, she made around 200 sculptures and they are in museums all over the world.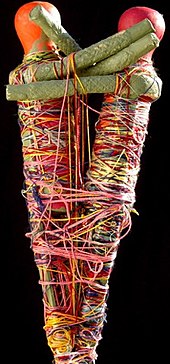 My own artwork has been greatly affected by Outsider Artists and specifically by Judy. Over those years I had hoped that I would be able to see her work and then in 2015 on a trip to see my brother William in Switzerland, he took me to the Collection de l'Art Brut in Lausanne. He knew how much I loved Judith's work and in that beautiful museum they had two of her sculptures. That day meant the world to me! There were countless works by artists that I had studies over the years in that museum. Artists that had never been trained, their self-referencing art was deeply personal and did not need spectators. It was as if I had been given permission to walk through someone's journal and see their most private hopes and fears. I tell you ALL of this because the amazing documentary Eternity Has No Door Of Escape is the story of this art movement in France, Germany and Switzerland where it is called Art Brut. And the museum that I walked through that wonderful day is the collection of Jean Dubuffet who is featured in the DVD. Many of the pieces of artwork that the DVD shows I've stared at with my own two eyeballs! Watching this documentary felt like looking through a old photo album with pictures of friends and memories of loved ones. It brought back the memories of a glorious day in Lausanne. So that's my story, thank you for listening, let's move on with the review of this beautiful work!
"Such works are untouched by cultural traditions, the result is artistic creation of a much higher intensity."

Hans Prinzhorn
In Eternity Has No Door Of Escape director Arthur Borgnis gives us a timeline for the discovery of Art Brut. Through wonderful interviews with curators, collectors, museum directors and art historians we see the Art Brut movement go from experimental to being ridiculed by the Nazi Party to current day where it's exhibited in fine art museums all over the world. I say discovery because the Art Brut movement was not a response to the art that proceeded it. It wasn't evolving off of Dadaism or impressionism. No one wanted this art because it was made by people in asylums. In the documentary you are introduced to some of the people that went into the asylums and institutions, witnessed the work being made and the way it contributed to the artist's total health and they prized that artwork. They saw the honesty in the artwork and they cared for the artists. "The mentally ill bear witness to our common human condition, thy contribute to the revelation of what we all are!" Through the work and collecting of Hans Prinzhorn, Jean Dubuffet and Harald Szeemann the Art Brut movement was created and had a major effect on the avant guard artist like Pablo Picasso, Paul Klee and Max Ernst. So who knows what treasures went unnoticed in the decades and centuries before Dr. Prinzhorn went into the Heidelberg Psyciatric Hospital. What priceless artwork was discarded or thrown out because it was made by a "mad man"?
August Natterer

Henry Darger

Marguerite Sirvins

Petit Pierre's Merry-Go-Round
Borgnis introduces us to some of the artists in the Art Brut movement. He starts with August Natterer, discovered by Dr. Prinzhorn in 1907. He was an engineer who lost his job, was left penniless and became suicidal. He was institutionalized and began spending his time drawing detailed landscapes that were also human silhouettes. Augustin Lesage was the most famous of the Art Brut artists that focused on Spiritism. He worked with a never ending canvas and his work is highly detailed. He felt as if he was "directed by voices and by God" and while he would draw he would enter into a state of limited consciousness. Jean Dubuffet discovered Adolf Wölfli in an institution in Switzerland. His mother died when he was young and he was abandoned by his father. Adolf was left to wander from farm to farm looking for work. He was imprisoned for rape in 1890 and after more incidents where he tried to harm himself and other prisoners he was moved to an institution where he started writing his fictional biography. He wrote over 25,000 pages of text and included over 3000 drawings. "His work allowed him to create a new identity for himself." These are just a few of the artist you will meet in Eternity Has No Door Of Escape. Unlike trained artists who are copying past artists and building on previous styles, these men and women are pulling artistic inspiration totally from themselves. They have resisted cultural conditioning and are following primal urges to create something raw and real!
Eternity Has No Door Of Escape is a fascinating look at the history of Art Brut and the way it has influenced artist and psychiatric care all over the world. In the DVD extras there are additional interview clips with curators and art historians. These provide more information about Art Brut and the artists. There is also an interview with Lisa Maurer who talks about the artist Laure Pigeon who started drawing at the age of 55. The entire DVD is in english subtitles which does make looking at the actual artwork a little difficult (if you are only an english speaker), but that's what the rewind and pause button are for. This DVD is now available in the US through Icarus Films Home Video, and this art lover and film enthusiast gives it two thumbs up!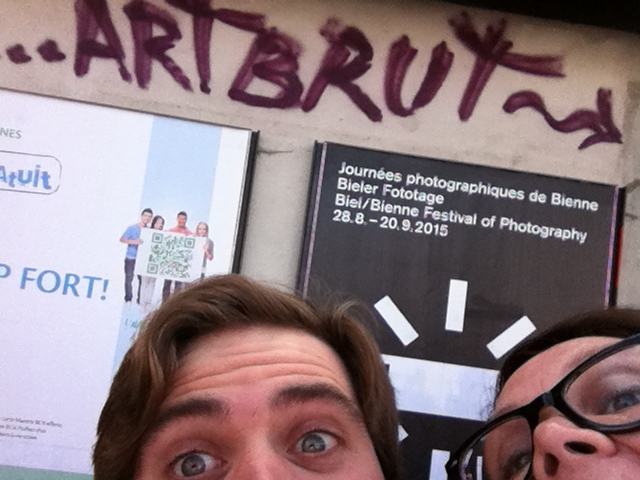 My brother William and I at the Collection de l'Art Brut in Lausanne Switzerland.