DIRECTED BY: MIMI LEDER/2018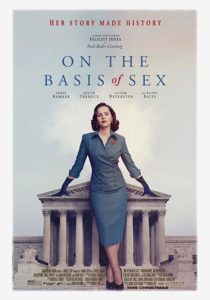 Daniel Stiepleman, who was the screenwriter for the new Ruth Bader Ginsburg-based film, On the Basis of Sex, had a unique perspective that informed his script. He is actually Ruth Bader Ginsburg's nephew. Daniel has given interviews where he recounts how she would give him a copy of the U.S. Constitution for Hanukkah each year, or how she was notoriously a bad cook while her husband Martin was the true chef of the family. At his Uncle Martin's funeral, he heard the story of the 1972 legal case, Charles E. Moritz v. Commissioner of Internal Revenue, which was the only case where Ruth and Martin worked together as attorneys, and Daniel decided that should be a movie. When he asked his Supreme Court Justice aunt for her blessing, she famously said "Well, if that's how you think you'd like to spend your time". It was, and The Basis of Sex became the second 2018 release featuring Ruth Bader Ginsburg, following the documentary RBG.
While RBG is the better film by miles, documenting Ruth's extremely structured daily routine and exercise regiments, while delving into her long marriage with Martin and her struggle to fight for equal rights for women, On the Basis of Sex encapsulates it all in an inspiring tale based on true events. Felicity Jones (Rogue One: A Star Wars Story, The Theory of Everything) steps into Ruth Bader Ginsburg's tiny, but determined shoes, and demonstrates just how tenacious and formidable the future Supreme Court Justice was, even early on. Playing Martin, a tax attorney, is Armie Hammer (The Social Network, Call Me by Your Name).
On the Basis of Sex documents Ruth's time as one of the first female students at Harvard's Law School. Despite being welcomed in by Dean Erwin Griswold (Sam Waterston-Law & Order, The Killing Fields), she finds that Griswold, and most of her professors, clearly feel that the legal profession is, and should always remain, a man's domain. This is clearly seen as assumed gender roles are reinforced as she attempts to attend school, raise a child, and care for Martin who is recovering from two operations and radiation therapy to treat testicular cancer. This included her having to do her school work, but also type his, as he dictated to her from the couch. We see her also running from her classes to his, where she would take notes to bring home for him to study. Despite this inspiring heroism, most of those around her don't know why she isn't dropping out of school to care for her husband and family.
After Martin, who was a couple of years ahead of her in school, graduates Harvard Law School, he takes job at a law firm in New York City. With the move, Ruth is determined to continue to finish her classes. Griswold, however, won't allow it, leading her to transfer to Columbia School of Law where she is tied for first in her class. Despite all of this, she can only take a job teaching at Rutgers Law School, due to gender politics keeping her out of the prestigious positions she applies for, with the full support of her Columbia Law School professors. Eventually, she seeks to take on a gender-discrimination suit from Charles Moritz (Chris Mulkey-Captain Phillips), bringing it to the ACLU, that becomes a landmark case for gender rights.
As On the Basis of Sex shows, Ruth Bader Ginsburg did not just provide a brilliant academic mind to her case, but was equally as shrewd in her strategy. Charles Mortiz case was a strategic one as Ginsburg saw that the courts would be more willing to open up rights for all groups, including her cause of women, if she could show how the law also affected men. Mr. Moritz was being accused of fraud for trying to take the caregiver deduction as he was a single man who was working, and who was paying a nurse to help his ailing mother who lived with him. While a single woman could take such a deduction for home care, the assumption was that this was acceptable because she wasn't working. A man, however, was most likely working, and therefore couldn't take the deduction. Mr. Moritz who attempted to do so, was being accused of tax fraud. Ruth saw an opportunity to look at the law being unequal "on the basis of sex", arguing that the law should extend to anyone for whom it applies, and not just reinforcing whatever societal norm informs it. Given that this was a tax issue, she was able to get Martin involved to bolster the case, but as we see in the film, it is her impassioned argument that sways the three male judges of the 10th Circuit.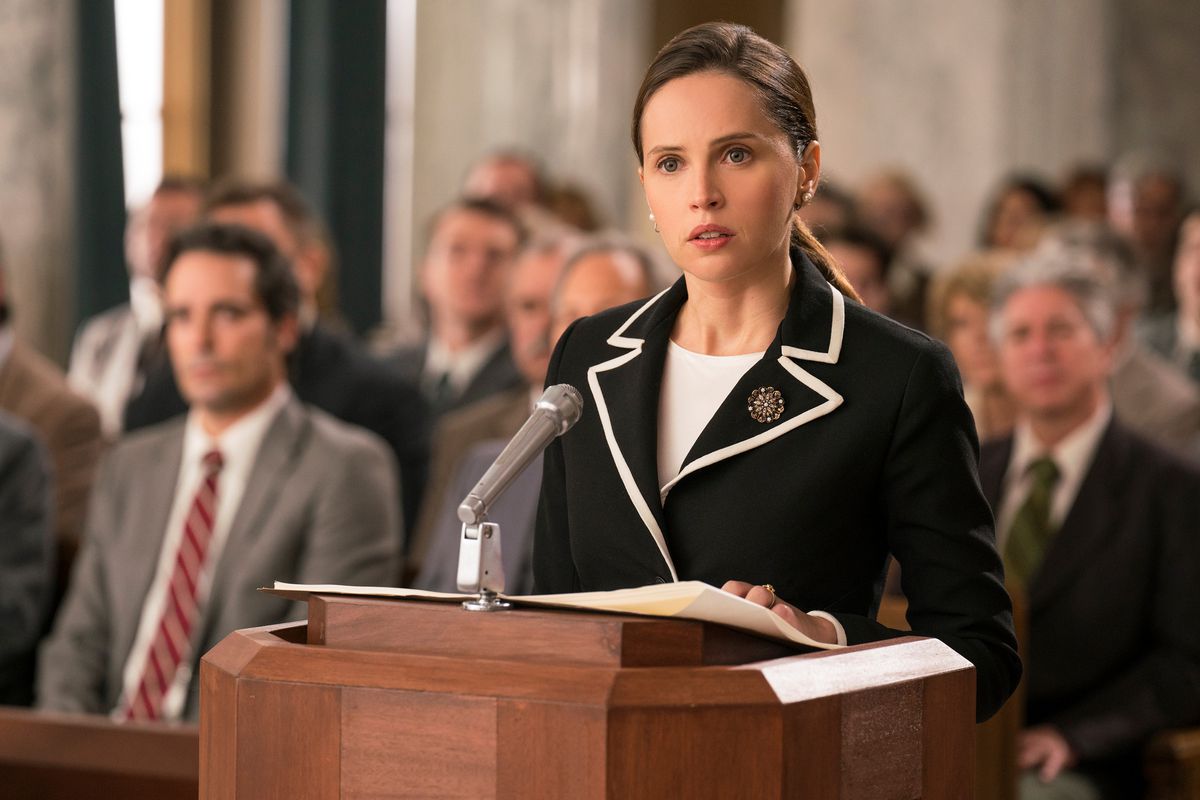 While this case is the focus of the film, the real heart of the story is the marriage between Ruth and Martin. Daniel Stiepleman always looked up to his aunt and uncle's relationship as a model for his own, and this, not the legal drama lying underneath, is what makes On the Basis of Sex a film worth seeing. For those who might see Ginsburg as a extreme feminist, their marriage serves notice that while it was radical for the time in the early 1960's, it was a healthy balance of two people sharing equally in every aspect of life. Ruth is seen cooking a meal early on for her family, an expected female role at that time, but she creates a dish that is practically inedible. Martin, who is a gourmet level cook, takes over that role, which frees his wife up to handle other aspects of their life at home.
Both Ruth and Martin share equally in the "roles" of raising their children, and we see that what may have looked radical at the time, was actually not an attempt to redefine a cultural institution as much as it was to find balance between two equally gifted individuals sharing a life together. This is the philosophy that informed her marriage, and it was the one that informed her legal focus. Her desire to lift women up wasn't to be at the expense of men, by limiting their rights in order to help women have more. She simply believed that the opportunity provided to men by the law should continue to be provided, but should include women as well. If the legal words themselves do not discriminate "on the basis of sex", why should the cultural norms of the day that do trump the very laws that does not?
On the Basis of Sex is not an award contending film, but it is an inspiring one rooted in a love relationship between two people fully committed to each other and their family. Both Ruth and Martin Ginsburg spent their lives committed to serving those around them, and if anything, that heart comes out through the strong portrayals in this film, particularly by Felicity Jones and Armie Hammer. Daniel Stiepleman has obviously written On the Basis of Sex as a love letter to his aunt and uncle. While it may take some liberties with the facts of the case, he has gotten the support of the one opinion that matters most: the "Notorious-RBG" herself, Aunt Ruth.