Toff Guys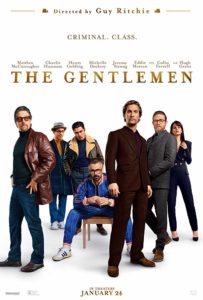 Directed by Guy Ritchie
Starring Matthew McConaughey, Charlie Hunnam, Hugh Grant
Rated R
Released January 24th, 2020
When The Gentlemen started, I couldn't have predicted that I would hear both "Shimmy Shimmy Ya" by Ol' Dirty Bastard and "In Every Dream Home A Heartache" by Roxy Music during the film, but I tip my hat to Guy Ritchie for making it happen. We don't hear ODB, as "Shimmy Shimmy Ya" is a version performed by El Michels Affair during a foot chase scene, but it's the studio version of the Roxy Music song we hear, during a scene centering on young people doing drugs. It's revealed that these young people are listening to the song in the film, as evidenced when someone shuts off their Hi-Fi and the song goes silent. The heavys who shut the stereo off must have been Roxy fans, because moments earlier when busting through the door of these young stoned people's flat, they did so at the exact moment the song goes from a contemplative vibe to a loud guitar section. This is one of the many small details in The Gentlemen that made me appreciate writer/director Guy Ritchie getting back to what he does best: the British crime caper.
Mickey (Matthew McConaughey) and Rosalind (Michelle Dockery) want to sell their marijauana empire to Mattew (Jeremy Strong) for four hundred million dollars. But of course there are complications. Mickey's right hand man Raymond (Charlie Hunnam) is approached by private investigator Fletcher (Hugh Grant), who has all sorts of dirt on their operation and wants twenty million to keep quiet. The fun of The Gentlemen is watching the story unfold, so I won't summarize more of the plot here.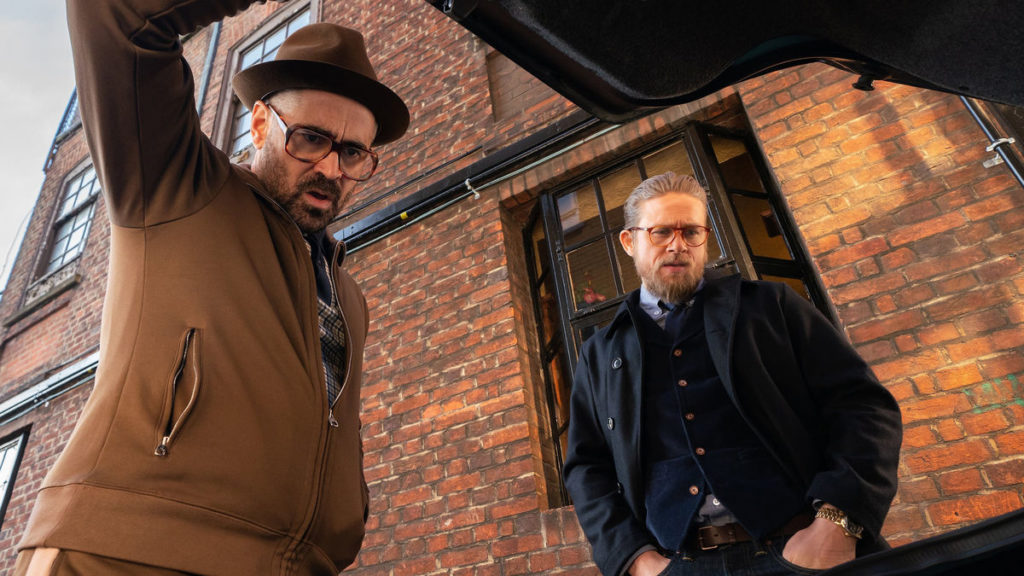 As is expected in a Guy Ritchie film, the cast is having a ball. Eddie Marsan is aces, Henry Golding is once again referred to as James Bond (just like in Last Christmas!), and Colin Farrell wears a tracksuit for the ages. But it's Hugh Grant who turns in the best performance, building on his already legendary work in the modern classic Paddington 2. If you think that is a joke, you have not seen Paddington 2.
Guy Ritchie has had an interesting career, with small films that are loved (Lock, Stock, and Two Smoking Barrels, Snatch), giant franchise films people dug (Sherlock Holmes, Sherlock Holmes: A Game of Shadows), films that are tolerated (Revolver, RockNRolla), films that are hated (Swept Away, King Arthur: Legend of the Sword), and a film that was a box office failure that went on to become such a cult favorite that the internet would really like for it to have a sequel (The Man From U.N.C.L.E.). After helping Disney make more than a billion dollars last year with his live-action adaptation of Aladdin, Ritchie is back to his comfort zone of well-dressed beer drinking criminals who are mostly in over their heads. Let's hope he never stops making movies like The Gentlemen, because nobody does it better.