Dylan McDermott Takes the Lead in Screwy Crime Comedy
DIRECTED BY JOHN LAFIA/1988
BLU-RAY STREET DATE: OCTOBER 11, 2022/KL STUDIO CLASSICS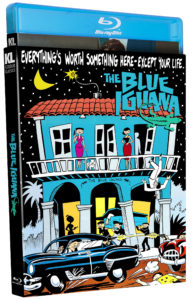 Emerging from between the cracks of the cinematically questionable late 1980s onto a barebones Blu-ray edition is director/writer John Lafia's The Blue Iguana. Supposedly one of those revered cult hits that the rest of us have never heard of, the film lands as a semi-effective snappy comedy. Vaguely chasing of-the-moment targets like Miami Vice and Imelda Marcos while trying to run an overall spoof on "the classic movie detective" (and the more classic movies I see, the more I'm convinced that "the classic movie detective" might've never existed in as pure a form as parodies like this would have us believe), The Blue Iguana becomes first and foremost tangled in its own nonsense.
As soulless as The Blue Iguana (named for the big stucco hotel around which everything revolves) is, it's little wonder that it's fallen into obscurity.  (Seriously- I was tracking new movies pretty closely by 1988, when this came out.  No recollection of The Blue Iguana's existence whatsoever).  The plot, in which the I.R.S. blackmails a down-on-his-luck private eye to drag his butt to backwoods Mexico to obstruct a $20 million transfer into the U.S., is, as it should be, merely a hook to hang the surrounding complications.  Quickly though, the film's spark finds itself struggling to maintain itself.  Eventually, the whole mishmash of dark comedy and gunplay just feels grating.  If one were to say that semi-positively, The Blue Iguana works as one of those so-so Pulp Fiction rip-offs a good six years before Pulp Fiction.  In that way, the film was ahead of its time.
Filmmaker John Lafia (best known, perhaps, for directing Child's Play 2 and writing the 2019 Child's Play remake, sadly took his own life in 2020 at age sixty-three) adopts a distinctly low-level Tex Avery-esque sharpness about everything. Avery, too often to mixed results, got away with his distinct all-gags/zero sympathy in large part because his animated shorts ran only ten minutes or so. The Blue Iguana is a ninety-minute runaround in which, predictably, everyone is packin' heat and is out to double cross everyone else. Think Robert Rodriguez's Once Upon a Time in Mexico, but overtly going for laughs and not soul-draining.
Dylan McDermott assumes his first leading role as the handsome, suave, vacuous, and aptly named P.I. Vince Holloway. Adorned in one of Don Johnson's cast-off grey suits, the smart-aleck glorified bounty hunter finds himself on the case in a dirt and pastel (I've seen it called "Florida hued") corner of Mexico. Per the film's "cartoony" sensibility, the cast of too many characters spend much of the movie either sticking a gun in someone's face, or having a gun stuck in their face. This aggression phases no one, as it seems to replace the handshake in this world. From 1979's The Villain to 1991's Hudson Hawk and on to 2007's Shoot 'Em Up, this sort of thing has never made for a satisfying filmgoing experience.
While watching it, I kept thinking of Alex Cox's between-"real"-movies lark, Straight to Hell (1987), itself very much in the same vain, but somehow acquits itself as enjoyable if not great. This is probably thanks to its irresistible novelty casting of enigmatic rock stars and film personalities. It turns out that Lafia worked as leadman in the set decorating department of Cox's seminal 1984 outing, Repo Man. So, it jives that a sensibility or two might've been gleaned. But still, Straight to Hell is stocked with the likes of Joe Strummer, Courtney Love, Elvis Costello, and Jim Jarmusch, among many others. The Blue Iguana can only boast rock star Flea, playing one in the deluge of greedy, trigger-happy badasses. Flea is great here, but perhaps a few more bloodsucking insect types in the cast might've better scratched the itch that Lafia's film generates.
I mentioned the large cast of colorful crazed criminals, and I wasn't kidding. Every one of these people is fully committing to the ascribed vibe. The Blue Iguana features Tovah Feldshuh and Dean Stockwell as perpetually flummoxed I.R.S. agents who got this whole lethal ball rolling. She's in an ill-advised white blouse blowing her stack ala Buford T. Justice; he's comparatively cool in a goofy neck brace. Pamela Gidley is the token sexy femme fatale; Jessica Harper is the vile Imelda Marcos figure with a ton of shoes. Also in the fray are Yano Anaya, Michele Seipp, and James Russo. Young Anaya, who played the bully's toadie in A Christmas Story, plays a mouthy skater kid with all the criminal connections that Holloway needs. Teaming an old-timey gumshoe with an ultra-contemporary thrasher punk resonates as the intended central joke of The Blue Iguana. It's a close-but-no-cigar pairing, as McDermott doesn't play it lunkheaded enough (a more Bruce Campbell-esque approach would've been advisable) nor dim enough (ala Elliott Gould in The Long Goodbye– a far better film of a private dick who's out of step) to be interesting as the protagonist.
Fans, however, ought to reasonably happy with this Blu-ray from KL Studio Classics. Barring the usual smattering of trailers (including one for this film in Spanish), the altogether lack of bonus features can't help anything. Perhaps a tidy slipcover will make up for that? Anyhoo, there's a lot of backstabbing con gaming going on here… Actually, that's all that's going on here. If that kind of thing is your bag, then get thee to The Blue Iguana.