Kenneth Branagh's Northern Ireland Family Drama is Awards Season Favorite
DIRECTOR: KENNETH BRANAGH/2021
If you've worked as an industry publicist in the last decade, there's a good chance you've used one or a several of these narratives to promote your films during Awards Season: 
Technical innovators
Social disruptors
Crowd-pleasers
Character dramas
The Revenant bragged about how difficult it was to shoot that bear attack, and 1917 and Birdman made headlines for editing their stories to look like they were filmed in one take. Moonlight and Spotlight won Best Picture in part for, well, shedding light on racial inequity and the Catholic Church covering up of sexual abuse. Black Panther and The Martian were undeniable hits, inspiring audiences with their well-crafted stories. 
Less buzzy than those marketing angles? Character dramas, which are usually pegged as traditional "Oscar bait." There's a good chance they're set in the past, usually during times of war or social unrest (Darkest Hour, Green Book, The King's Speech). They often star acclaimed actors playing real people who changed history, fought life-altering maladies, or suffered great loss (12 Years a Slave, Lincoln, Lion, The Theory of Everything). Even if the main characters are fictional, the cast can find reasons to yell or cry—remember The Father, Manchester by the Sea, and Marriage Story? If directors want to up the ante, they can film in black-and-white or base their stories on personal experiences (Lady Bird, Mank, Minari, Roma).
Through that lens, Belfast is remarkably unremarkable. Set during The Troubles of the late '60s, it follows a nine-year-old boy named Buddy (Jude Hill). Buddy plays with the kids in his neighborhood and watches TV with his brother (Lewis McAskie). His grandparents (Judi Dench, Ciarán Hinds) give him advice on his homework and how to woo the girl in class he fancies. Pa (Jamie Dornan) takes him to the movies, and Ma (Caitriona Balfe) keeps an eye on him as he plays in the street. But the mundanity of childhood can't last forever. His Protestant parents face financial stress and pressure to join ranks against their Catholic neighbors. As the violence of the religious conflict becomes more frequent, the family becomes more unsure they can make a life in Northern Ireland.
Kenneth Branagh's Belfast checks most boxes for an awards season character drama, down to the black-and-white and the inspiration from Branagh's own childhood. But while its style isn't as flashy as movies that look like they were shot in a single take or deal with hot-button issues, that doesn't mean Belfast is dull. Its appearance is simple, but its execution is elegant. It's a coming-of-age story, but it's also about the power of stories we tell ourselves to create our identities. 
We often look through windows at our characters as they look back out at their world. We are framing them in the context of their Belfast homes, and they are framing their views of others and their memories through their own curtains. If not through glass panes, they are building their worldviews through the rectangular comic books, stages, theater screens, and TVs they watch, which sometimes appear in color. Buddy watches High Noon and The Man Who Shot Liberty Valence, and soon we realize Pa may as well be John Wayne to him. Or perhaps we are seeing Pa as Buddy will remember him one day when looking back on his childhood—Belfast lives in memory as much as it does in 1969.
While tears do appear from time to time, the story doesn't suffer under the gravitas of its setting. I did spend time thinking about how I only partially understood the chaos of 9/11 when it happened at at age nine, but Buddy's small-time adventures remind me more of the time I spent with my grandparents and the times I watched Chitty Chitty Bang Bang. And with a soundtrack full of songs from Belfast native Van Morrison, it's not unreasonable to call this a feel-good movie.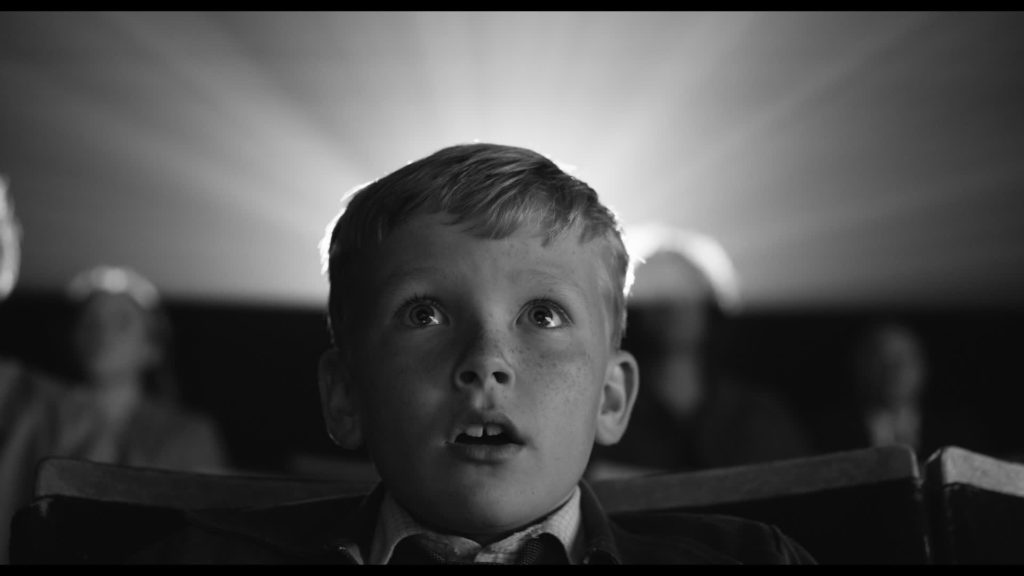 Belfast may not be splashy, but there's a reason we're talking about it this Awards Season. The cast (including newcomer Hill) breathes a life into these characters that make them feel like their story begins before and lasts after the cameras show up. I expect (and would love) to see several of them on the red carpet soon, as well as writer/director Branagh. And if you're a publicist for Belfast, lucky you—it's an easy sell.