Director: Joseph Ruben/2017
Director Joseph Ruben has done a few notable thrillers in the past such as Julia Robert's Sleeping with the Enemy, The Forgotten with Julianne Moore, and Macaulay Culkin's The Good Son. Coupled with the screenwriter of Bridge to Terabithia, Jeff Stockwell, they have produced a look at this World War I love story titled The Ottoman Lieutenant.
Lillie (Hera Hilmar-Anna Karenina) is a nurse from a privileged background who experiences racial injustice in 1914 America when she attempts to help a black man in her hospital.  While yelling for a doctor, the only doctors available tell her that he is in the "wrong" hospital and must be taken to the "right" hospital.  This doesn't set well with the progressively minded and independent Lillie.  When she catches the lecture of visiting doctor, Jude (Josh Hartnett-Black Hawk Down, Penny Dreadful, Pearl Harbor), who runs a medical mission within the Ottoman Empire, she sees the possibility to truly help others in a place that doesn't separate their patients into "us" and "them".
While the story-line sounds intriguing and the casting choices are all solid, the story, as it appears on screen, is a pretty tamed and domestic affair.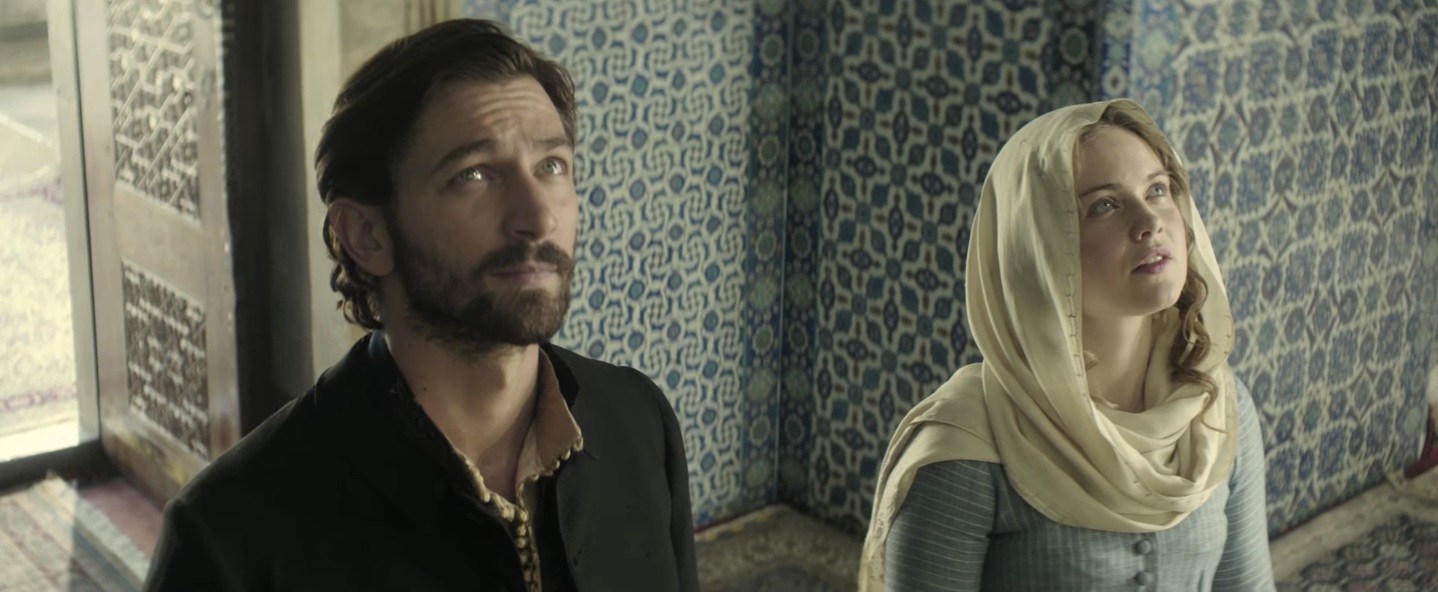 Upsetting her parents, she informs them that she is personally taking a shipment of medical supplies to where is modern day Turkey.  They are upset, feeling that a girl as old as she is (23) should already have stopped feeding her childhood fantasy of being a nurse and should instead be married with children like her friends.
Upon arriving, she is immediately conned by a shoeshine boy except Ismail (Michiel Huisman-Age of Adeline, World War Z), a Lieutenant in the Ottoman Imperial Army, alerts her to the scam and takes her on a sightseeing tour of the most beautiful mosque in the Empire.  This short sightseeing moment sets up the rest of the plot which is that she requests him as her escort to the mission hospital to safely take the supplies for delivery.
As a Muslim, Ismail is not supposed to ever consider a relationship with a Christian such as Lillie.  She is supposed to be with Jude, another Christian, who lights up when he sees that she has journeyed all the way across the ocean to help the mission.  If you smell a love triangle, then you'd be right.  Adding some gravitas to the film is Sir Ben Kingsley who plays the main doctor at the mission named Woodruff who is a bit jaded, though still committed to the mission's cause.  Circling all of this is the impending first World War with the Russian troops advancing through the area, and Armenian Christians clashing with the Ottoman Muslims.
While the story-line sounds intriguing and the casting choices are all solid, the story, as it appears on screen, is a pretty tamed and domestic affair.  Other than some moments of blood in the hospital and a slight "made-for-TV" type romantic encounter, there is no reason that this film should be rated "R".  This film strongly resembles a mid-level budgeted Lifetime movie.  Even the threat of war,  and cultural and religious tensions and barriers, bring no real tension to the proceedings.  Things progress exactly as you expect.  This is war love story 101 and nothing is done to upset the apple cart.  By the end of the film I found that I just didn't care.
The most intriguing part of the film is the backstory on Woodruff, and had the film followed him, weaving in the characters of Lillie, Ismail, and Jude, I think it would have been a more fully realized story.  From the brief description we get about how he became so jaded, even going so far as to view his God no longer as loving and merciful being to one who is cruel and unjust because of his own personal tragedy, deserved more development.
Lillie serving as a guide to remind Woodruff of the importance of the mission in light of the war and tragedy going on around them would also have provided more of a redemption story.  As it is, this whole film turns on Lillie's love life and even then, nothing is really resolved.  The backdrop of the first World War also never really weaves its way into their lives other than to give them something to do.  Whether that be the Ottoman Lieutenant's missions against the Russians, or the Doctors and Nurses need to have to have someone to attend to in order to keep the narrative pushing ahead.  This is ultimately just a hollow film.
This film will see a limited release at area theaters in major metropolitan areas, but don't expect it to do much in terms of box office receipts.  Financed by a Turkish film group, this film serves often to serve as a little bit of a propaganda film for the country and its romantic Empire past, as a way of ignoring the crippling crackdown on basic freedoms by the current government on its own people, and the looming fight against ISIS which is knocking on the door of their borders.  They would have done well to have let the director and screenwriter dig into the grittier story that might exist here to show the more complex politic that existed both then, and now, but all we end up with is instead is a boring love story.