A Simple Documentary About the Passionate fan base for a Soccer team that didn't Exist…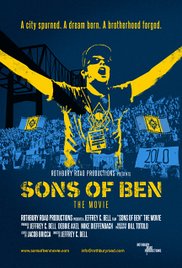 Director: Jeffrey C. Bell/2016
Street Date: March 28, 2017/Kino Lorber
If there is a more interesting sports story that has taken place in the last few years, you'd be hard pressed to find one.  There are many great stories about athletes pushing through some sort of difficulty or obstacle and going from the bottom to the top in their respective sport.  There are great comeback stories, and stories about how sports has brought communities together to deal with tragedy.  But Sons of Ben, the latest DVD release from Kino Lorber, may top them all.
Following the 1994 World Cup, which was hosted by the United States, a professional soccer league was formed in the United States known as Major League Soccer (MLS).  With an inaugural season in 1996 consisting of 10 teams, and a later 2 team expansion in 1998, one of the major U.S. cities to be left without a soccer team was the city of brotherly love, Philadelphia.  With soccer teams already awarded to the East Coast cities of Washington, D.C., and New York City, Philadelphia was left out in the cold.  Philadelphia has always been a die-hard sports city supporting the Philadelphia Eagles (NFL), Flyers (NHL), Phillies (MLB), 76ers (NBA), as well a 7 Division 1 Universities in the area, soccer fans wondered why they weren't represented with their sport.  Many in the sports broadcasting community in Philadelphia felt that maybe the market was over-saturated to support another sports franchise, especially one that wasn't as popular of a sport as their beloved football, hockey, basketball, and baseball.  Apparently they didn't realize the passion of Philadelphia's soccer fans.
Sons of Ben is a great documentation of the power of the enduring human spirit, and what one can do with passion and will-power.
When a few fans began posting in a community sports message board online, they bonded over the idea of Philadelphia deserving a team in future MLS expansion.  They began to meet together, and their common bond over their desire to have a soccer team led to them organizing and calling themselves "Sons of Ben" in a nod to Philadelphia's own Ben Franklin.  As the "Sons of Ben" begin to meet, their passion for getting a team turned into a full blown movement.  They designed their own logo of a team that did not exist, using a skull made to look like that of Ben Franklin, complete with lightning bolts and a kite shaped backdrop to signify the lighting striking the kite with keys when Franklin "discovered" electricity.  The skull was given other features to signify all things Ben Franklin, and they soon began to create scarfs, shirts, magnets and other merchandise advertising this non-existent team.
Wearing their "Sons of Ben" wear, they begin showing up at sporting events, both in Philadelphia, and in other cities, complete with chants of "Phil-a-delphia" and "We want a team".  They even marched in a MLS parade following the then defending champs, Houston Dynamo, in the parade.  A fan base for a team that didn't exist, marching with the fans of teams that did.  Their tenacity caught on with local media, and then ESPN and others. Former soccer goalkeeper, Nick Sakiewicz, who was slated to become the President of the Los Angeles Dodgers baseball team, heard about this group and the momentum they had to bring a team to Philadelphia and abandoned his L.A. Dodgers plans to head up a group to help bring soccer to Philadelphia, near his hometown in northern New Jersey.
Within a year, the "Sons of Ben" had grown to 100 members and then eventually to over 1,500 members.  Gov. Ed Rendell and other politicians began working with the group to secure financing for a potential stadium deal, one of the requirements for MLS expansion consideration.  This led to the discussion of Chester, Pennsylvania, as a possible site for a new soccer stadium.  Chester was a town that no one ever expected.  It is over 20 miles south of Philadelphia's city centre, and full of crime. As much as this true story centers around the desire of a fan group for a team that doesn't exist to win a team for their city, it is also about the revitalization of a town that once was the center of development in that county.
The documentary is a fascinating look at these stories and the power of passion and hard work.  While the events in the film, including the exciting conclusion where we learn the fate of the MLS expansion, and whether that included Philadelphia or not, are a feel good story in an of themselves, it doesn't shy away from showing the toll it took on its participants either. Sons of Ben is a great documentation of the power of the enduring human spirit, and what one can do with passion and will-power.
The Kino Lorber release on DVD features the film, as well as a trailer for the film, but no other "extras" are found in this package.