Clint Eastwood and Shirley MacLaine Ride Lonesome in Cracklin' Mexican Desert Western.
DIRECTED BY DON SIEGEL/1970
BLU-RAY STREET DATE: OCTOBER 27, 2020/KL STUDIO CLASSICS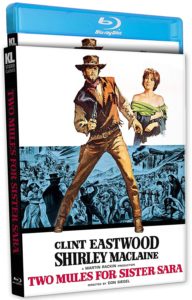 If Two Mules for Sister Sara were made today, it would be called anything but "Two Mules for Sister Sara". Not only is it inaccurate in a literal sense, but it would also never pass muster as a moniker for the type of crackerjack set-piece-driven action Western that it is. Nowadays, for reasons both understandable and inane, that title is just too wordy, too vague, too mundane sounding, too feminine, and bearing too much implication of the cumbersome. But it simply ain't true. As the title character might argue, what's in a title, anyway?
Two Mules is a nonstop adventure journey across the vast Mexican desert, a terrain unending with wildly growing cacti and photogenic rock formations.  In true spaghetti Western fashion (this isn't one, but wears the duds convincingly), this expansive microcosm is populated with no shortage of scoundrels, thieves, and would-be rapists.  This gives star Clint Eastwood plenty of bastards to shoot at, and initially, someone to rescue co-star Shirley MacLaine from.  From there, it's the Clint & Shirley show, as quippy as it is quick on the draw.  For those going through Mandalorian withdrawal, Two Mules will do in pinch.
Though Eastwood's Malpaso Productions shares credit with Universal proper for creation of the film, it's his costar Shirley MacLaine who receives top billing on screen. (This is not the case regarding certain poster art, including the nice, limited cardboard slipcase that hugs the case of this recent Blu-ray edition. As one might assume these days, the iconic Eastwood dominates most subsequent signage). It's fair and proper in any case, as MacLaine and Eastwood, both major stars in 1970 when Two Mules opened (though MacLaine had been famous slightly longer) travel alone together for more than half the film.
Eastwood plays Hogan, a stubborn mercenary crossing the eternal Mexican desert of this film.  He operates in the tenor of the pure swaggering, man-of-few-words, glaring magnetism that made him famous in Sergio Leone's "Man With no Name" trilogy.  At one point, MacLaine's Sister Sara called him "Mr. Mule", the closest indicator that he must be the second mule of the title.  Because, truth be told, this movie only has one such literal animal.
Though Sara begins on a nice strong mule, she soon downgrades to a diminutive burro, which she spends the rest of the movie intermittently wapping her way along in Hogan's wake.  MacLaine is as effervescent as ever, her cute yet knowing face peeking out from her all-encompassing nun's habit.  By this point in her career, MacLaine had portrayed to great effect prostitutes (Irma la Douce; Sweet Charity) and women of damaged virtue (The Apartment; What a Way to Go!), but a nun?  Though the opposite end of her established wheelhouse, she clears the bar with ease.  But of course, as the journey progresses, we gather more and more hints that there may be more to Sister Sara than she is letting on…
Directed by Don Siegel (his second of five key collaborations with Eastwood) with a story by Western great Budd Boetticher, Two Mules is a crowd-pleaser that strides effortlessly from one terrific set-piece to the next.  Danger lurks around every dusty turn in a way that the relentless action of movies of today have adrenalinalized to the point of exhaustion.  Siegel, forever reminding us how resonant action is when done right, strikes a near-perfect chord with this.  
It's no "message movie" or a vessel for deeper meaning, but it is a case study in weaving simple character dynamics with a wide variety of adventure scenarios and timed reveals. The plot scarcely matters (something about having to stop a train in opposition to the occupying French army), but when Sister Sara beelines to chug Hogan's whiskey, we can't help but raise a bewildered eyebrow along with him.
That said, when the movie slows down, it does so with expert confidence. After Eastwood takes a bad but non-fatal hit from an Indian's arrow, he talks Sara through the process of removing it and treating the wound… in real time. The scene does go on, though between Eastwood's convincing agony and MacLaine's squeamishness about it, it's never dull. Even here, the only sweat that Eastwood and MacLaine break is their actual sweat under the Mexican sun.
Eventually erupting into an all-out battle of dueling armies in the dark with Hogan and Sara caught up in the lethal fray, Two Mules maintains its overall lightness.  Some, though, may beg to differ, as this late '60s/early '70s age of exploding blood packets in Westerns carries over to this film, with at least one showcased execution scene.  Between that and the continuous sexual pining of Hogan for the off-limits Sara, it's enough to cast some parental shade upon the film's PG rating (GP back in the day).  
For all its many virtues as escapist Western fare, Two Mules' most immediate and palpable resonance has to be its wild score by all-time-great composer, Ennio Morricone. An unwieldy yet tight attack of (I'm completely guessing) teeth harp, mandolin, ocarina, and choral voices, Morricone's music throughout is as catchy as it is haunting. On a dime, it often shifts into a quasi-religious chorus (for Sara), up from sonically slithering in the hot dirt with the rattlesnakes (for Hogan). As you experience it, you are just as likely to tap your foot in pure engagement as you are to proclaim, "What are those sounds??" If the Mexican desert itself could play music, this is what it would sound like.
For this two-disc special edition, Kino Lorber Studio Classics has presented the 114-minute International Cut and the 103-minute Domestic Cut. The International Cut looks spectacular in its brand new 4K restoration, making it very difficult to guess which bits were exclusive to it. Thankfully the shorter Domestic version is sitting right there alongside it, ready for comparison. It too has benefited from a 4K master restoration. Filmmaker and spaghetti Western historian Alex Cox delivers one of his laidback optional commentary tracks over the International Cut. As with all his commentaries, Cox has a way of lulling one into a false sense of drifting. Just when you find your mind wandering elsewhere to his dulcet tones- Boom! He tosses an info-bomb… unlike how Eastwood's Hogan just nonchalantly tossed a lit stick of dynamite over shoulder while lounging against a boulder.
Here's the official rundown of features:
Special Features:
-Brand New 4K Masters
-Brand New 4K Restorations – 113:32 International Cut / 104:40 Domestic Cut
-NEW Audio Commentary by Filmmaker Alex Cox
-At Home with Clint: Vintage Candid Interview with Clint Eastwood
-Limited Edition O-Card Slipcase
-Poster and Image Gallery
-Reversible Art
-Theatrical Trailer (New HD Transfer)
-2 TV Spots
-4 Radio Spots
-Dual-Layered BD50 Disc
-Optional English Subtitles
The status, identities, or ownership of Sister Sara's supposed set of mules is never made explicit. What is immediately explicit, however, is that this is a film that's undoubtedly earned its reputation as a Western classic. Siegel's triumphantly flirtatious, fun and ferocious Two Mules for Sister Sara isn't so much a "Will they or won't they?" so much as a "Do they ever!"