Bob Fosse Burst Into the Director's Chair With Murky Musical Starring Shirley MacLaine
DIRECTED BY BOB FOSSE/1969
BLU-RAY STREET DATE: AUGUST 20, 2019/KINO LORBER STUDIO CLASSICS
Cute as a button and ready to take on the world, the naive dancehall girl Charity Hope Valentine (Shirley MacLaine) is well on her way to something more. At least, that's the story she tells herself. The story about her that ace choreographer and first-time filmmaker Bob Fosse tells, however, is a different matter.
Reflective of the extreme dichotomy of the character's dopey if magnetic optimism and Fosse's ever-increasing pessimism never tonally settles, straddling Charity's outward positivity and charisma, while thematically burrowing more deeply into a certain hopelessness. This, in its own clunky way, is Fosse artistically keying in on the ideological collapse of innocence and presumed innocence past.
Sweet Charity suffers from the kind of identity crisis that a musical could only suffer circa 1969. A colorful, overlong, overstuffed product of the cultural moment that saw desperate and failing major movie studios looking to appeal to the youth culture that would embrace Easy Rider, but also eyeing the gargantuan box office of The Sound of Music a few years earlier. Sweet Charity, with its own young n' spunky female lead, has its requisite share of moral malaise and unconvincing hippies, particularly the free-lovin' car cult led by Sammy Davis Jr. (!) It's too big and too much and also, in the end, quite the downer. That convergence alone indicates an obvious misfire on behalf of whichever disconnected old guy in a suit greenlit this thing.
Sweet Charity was released in the United States in May of 1969. Just a few months later, the Manson family would strike in Hollywood. The very end of the year would witness the hellish events during a Rolling Stones concert at Altamont Motor Speedway, all of it later immortalized in the film Gimme Shelter. These are but 1969-specific flashpoints that are indicative of the dark road our world continues down to this day. In this environment, the $20-million-plus super production of Sweet Charity would prove to be a tremendous box office flop. Yet, in retrospect, its points of interest have only become more pronounced, and in need of examination.
With this big-studio film adaption of his successful New York stage musical Sweet Charity, the fickle finger of fate singled out Bob Fosse for a filmmaking career. Content to give up nothing, Fosse continued burning up Broadway (with his trademark heightened degree of stylized sexuality than ever previously seen) while forging ahead with various and sundry film projects. Fosse, in the entirety of his creative output, tempts us with sexy surface allure while pulling no punches in terms of the deathly emptiness and loneliness that lies therein. Charity Hope Valentine is a terminally positive anomaly in the lineage that would follow.
For Fosse the film director, the 1970s would welcome to the big screen Cabaret, Lenny, and the darkly autobiographical All That Jazz. Bookending them would be this film, 1969's Sweet Charity, and 1983's the dismal Star 80. Though neither of those would be considered among his best work, Sweet Charity has the benefits of A) being a musical, B) a well-sporting a big budget, C) star Shirley MacLaine. (Who replaces the radiant Gwen Verdon, who was the original star of the stage version, as well as Fosse's wife and muse).
And then there's Oscar. No, not the golden statuette. (Although the film did manage to muster three nominations). John McMartin, repricing his role from the original stage version, play's Charity's eventual serious love interest, a really nice guy named Oscar. On the heels of yet another blindingly bad relationship strike-out and just before the film's intermission (it is either two hours and twenty-nine minutes or two hours and thirty-four minutes, depending on which version you choose), Charity meets Oscar. The two are forced to bond during a meet-cute in a stalled elevator that gives way to a panic attack for him. Though Oscar seems ridged and morally fixated, we soon learn that he's just strict with himself, and a perpetual searcher for greater enlightenment. (Meant to be comedic, he switches religions as though he's switching channels. Which lands them at Sammy Davis Jr.'s crazy hippie cult garage).
We come to see Oscar's love of Charity not as martyrdom on his part, but as something selfless and pure. Though she hesitates on being upfront about her seedy profession, whenever she does try to tell him, he cuts her off, saying he doesn't want to know, as he insists that her past is truly in the past, and that it doesn't matter to him. A beautiful sentiment- if only it were true. Sweet Charity handles Oscar's own moralistic challenges impressively, as the character understands that his hang-ups with her "dancehall girl" profession (implied to be kind of sex worker-lite; a job she quits because of him) are his problem, not hers. In such, Fosse manages to explore the realities of such complex relationship issues in a surprisingly mature way, without throwing Charity under the bus in a judgmental way.
Kino Lorber's special edition Blu-ray edition of Sweet Charity is a special thing. With the care and attention given to the transfer and extras witnessed here- an entire alternate version of the film, sporting a 4K restoration, no less, is included on a second Blu-ray disc – Fosse's impact and career is, in a sense, saluted with this essential if flawed filmic starting point. Vintage featurettes about Fosse and Edith Head are included, as is the film's trailer. Film Historian Kat Ellinger provides a nearly breathless, meticulously researched commentary on the 145-minute version, demonstrating that despite the film's lengthiness, there's no shortage of things to talk about and have pointed out.
Indeed, essayist Julie Kirgo isn't wrong when she states up front in her piece in the published booklet that comes with the Blu-ray that the trouble with writing about Sweet Charity is that there's simply too much to potentially say about it. It's based on the 1957 Federico Fellini film Nights of Cabiria… its production book is by Neil Simon (at least in part; Kirgo reports that Simon demanded sole credit even though his pal Fosse co-wrote it)… Verdon stepped in to assist MacLaine, despite being replaced by her… Edith Head costumes that are thoroughly off the hook… Fosse. Fosse! Fosse!!! Both the stageshow and the subsequent film are his brainchildren, from conception to final execution. There's no denying that though it is very much a strained (G-rated??) product of its moment, Sweet Charity is a deep pond to be tossed into.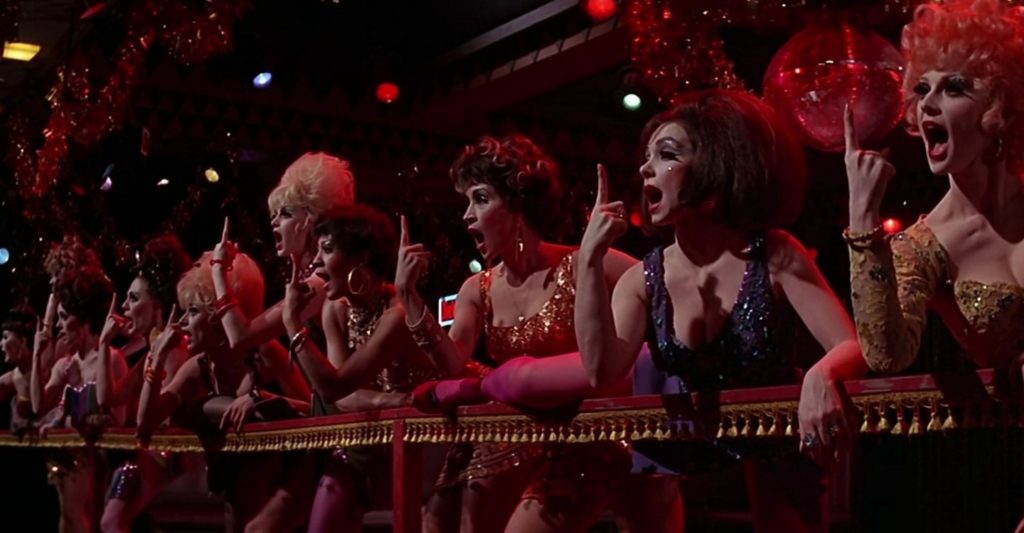 Lest we be too consumed with theme (if it's not already too late), we cannot forget that this is in fact a musical. The number of songs is considerable, ranging from merely passable to, "that song is from this?". Two of the most recognizable songs, if only by virtue of having been appropriated for television commercials, are "(Hey) Big Spender" and "If My Friends Could See Me Now". The latter song is performed enthusiastically by MacLaine as Charity finds herself in the luxury apartment of an international film star played by Ricardo Montalbán. Sure, she ends up locked in a closet for the night when a sexier starlet turns up, but the armload of autographed pictures and gifted movie memorabilia she is able to show off to her poor friends back at the dancehall (among them, Chita Rivera and Paula Kelly) makes it all worthwhile. Preceding the elevator incident (shades of the film Elevator to the Gallows?), the swanky closet is the other prominent moment of Charity being physically trapped in a small space- and making the best of it. More theme.
The late Fosse makes good on his reputation as one of past century's greatest dance arrangers, with brilliant minimalist bump n' grind choreography throughout (Ellinger states that the famed choreography of Michael Jackson originates with Fosse), complete with bombastic numbers that can be simultaneously taken ironically and unironically. Although Fosse, on one of the vintage behind-the-scenes featurettes, confesses to only just starting to learn the art of camera placement, the finished product of the movie Sweet Charity demonstrates that he was well on his way. KL Studio Classics' Blu-ray honors his tradition, as it too is here to take on the world.