A Don Siegel Deep Dive
ALL DIRECTED BY DON(ALD) SIEGEL:
THE GUN RUNNERS (1958)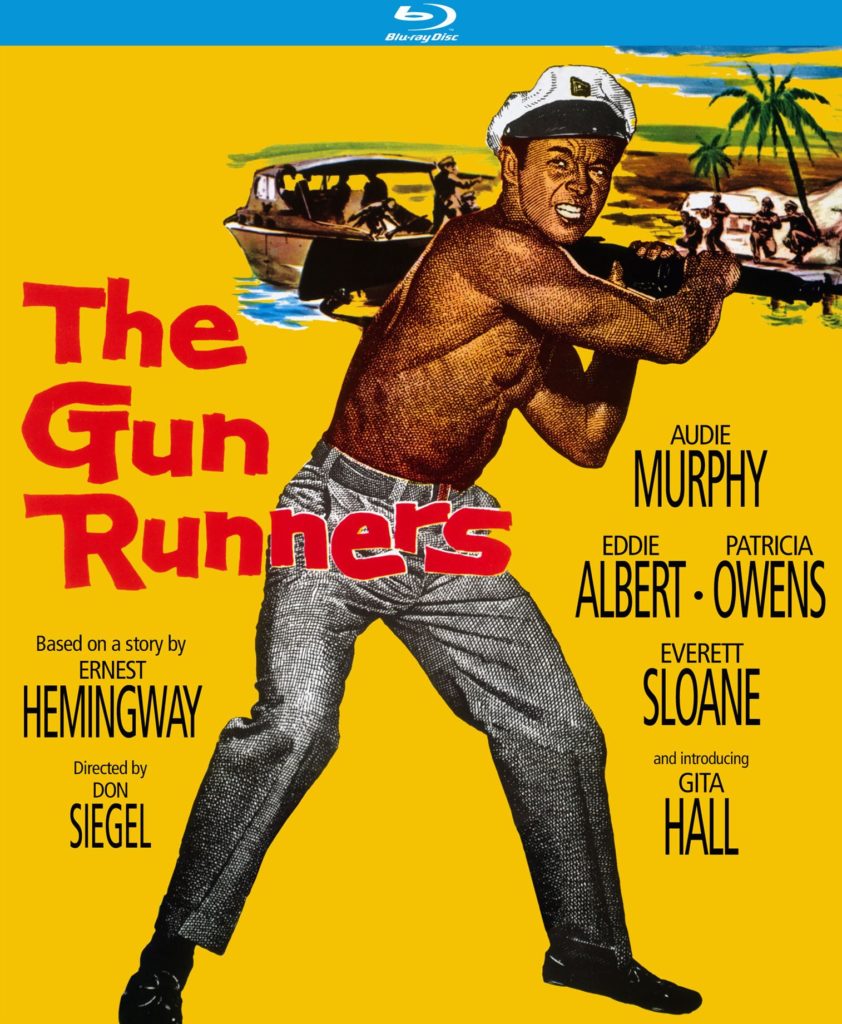 MADIGAN (1968)
CHARLEY VARRICK (1973)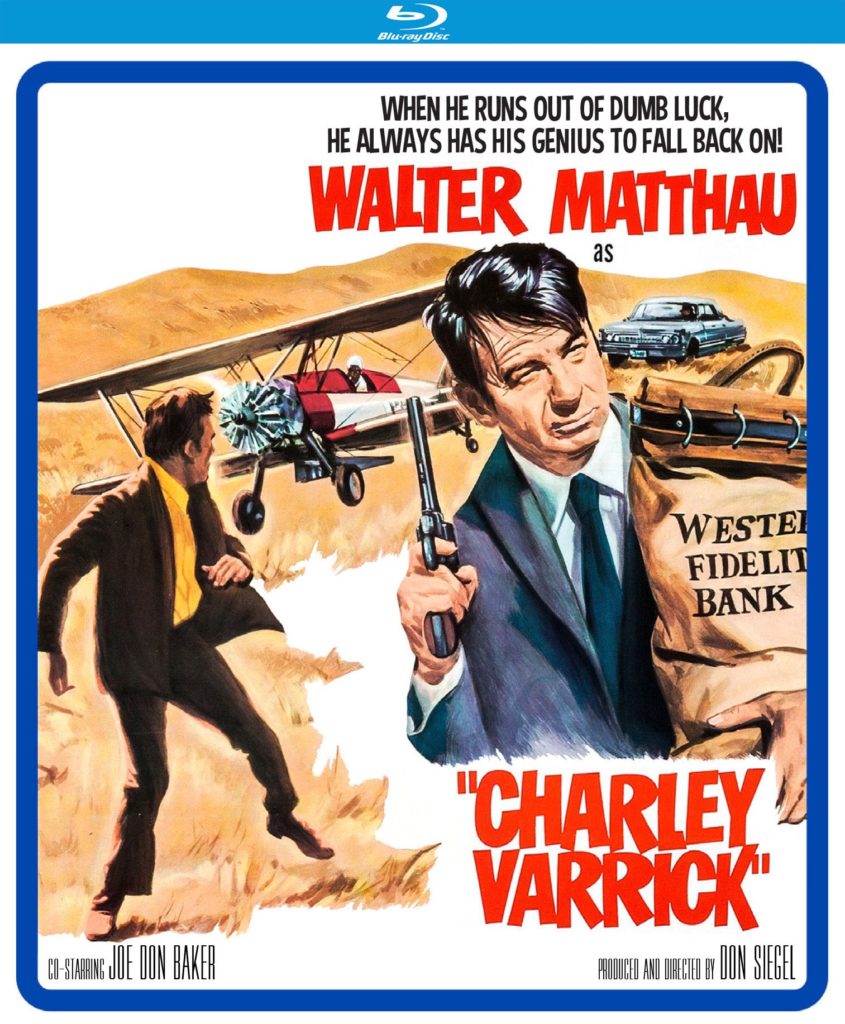 STREET DATES: NOVEMBER 12th, 2019/KINO LORBER STUDIO CLASSICS
Spinning newspaper headlines, the rat-a-tat-tat of dissolving Tommy Gun Mayhem, calendar leaves falling on a lacuna of dramatic downtime; future director Don Siegel cut his graphic storytelling technique as an editorial assistant at Warner Brothers during the late 1930's through World War II.
Compressing space, distance, time, and information in the visual swirl of scene-linking phantasmagoria called the "movie montage", Siegel crafted several such sequences for a variety of major Warner Brothers productions, ranging from Confessions of a Nazi Spy (1939) to Brother Orchid (1940), The Roaring Twenties (1939) to Yankee Doodle Dandy (1942), and the legendary Casablanca (1942) to the infamous Mission to Moscow (1943). (Among others, the rhythmically edited montages for the otherwise routine musical programmer Blues in the Night (1941), largely credited to Siegel, must be seen to be adequately believed, making the film a latterday cult favorite.)
Moving up the filmmaking ranks from an assistant director to a director of short subjects to a full-fledged studio director by the mid-1940's, the Peter Lorre-Sydney Greenstreet teamup The Verdict (1946) became the first film on which Siegel received a director's credit (an earlier production's release, the Ronald Reagan and Viveca Lindfors-starring melodrama Night unto Night, Siegel's first complete feature, was delayed until 1949) and the (approximately) 35 subsequent films "Directed By Don Siegel", "Directed By Donald Siegel", or, from 1973's Charley Varrick on, bearing the boastfully unassuming legend "a Siegel film", were uniformly, uniquely, and intrinsically his.
Kino Lorber Studio Classics releases three separate Blu-rays this November from three different decades in Don Siegel's 35-year directorial career, nearly encompassing the entire breadth of the quoted credits listed in the paragraph above. Siegel's long and varied career, containing such inescapable fare as 1956's The Invasion of the Body Snatchers and 1971's Dirty Harry; such hard-driving and uncompromising early fare as Riot in Cell Block 11, Private Hell 36 (both 1954), and The Lineup (1958); and such still-lean and cut-mean later fare as Telefon (1977) and Escape from Alcatraz (1979) is possibly best-known today for his five-film partnership and directorial mentorship of Clint Eastwood. But for many others the credit crowning Siegel's always striking and cannily-crafted opening credits sequences — containing the direct movie DNA of those graphically-compressed storytelling montages of prime Warner Brothers yore — is as recognizably forceful as the reputation and technique of the actor-turned-director whose career he helped cultivate. That film legacy of compression, economy, and force exhibited itself with crystal visual, editorial, and storytelling clarity on any iteration of the unmistakable (if artistically malleable) credit.
a [Don(ald)] Siegel film
"Perhaps, being a man, I might look on the thing a bit differently than you." – Corporal John McBurney, U.S. Army, July 1864 (The Beuiled, pg. 170; Penguin Books edition 2017; originally published A Painted Devil, Horizon Press 1966, by Thomas Cullinan.)
"Unfortunately when it comes to a contest between my conscience and my appetite, the latter is nearly always the winner." – Marie Deveraux, pupil at Farnsworth Hall, July 1864 (Ibid., pg. 323.)
The debut novel of author Thomas Cullinan first came to the attention of Clint Eastwood through producer Jennings Lang before Eastwood later passed it on to Siegel. The story of a wounded Union soldier tended at a Southern school for girls during the last summer of the Civil War became the directing-acting pair's third collaboration in 1970. Following 1968's Coogan's Bluff and 1969's Two Mules for Sister Sara, 1971's The Beguiled, retitled from the novel's original title of A Painted Doll, immediately preceded 1971's Dirty Harry, and has been seen as the arty odd-duck among an extraordinary run of macho-appeal genre films.
Considering such a view also ignores the strong female title role played by Shirley MacLaine in Sister Sara, in The Beguiled, Geraldine Page, Elizabeth Hartman, and various well-cast younger actresses directly match the formidable Eastwood for all his character's manipulative and eventually menacing qualities. The multi-voice narration of the original novel, told in turn by each of the students and their teachers, is condensed in its film adaptation to the essential conflict between the Better Angels of each character's nature, where every innocent motivation and kindly action lies compromised, questioned, and even contradicted by their uniformly tragic outcomes. Recreating the Civil War raging outside the school grounds in miniature, the social, psychological, and added sexual conflicts at Miss Martha Farnsworth's Seminary For Young Ladies resolves to a plate of poisonous mushrooms cold-served on a plate of fine china.
Remade by a female director, Sofia Coppola, in 2017, a salient point for all the later adaptation's many differences in style and tone is that not only is Siegel's retitled title of The Beguiled retained but also the battle so vividly illustrated in each character's personal war. The divided self, no matter the person's sex or disposition, consistently finds its many layers of conflict and tragedy in a [Don(ald)] Siegel film, and that inner push-and-pull has found similar expression by the director's many (and sometimes unknowing) acolytes.
THE GUN RUNNERS (1958)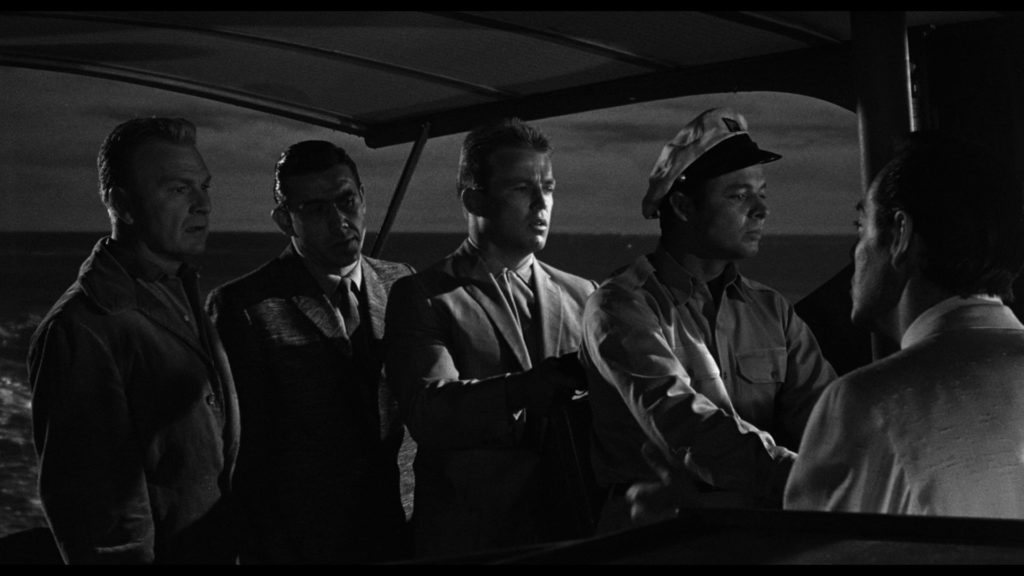 To better explain the many complexities of this low-budget, 83-minute adventure film, a more detailed explanation of its complicated background may be in order. The inaugural film from the short-lived but artistically fecund Screen Arts Production, who would go on to produce or co-produce The Misfits (1961), West Side Story (1961), Lolita (1962), Whatever Happened to Baby Jane? (1962), Seven Days in May (1964), and The Dirty Dozen (1967), the independent group's first production of 1958's The Gun Runners became the third filming of Ernest Hemingway's 1937 novel To Have and Have Not. Itself cobbled together from two short stories and two novellas published between 1934 and 1936, the source material in all three filmings proved unadaptable according to standard Hollywood scriptwriting conventions of the day, with its social and (historically shifting) political context adding to its difficulties.
The unenviable task of its adaptation fell to novelist and screenwriter Daniel Mainwaring (1946's pulp novel Build My Gallows High; adapted by the author as the classic 1947 film noir Out of the Past) and future producer and TV scribe Paul Monash (who later, as co-producer, would adapt George V. Higgins' debut novel The Friends of Eddie Coyle as the classic 1973 crime thriller). Tightly focusing on Hemingway's 1934 short story "One Trip Across", which served as the first chapter of To Have and Have Not, The Gun Runners title-runs lean-and-mean to its convoluted genesis and source material.
Whereas the novel's first 1944 filming by director Howard Hawks, co-starring Humphrey Bogart and Lauren Bacall in their first film together, entirely ignored the novel, recasting the story as a patriotic wartime drama set in the boundary waters of French Vichy-occupied Martinique; and whereas the novel's second filming by director Michael Curtiz, as 1950's The Breaking Point, while closer to the dramatic and thematic spirit of the novel, especially in star John Garfield's conscience-stricken performance, reset the story yet again, this time on America's West Coast and on the shores of Mexico; Don Siegel's The Gun Runners, in the source material's third iteration, was the very first to anchor the action squarely in the novel's politically fraught and heavily patrolled channel between Florida's Key West and revolutionary-era Cuba. Commercial boat skipper Sam Martin (Audie Murphy) and his boozy first mate Harvey (Everett Sloane) run wealthy weekend fishermen "straight out" to ever-deeper waters, but increasingly diminishing returns, while devoted wife Lucy (Patricia Owens) awaits her husband's every return on-shore.
Stiffed for nearly two weeks and one thousand dollars-worth of pleasure-cruising by bad check-writer Peterson (John Harding), who lost the clipper's deck chair and line-and-reel to the swordfish-crowded depths of the Atlantic in the worsening bargain, Martin is now in danger of losing the boat to its patience-thinning note-holder Phillips (Paul Birch). Later encountering a magnetic high-roller named Hanagan (Eddie Albert) at a backhall gambling joint, uniquely fronted by deceptively Scandinavian-folksy pawnshop proprietor "Pop" (John Qualen), Martin in his desperation and against his better judgment accepts an illegal charter from the smooth-talker into Coast Guard-blockaded Cuba.
At first seeming just another illicit boating adventure, especially when Hanagan boards with Swedish beauty Eva (Gita Hall), the dangerous evening-into-morning spent at the Cuban port conceals sinister motives from the frighteningly glib Hanagan. Returning to Key West to find himself under suspicion for crossing illegal waters and the murder of a Cuban border patrol agent, Martin also has had his boat foreclosed upon, revealing the sole author of his recent misfortunes along with the dotted-line signature of his boat's new title-holder: Hanagan. Coerced into joining Hanagan's scheme to bilk Cuban Revolutionaries with the illusory delivery of the title weapons, Martin and his stowaway first mate lead the gun-running gang on one final trip into deep and hostile waters.
With its dramatic background of the Cuban Revolution, The Gun Runners arrived in theaters at an equally dramatic point in Cold War history, but that potentially (and world-literally) explosive situation is viewed mainly apolitically in its genre execution, thanks in part to the casting of Audie Murphy. Caught up between forces well beyond his character's immediate concerns, which are simply to make a living and provide for his wife while working the only job he knows, boating, the frequently commented on "baby face" of the character — possibly added to the screenplay after Murphy took the role — is far-removed from the film noir tough-guy that Martin might have been had another, stronger actor played the part.
In fact, it would be interesting to speculate just how different the film would be had the time-displaced lead of Daniel Mainwaring's script for Out of the Past (1947), the Jane Russell-romancing co-star to Don Siegel's earlier The Big Steal (1952), and the later world-weary betrayed/betrayer in Paul Monash's script for The Friends of Eddie Coyle (1973) — Robert Mitchum, in one — taken the role of Sam Martin.
As far as one knows, the part was not offered to Mitchum, or any of his hardboiled contemporaries, but one suspects Siegel chafing throughout The Gun Runners under the nice guy-image of his star, and instead lavishing more uniquely Siegelian (Siegelesque?) attention on the bitter comedy of a bald barman and a blonde barfly (Herb Vigran, Peggy Maley), the lantern-jawed, bug-eyed grotesquerie of disappointed gas-jockey Arnold (the incomparably-faced Jack Elam), the velvety duplicity of character actor John Qualen's "Pop", and especially the demonic tangents of glad-handy dandyism incarnate in Eddie Albert's villainously virtuosic turn as Hanagan.
Then again, these latter character moments do stand out even more against the comparative blank slate of the film's compromised yet ultimately heroic protagonist. Preserving his sailor's independence on an increasingly co-opted ocean of politics, crime, and revolution, Sam Martin may yet continue to chart weekend courses on unnavigable, narrowing waters. As illustrated by cinematographer Hal Mohr's painterly black-and-white, the Florida locations standing in for Key West and Cuba (Newport Beach, actually) certainly look a pleasant place to pass a few thrilling weeks of international intrigue; despite whatever fate soon awaits a gut-shot and mid-sea Captain Sam Martin at its conclusion.
MADIGAN (1968)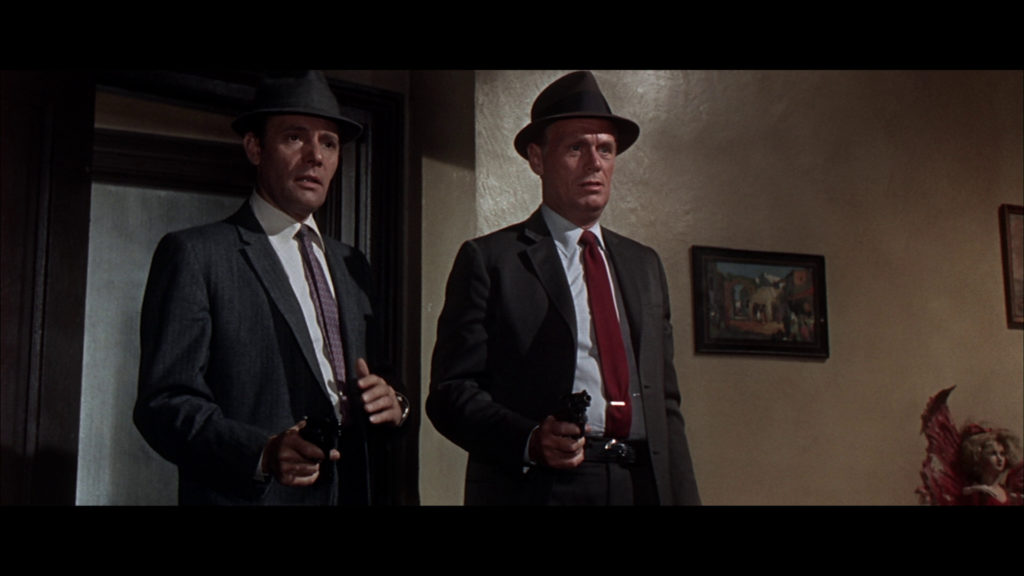 Adapting a 1962 urban thriller titled The Commissioner, written by former crime reporter and onetime New York City (deputy) police commissioner Robert Dougherty, co-screenwriter Howard Rodman (who took the screen credit of Henri Simoun) shifted the main focus away from the book's title character towards one of the story's mid-level detectives. Madigan, both title and character, gives us a New York City-street to upper-storey view of midcentury police investigation at every level of rank — patrolman and detective to inspector and commissioner — and on both sides of the law. What emerges in Don Siegel's own vision of crime in the city is the compromising and compromised individuals who navigate the many directions of morality (and its lack) in a phrase best supplied by screenwriter Rodman for a later Siegel classic: "boxing the compass".
Title-opening on a credits sequence offering varied police-cruising views of The City, Don Costa's thumping, rhythmic score resolves to Manhattan detectives Dan Madigan (Richard Widmark) and Rocky Bonaro (Harry Guardino) trudging up several stories of a Brooklyn tenement. Bursting breathlessly on bespectacled stickup man Barney Benesch (Steve Ihnat) and his latest eye-catching conquest Rosita (Toina Matchinga), the literal "illegal entry" of Madigan and Bonaro interrupts Benesch's (possibly) statutory one as the cop pair brace their oft-encountered quarry for yet-unknown questioning at the local precinct. In the confusion (and distraction) of Rosita merely crossing the room and taking (still-unclothed) refuge behind a mirror, Benesch rapidly disarms Madigan, relieves Bonaro of his own gun, and makes a quick getaway, flying down flights of stairs to the fugitive streets below.
Across town, listening pensively to a tape recording of a distinctively voiced police officer accepting a bribe, police commissioner Anthony X. Russell (Henry Fonda) immediately receives a gravelly toned phone call from chief inspector Charles Kane (James Whitmore), who informs his superior of the double-police officer gun-theft earlier that morning. By, as it turns out, a murder suspect, no less. Taking leave of his companion for the evening, Tricia Bently (Susan Clark), whom we learn in a later scene is the high society wife of a prominent city contractor, upright Commissioner Russell braces himself at city headquarters for a busy day of taking meetings, making speeches, and enforcing the letter of the law.
The top-down upshot of these uptown maneuverings, as forcefully delivered by Madigan and Bonaro's division commander, Lieutenant Price (Frank Marth): Find Benesch. And so begins Detective First-grade Madigan's 36-hour investigative odyssey to catch a killer, retrieve his gun, and restore the reputation of himself, his partner, and the greater metropolitan police force.
Packing more plot, incident, and character(s) than one could possibly address in the confines of a review, the police procedural encompasses the exacting eye-and-ear for authentic detail and local-colorful dialogue that add to an unusually exciting 101-minutes of pursuit-and-capture. Along the way, Madigan in its dramatic approach eschews the semi-documentary approach of its genre forbears, notably Boomerang! (1947) and The Naked City (1948), for an equally taut yet more intimate investigation of its dramatis personae's inner lives as well as their professions.
Developing the tensions within Madigan's marriage, wife Julia (Inger Stevens) neglected by the dedicated if flashy cop's "exciting" lifestyle, on an equal day-to-day footing with bookies (Michael Dunn), drunks (Harry Bellaver), and pimps (Don Stroud), the moral compass of the character "boxes" in several other directions — although none of them crossing the thin (flesh) line of a police-husband's waking conscience — during a drunken evening spent with an old flame, the torch singer "Jonesy" (Sheree North). Likewise, Commissioner Russell compromises himself with a potentially damaging affair, yet still manages to hold his bearing Fonda-erect through parkside civic events, solemnly nodding his head at ridiculous suggestions posed by overweight society matrons, and through testy, office-challenging encounters with justice-seeking community leaders like Harlem's Dr. Taylor (Raymond St. Jacques). Even the strictly by-the-book commissioner's moral compass, like Madigan's own in daily pursuit of criminals, "boxes" at precise sparring-odds with a tape-and-transcript of his best friend on the police force betraying everything for which the commissioner office stands.
Playing like the thematic and stylistic link between 1950's "Just the Facts" TV police dramas and the gritty sturm und drang of 1970's urban neo-noirs, Russell Metty's peerless photography, while nowhere near as hallucinatory as his contemporary lensing of soap operas like Midnight Lace (1960) or Madame X (1966), beautifully captures the handful of actual NYC locations used, seamlessly melding them with LA- or Universal Studios-shot material. Given a much broader canvass than he had been offered the past decade, confined mainly to made-for-TV dramas, Don Siegel creates a vividly populated city against the strongly urban background.
Involving from frame one, even if the opening credits sequence isn't quite what the director envisioned — overruled by producer Frank Rosenberg, Siegel's version would have followed the detectives up those long stairs in a single take, with the director's credit superimposed over a quick cut to the kicked-in door — Madigan asserts its own independence in terms of complex characterization and the hard truths of their individual situations. Among those hard-truths eagerly awaiting first-time viewers: sometimes cops and their killers are more alike than anyone would care to admit. (And if one finds the statement obscure, one is strongly referred to the dramatic evidence of the movie.)
CHARLEY VARRICK (1973)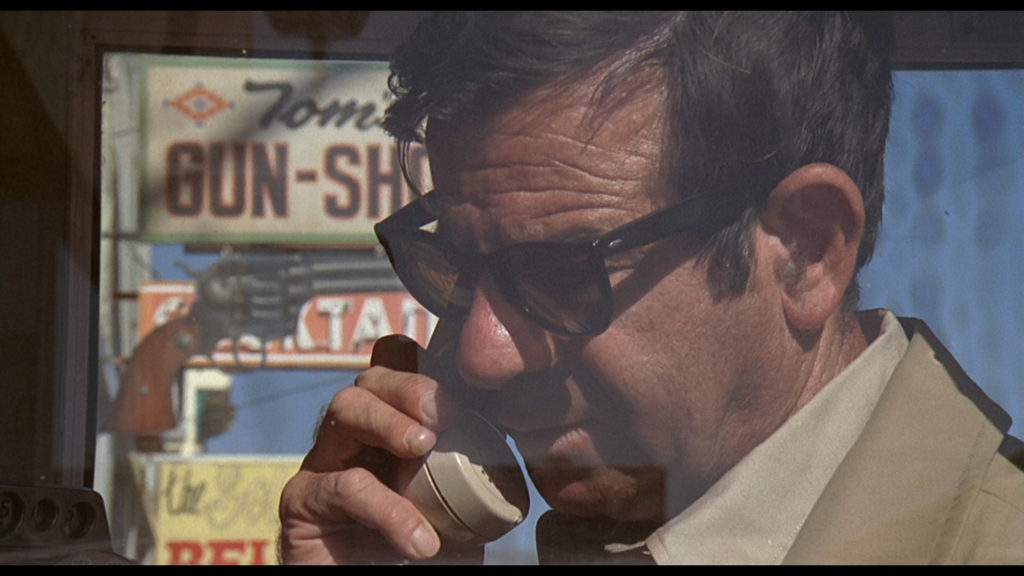 Past the circa 1973 Universal logo, past a graphically-matched zoom-out on a full moon nestled in the night sky, past a Lalo Schifrin musical sting on the handwritten-stylized credit "a Siegel film", and past a slow, forbidding tracking shot along a twilight-painted mountain range in the American Southwest, the additional credit of "Walter Matthau/AS" resolves to the red-lettered title burning in bright-orange flame. In one of the great tonal/graphic shifts in title-credit history, day breaks with the music to a country-western twang-glow — the latter courtesy of cinematographer Michael C. Butler's breathtakingly unfiltered imagery — across lingering scenes of sunlit landscapes, childhood innocence, and American flags. Imparting a special quality to every further name listed in this sequence — nostalgic yet foreboding, ironic yet heartfelt, epic yet intimate — Charley Varrick feels immediately like the unfettered expression of a singular vision at the full height of its maturity.
Opening in the small Nevada town of Tres Cruces, two patrolmen stop a bickering couple of a gruff, white-haired older man, wearing a cast on his left foot, and his much-younger wife, driving their sleek-length gas-guzzler in front of the local Savings & Loans. Concealing at least three levels of story-and-character deception in that descriptive sentence alone — including twenty years of makeup and disguise on the "old man", felonious intent on whatever lies in the S&L's cash drawers, and two additional partners with masks in their pockets waiting in the lobby — the patrolmen double-back to the bank after the couple's plate number checks out as stolen even as the cast-footed man hobbles leisurely towards the teller window.
In the aftermath of the robbery, in which one guard and one robber are killed, the bank vault is emptied, and a patrolman approaching the stolen car is shot in the head through a purse, the escaping trio of Charley Varrick (Walter Matthau), his expert driver wife Nadine (Jacqueline Scott), and surviving stickup man Harman Sullivan (Andy Robinson) successfully (and car-chasing, hood-tearing, market-colliding spectacularly) elude pursuing police through the backstreets of Tres Cruces towards the smooth-paved highways of mountain-air freedom.
At a crossroads, however, Nadine quickly pulls over to reveal a bleeding wound through her side — from her earlier exchange of shots with the patrolman she killed — and the last car she drove is soon prepared as a diversionary (and evidence-destroying) funeral pyre of powder explosive by Vietnam vet Sullivan. As Varrick shares a postmortem kiss, placing her wedding ring on his little finger next to his ring finger-own, he also finishes the job spreading explosive over her limp form. Charley and Harman, having donned white jumpsuits with the legend of the former barn-storming pilot's crop-dusting company — "Charley Varrick — Last of the Independents" — the pair flee the scene in their company's truck bearing the same logo.
Pulled over on the plains below by a none-too-bright officer, Charley and Harman are apparently scot-free after the officer's suspicions are immediately diverted by a meticulously placed, sky-high explosion in the vast mountain range behind. Arriving safely back at Charley and (the late) Nadine's trailer home, Charley and Harman finally check on their cash-haul to find what is later counted to be over three-quarters of a million dollars — when Charley had been expecting ten or maybe twenty thousand at the outmost. And when the radio reports a mere two thousand stolen from the Tres Cruces Savings & Loans, the respective fates of quick-thinking Charley and loose-cannon Harman are sealed as the brilliant former's brain-gears click in high motion in order to permanently preserve his imminently and mortally threatened independence.
Having described at length what only amounts to the first quarter of the movie, the immediately subsequent introduction of smooth Mafia liaison Maynard Boyle (John Vernon), Chinese restaurant front Honest John (Benson Fong), and viciously efficient good ol' boy hitman Molly leads to further story-contact with an offroad whorehouse madam (Monica Lewis), a duplicitous one-legged gun store owner (Tom Tully), a voluptuous photographer and counterfeiter (Sheree North), a self-sufficient but charm-susceptible secretary (Felicia Farr), among others. Credited co-writer Howard Rodman's script contains as many deceptive detours as juicy character parts — from William Schallert's smalltown sheriff to Marjorie Bennett's nosy trailer-park neighbor to Woody Parfrey's tragic bank manager — which story-build and -propel with the Swiss-timed precision of a ticking stopwatch.
All through this immensely satisfying genre mayhem — which one can watch several times over before, say, the full significance dawns on one of Varrick's afterhours break-in to his dentist's office, ostensibly to remove his wife's dental records but also to switch Harman's files with his own — the sure hand of first-time producer-director Don Siegel guides viewers through the increasingly bizarre layers of downhome sadism. What is thematically presented as Americana gone berserk, where images of children swinging in the sunlight, the sound of cows mooing on the plain, and indelible lines of dialogue like "a pair of pliers and a blowtorch" — to say nothing of the gobsmacking sequence of a Chrysler Imperial bearing down on a propeller-to-tail, fin-flipping biplane, f'r chrissakes — are literally and figuratively overturned, and move like a coiling desert rattler towards the ultimate revelation of that burning opening image.
Siegel's preferred title for Charley Varrick was in fact "The Last of the Independents" — which as Joe Don Baker's Molly admirably notes has a compelling "ring of finality" — and it is important to also note that this 1973 film is the first to bear the credit of "a Siegel film". Having risen from the ranks of studio filmmaking through periods of peripheral underemployment towards this, one of the most confident, rich, and expressive crime thrillers in Hollywood history, one might be sorely tempted to draw a direct visual, thematic, and symbolic line between Siegel calling "Wrap!" on his masterpiece, Charley Varrick, and the immediately preceding image of the title character literally kissing his old jump-suit identity behind and absconding in a souped-up (and only temporarily stalled) Chrysler Imperial.
…
Sam Martin, Dan Madigan, Charley Varrick; the character-thread linking three protagonists across three decades of Don Siegel films is one of personal freedom, where the characters' moment-by-moment choices are made to preserve their vocation, code of ethics, or sense of identity. Martin ceases to be, in a sense, if he removes his skippers' hat, as boating is all he knows; Madigan without his gun holstered at his plainclothes side has essentially lost both his mandate and street-credibility; and, in the simultaneously darkest but also most liberating strain of this theme, Varrick must ultimately sacrifice his entire one-piece, jump-suited identity in order to continue breathing: in all, the Siegelian (or, again, Siegelesque?) "hero" maintains a mortally threatened and even socially irrelevant "self" at every cost, up to and including symbolic suicide and/or death.
Independence, then, becomes the shared trait of these martyrs to their own selves; their varying degree of sacrificial "survival" depends not just on overcoming mortal threats, but also upholding their perceived self-worth. And in a Siegel film, no price is to large to again protect this independence. If he makes it safely back to shore, Martin will have killed an entire outlaw crew in order to remain the skipper; if he has poster-image laid his life in the line of duty, Madigan will be given a cop hero's funeral down the very streets he once daily patrolled; and if the varying debris of an exploding trunk bomb satisfies local law enforcement, the justice department, and the Mafia (in that reverse order), Charley Varrick will vanish from this earth even as his brains, body, and wily indomitability live on.
The last, one suspects, is how expressive filmmakers like Don Siegel were able to survive so long in an industry that demanded an artist submerge personal expression — in other words, their independence as artists — in favor of stronger commercial demands of studios, producers, and the perceived taste of a vast, undifferentiated viewing public. Whether navigating vast oceans of maritime law (The Gun Runners), the structures and strictures of a big city police force (Madigan), or the arbitrary authority of the almighty buck (Charley Varrick), the poetry and precision of high-end filmmaking — from countless Warner Brothers' time-lapse dream-dissolves to an entire flame-crumpled life cast resolutely to the desert winds — show the hard evidence of every frame personally chosen by his shrewd artistic intelligence.
Whether in ping-pong (as his Varrick cameo makes clear, he was a feared hustler of the table sport) life (a born survivor), or filmmaking (having survived as many career highs as lows), Don Siegel played to win.
…
Kino Lorber Studio Classics' trio of Blu-rays brings Don Siegel's successively unfettered and unfiltered vision — across three separate decades and an interim of fifteen years — to beautiful high definition, the ocean-rolling black-and-white of The Gun Runners to the stark Technicolor cityscapes of Madigan to the Southwestern sun-grain of Charley Varrick appearing individually crisp, vivid, and clear. Their presentation of Charley Varrick is particularly commendable for its unmatched sound mix, balancing Lalo Schifrin's tension-ratcheting score against the diegetic "music" of rusty swings, roaring car engines, and whirring propellers. Just the jingle-jangle of car keys in white Stetson-hatted Molly's fists said as much to me about his character's blithe sadism as his immediately subsequent upper-cut to character actor Albert Popwell's jaw. (To say nothing of actor Joe Don Baker's equally shocking and scarily authentic-sounding intonation — in sonic crystal-clarity — of a racial epithet punctuated by the revving engine-contact of its jaw-broken former owner's now-repossessed Chrysler Imperial. The latter is definitely the vehicle to watch and listen for throughout the course of the movie.)
While The Gun Runners would certainly have benefitted from special features beyond a gallery of Don Siegel-related trailers, the Blu-rays of Madigan and especially Charley Varrick more than make up for the former's lack. Which, actually, the reviewer should thank Kino Lorber, as he was in no danger of idea-theft or insight-appropriation on this first film, at least, as when he was confronted by the overflowing wealth of expertise prepared for the second two films.
The entirety of that considerable expertise is condensed to 101-minutes of audio commentary from Howard S. Berger, Nathaniel Thompson, and Steve Mitchell on Madigan, the seasoned commentators deep-diving into production details, behind-the-scenes conflicts between its producer and director, location-matching between New York and LA, and the uniquely intimate/epic feel of this sprawling NYC cop drama's soap opera-panoramics. With a precision matching Don Siegel's direction, Berger, Thompson, and Mitchell survey the many stories (and storeys) of the post-naked, neo-noir city with vast and equally sprawling aplomb. In all, the rare commentary that will actually enrich, and possibly transform, one's appreciation of the film.
Topping all previous releases this self-same Kino Lorber viewer has experienced, however, is their peerless presentation of Charley Varrick. Previously available in the US solely as a pan-and-scan DVD, this consistently overlooked masterpiece gets the widescreen 4K-quality image it eminently deserves, with a bursting superfluity of special features to boot:
— A limited edition booklet essay from critic Nick Pinkerton succinctly positions the film within the larger Siegel oeuvre, the equal specificity of his descriptions and analysis of Siegel's methodology and mise en scene on Charley Varrick as "detail-oriented and clear-headed" as the title character.
— A five-minute spot by Trailers from Hell from screenwriters Josh Olson and Howard A. Rodman, the latter son of Charley Varrick's credited co-writer, pays infectiously passionate tribute to a film they clearly and deeply love both as professionals and film-viewers.
— A 2015 feature-length documentary entitled Last of the Independents: The Making of Charley Varrick interviews surviving actors (notably co-stars Andy Robinson and Jacqueline Scott), crew people (most memorably, second-generation stunt man/bit role player Craig Baxley), and Siegel's son Kristoffer Tabori and a returning Howard A. Rodman, both offering insights on their fathers. From adapting pulp writer John Reese's 1968 paperback The Looters (in which Charley Varrick literally as opposed to just figuratively dies) to stories of its smalltown Nevada locations, and even conflicts between star Walter Matthau, who had certain story-related misgivings about the project, and stubborn director Siegel, whose confidence in the script was equal only to his faith in the audience, one will surely come away with a deeper understanding of the context, initial reception, and continued legacy of the film.
— Film historian Toby Roan offers another exceedingly well-researched commentary track, his own Southwestern twang certainly the right voice for a feature-length cattle-call of relevant acting, production, location, and post-production credits.
— Finally, film historian Howard S. Berger returns for a forty-minute video essay entitled Refracted Personae, on which Berger serves as director, narrator, and co-writer. Superbly organized and edited, Berger and his collaborators break the film sectionally into its thematic elements and vividly illustrate though countless visual examples how Siegel asserts a clear directorial vision on Charley Varrick that is consistent with and the apotheosis of his entire filmography. Deeply analytical without ever being obscure, one hopes we will have more similarly unique vid-essays to look forward to from Howard S. Berger.
…
And so concludes our Don Siegel deep-dive; a triathalon viewing from Noirvember unaccountably extending to a near-5000-word exegesis in deepest Dreadcember. But no matter. Carefully preserved and presented, with dedicated curators like Kino Lorber and their collaborators keeping Cinema alive, the independent view and rich vision of Don Siegel among others will long await several subsequent views, re-views, and reviews. Until then, Martin, Madigan, and Varrick will undoubtedly continue their own individually Siegelian (or Siegelesque) ways until next we meet them on the long, high road out of the flaming junkyard.
The images used in this review are credited to DVDBeaver, which the exceptions of the images used for Charley Varrick, are taken from Kino Lorber's Blu-rays. As always, thanks to Kino Lorber for providing review copies.