Finding the parenting contrast between "Power to the People" and "Stick it to the Man"
DIRECTED BY MATT ROSS/2016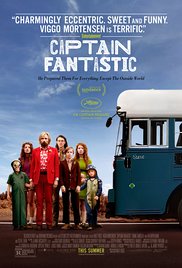 Actor Matt Ross wrote and directed his second feature length film (and also his latest) Captain Fantastic based on some of his own experiences with parenting.  While the story may be fictional, it provides us a context to question everything we think we know about the ideal way to raise children, and evaluates it in light of a shared experience that will ultimately clash with everyone else's view on the subject.  Ross gives us a fresh, funny, heartbreaking, and triumphant tale of one family's journey to navigate life on their terms. Captain Fantastic celebrates the idealism of The Mosquito Coast with the heart and humor of Little Miss Sunshine.
Viggo Mortensen (The Lord of the Rings, A History of Violence) plays Ben, a father of six who is bringing up his family in what can only be called a "classical" education.  He and his wife Leslie have moved away from the "evil" capitalist world of modern America to a mountainous plot of land in Washington.  There, they raise the children to hunt, raise their own food, mountain climb, practice combat, perform music and art, and study all of the classic works of literature, science, religion, and history.  They value their family, and repeat mantras like "Power to the People. Stick it to the man!".
Viggo Mortensen is perfect in this role.  "Captain Fantastic" provides more heart and humor than most films this year.
Ben is anti-Christianity, and adhere's to more of a secular humanist view of the world.  He idolizes Noam Chomsky, even giving presents to the children on a day they choose to celebrate it (despite it not being his actual birthday!). His wife, however, has been away, in a hospital dealing with her own mental illness.  When tragedy strikes, Ben must bring his children back to the world he left to engage with both Leslie's parents (played wonderfully by Frank Langella and Ann Dowd) and Ben's own sister, and this will challenge everything he has been teaching his family.
Captain Fantastic champions Ben's point of view before directly challenging it with the encounters they have with their extended family, and the culture they loathe.  Like any philosophy, worldview, or theology, the true test isn't whether you can simply believe it, but whether it holds up under the pressures of the day to day experiences in our world, and in with others.  It is here that Captain Fantastic is at its strongest, when it challenges the very notion that it has been championing.  While writer/director Matt Ross clearly has his favorite targets, he is not afraid to give a sympathetic gaze their way, or even show value in their point of view.  This is especially true in the encounters Ben has with his in-laws.
The film features beautiful cinematography that holds the beauty of Ben's world in the camera's eye for long gazes as the camera pans this utopian paradise.  This is contrasted with tight close-up shots of the actors as they come in contact with a world that is much different from the one they are being raised in.  This contrast is helpful in creating the conflict that will ensue from Ben's ideological approach, and the world that holds much different values.
Apart from the obvious political contrast of Ben's Noam Chomsky affiliation and his son's adherence to Mao-ism, with the more conservative family members they clash with, the real question at the heart of this film, is really 'what is the best way to raise kids'?  Every parent longs to teach their own kids the things that truly matter, that will set them apart and prepare them for the type of world you hope they will live in.  We long for them to be well-rounded, to excel, and to be stronger in the areas of our lives where we feel we are weak.  Ben believes he has done a good job.  His 7 year old daughter can literally quote the Bill of Rights, and each of their children speak multiple languages, and can converse on almost any subject.  They even put their cousins to shame as Ross subtly takes a shot at the Millennials and their focus on video games and social media over true education.
For all of their family's strengths, there are still glaring weaknesses.  Can Ben's children tolerate, much less empathize with others who don't share their beliefs?  Can they even speak to someone they are attracted to and engage them in a relationship at an emotional level that isn't based on intellect and knowledge?  Can they engage the world as it is, rather than how they've been brought up to believe it should be?
Ben's sister and brother-in-law, Harper (Katherine Hahn) and Dave (Steve Zahn), have the opposite problem.  In contrast with Ben's hyper diligence to always tell the truth to his kids, including a very clinical, yet graphic, account of his wife's fate, or explaining to his very young daughter what sexual intercourse is, Harper and Dave shelter their teenage sons from everything.  They do it in the name of not giving kids too-much-too-soon, and respecting the fact that kids can't emotionally process everything at certain ages.  This contrast seems to be a good marker of the extremes that exist in parenting.  How much is too much, and how and when do we expose our kids to the truths of the larger world? And how do we give others room to find their own way in raising children who will be able to navigate this world?
If Ben errors too much towards "Stick it to the man", do others error too much towards "Power to the People"?Can we really find a happy medium between both of these ideals as we prepare our kids for the world?
This film should have been a fall release, and should warrant some Oscar attention. Unfortunately, releasing it in summer between loud tent-pole films will keep this film hidden from most. Viggo Mortensen is perfect in this role.  Captain Fantastic provides more heart and humor than most films this year.  This is a film about family, yet it is not by any means a "family" film with its harsh language and full-frontal shot of Viggo demonstrating his adherence to being real and natural, no matter what.  But this is a family with a moral code…no nudity when its mealtime!  While its title may make it seem like the latest superhero film to hit the multiplex, its content is that of a story we all need to see, process, evaluate, and talk about.  If people sought out this little film this summer, it would be fantastic!