Too Many Exorcists Take Possession of David Gordon Green's new Legacy Horror Sequel.
DIRECTED BY DAVID GORDON GREEN/2023
They say that the Devil is in the details, but for The Exorcist: Believer, the opposite might just be true.  While such legacy sequels are nothing new these days, few drift into cinemas with the cache, prestige, or influence of William Friedkin's 1973 classic, The Exorcist, as its namesake.  
Both a seminal, then-controversial blockbuster and an impeccable piece of work, The Exorcist persists despite a rash of tepid-to-vomitous sequels. Best to think of the original as one thinks about Hitchcock's Psycho– not as the first in a franchise, but as a singular masterpiece that's been unfortunately amended over the years. This time, however, things are intended to be different…
Director David Gordon Green, fresh off his revisionist trilogy of Halloween films, has wasted no time taking possession of Friedkin and writer William Peter Blatty's iconic 1970s horror phenomenon.  That he's managed to lure the great Ellen Burstyn back into the fold for the first time since the original is nothing to cast out.  Burstyn, like few others, stands as one of the defining and most potent screen talents of the 1970s.  There's no question that from Believer's trailers on up, her return as Chris MacNeil, the tormented mother of Linda Blair's o.g. possession victim, unquestionably classes up the edeavor.  
It is, however, Leslie Odom Jr.'s leading-man turn as Victor, the father of Angela (Lidya Jewett), one of this film's two (yes, two) teen girl possession victims, that truly anchors The Exorcist: Believer. A traumatized widower and protective father, Victor finds his own angry skepticism about religion challenged in the face of the requisite supernatural freakiness going on within his daughter and her friend, Katherine (Olivia Marcum). "Skepticism will only get you so far", the recruited veteran of this sort of thing, Chris MacNeil, wisely tells him.
Victor's journey towards the inevitable titular rites of driving away demons is urged on by Ann (a perfectly cast Ann Dowd), a well-intentioned nurse with an unpleasant suppressed past. Following film's interminable first act of narrative wheel-spinning, Victor, Ann, and Katherine's churchgoing Christian parents, Tony (Norbert Leo Butz) and Miranda (Jennifer Nettles), finally get down to the movie's promised business of exorcism.
Though Believer's structure is all too reminiscent of The Exorcist, Green and company are far too eager to deliver their infusions of attempted shocks, twists, and variations. The rickety results speak for themselves, in derivative screechy, scratchy voices, no less. (Mercedes McCambridge, where are you now?) Nowhere is this more apparent than in the darkened room full of various would-be exorcists from several different faith traditions. This makeshift interfaith alliance falls together awfully fast, immediately (unrealistically) clicking as a unit of significant spiritual force. This is in spite of the Catholic church's rejection of the parents' plea for an official Father Merrin-style exorcism. Conflicted to his core, Father Maddox (E.J. Bonilla), the film's sympathetic Catholic priest, sits in his car outside of the Savannah, Georgia home where the ritual is happening. Will he get it together on time to join in spiritual warfare?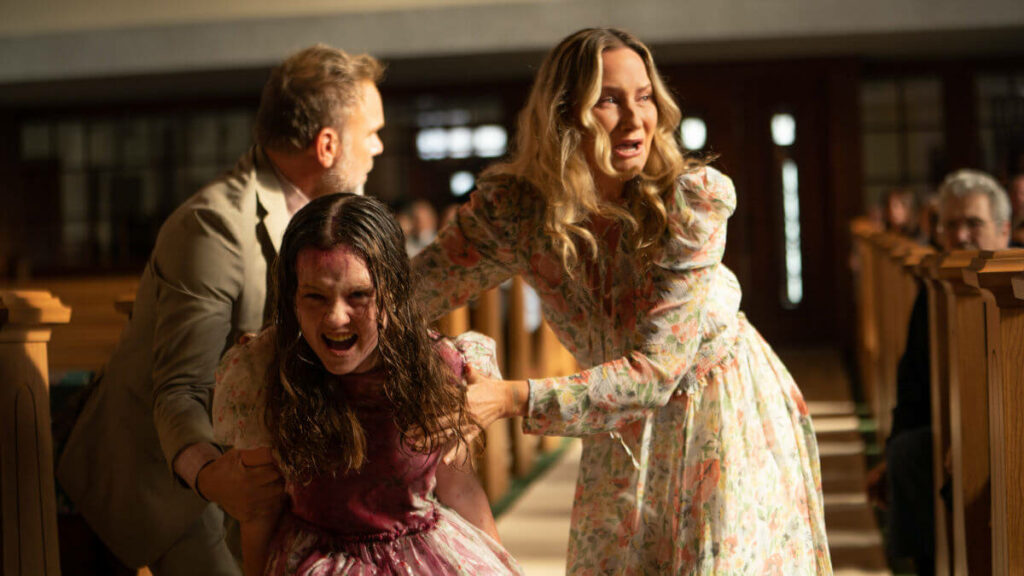 Pointing back to its own title, Green's film goes its own way in attempting to iterate that the central battle of good versus evil is actually all about what one believes. This pivot towards the subjective rather than the objective foists Believer into a notably different secular realm than Blatty was said to be interested in exploring. The way that the demons in the grotesquely transformed girls taunt the participants in ways they're most vulnerable harkens back effectively to the original film, but the primary resolution is a lame scene. The most interesting take on the finale centers on the failures of certain participants (do they give the demon power by simply engaging in its ultimatum?) rather than the perceived triumph of others. By then, however, it's too little too late for The Exorcist: Believer. It's long since descended into Boring Movie Hell.
As Green (who co-wrote the screenplay with Peter Sattler) loses the forest for the trees, crucial details of his story suffer while other far less engaging ones thrive. A fatal misstep is the film's focus on the parents at the expense of the possessed kids' humanity. While Linda Blair's turn as Regan MacNeil functioned within the plot much the same way, her character never came off as a cipher. Meanwhile, here we are only one movie into this supposed new Exorcist trilogy, and spirit is already weak. Which leaves at least one thing very clear: whatever possessed Green and his cohorts to descend into this IP hell (at the reported tune of $400 million for the rights alone) is truly a great deceiver.