Kenneth Branagh's Maligned Literary Horror, Starring Robert De Niro and Helena Bonham Carter, Returns From the Cemetery
DIRECTED BY KENNETH BRANAGH/1994
4K UHD STREET DATE: APRIL 12, 2022/ARROW VIDEO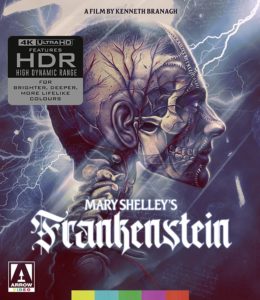 Oh sure, it's alive. But to what end? In the lumbering Gothic unspooling of Kenneth Branagh's Mary Shelley's Frankenstein, the question isn't so much why it's alive (that old quest to be God), or even how it's alive (something about amniotic fluid and electricity). Rather, for better and for worse, it's all about quality of life.
Its timeline nudged a few decades earlier into the very late 1700s from Shelley's 1818 original, the character's experiences span from scarlet fever to cholera to a man-made monster running amok. The latter is, of course, the hubris-driven answer to the two former plagues. For young promising "natural philosopher" Victor Frankenstein (Branagh, doing his best to soak up all spotlights and candlelight), various loved ones and close acquaintances will fall victim to one or another of these. It's no consolation that no one's quality of life was that good circa the 1790s. Victor, beset by tragedy even before he assumes his mantle of Modern Prometheus, intends to do something about that. When his adoring and doting mother suffers a painful demise early in the story, he vows to end death itself. "No one need ever die", he states to her looming grave monument. He will tamper in God's domain, with relish. We know where that leads…
As cholera raged, the kneejerk rush to blame and even attack science swept the land.  This mentality appears to be baked into all of Frankenstein at its most fundamental level.  The centuries-persisting power of the myth lies in its ability to speak to its recipients regardless of knowledge of such of-the-moment influence.  Consequently, from James Whale's rightly iconic 1931 version starring Boris Karloff to Terence Fisher's sublime 1957 version starring Peter Cushing and Christopher Lee to Mel Brooks' 1974 parody of all of it, the name and general morals of "Frankenstein" had infused their ways into the permanent cultural zeitgeist.  But none were the book-on-film.  Could such a thing be made?  What kind of man-god would it take to craft it?
For Mary Shelley's Frankenstein, several impressive ships had to cascade into one another at just the right time to enable a large-scale film of such put-on (and put-upon) grandiosity.  For one, reprisals of classic literary monsters were having a moment.  Francis Ford Coppola scored with his Gothic-gone-gonzo Bram Stoker's Dracula just a couple years earlier.  Anne Rice was burning up bestseller charts with her androgynous take on vampires.  The groundbreaking novel of Mary Shelley (The first horror novel?  The first science fiction novel?  At least one commentator on this disc says "yes and yes") was just sitting there…
Enter Kenneth Branagh, the smart-girl crush of the time. Hot off his beloved take on Much Ado About Nothing (1993)- his second of numerous Shakespeare adaptations, but no stranger to the darker sides of things (see: 1991's Dead Again), his being plugged into a prestige, book-loyal Frankenstein (a screen rarity, despite the many appropriations over the decades) sounded like lightning in a bottle. Coppola's enduring American Zoetrope company provided the filmmaking laboratory. It would only be a matter of imbuing life. What we get is, like the creature itself (to use a metaphor within a metaphor), an uneven, unbalanced, unsatisfying jolt of atonal uncertainty. Nuance in the film's tactile aesthetic (beautiful costumes, sets, locations, props, et cetra et cetra et cetra), but a fear-driven dumbing-down of the story.
With a screenplay credited to Steph Lady and Frank Darabont, every scene is so dense with Screenwriting 101 "get to the point"-ism that there's no air left for the audience.  And if the audience can't breathe, then they can't scream.  And so, from the brilliant source material of Mary Shelley, Branagh has cobbled together an ornately impersonal efficiency machine.  There are so many lanterns hanging on every moment of this film, it's a wonder it doesn't completely catch fire much sooner.  And, this being Frankenstein, we go in knowing "fire bad".  Or, to push these analogies even further, quoting another, earlier "liberal adaptation" (the very first, in fact), J. Searle Dawley's 1910 Frankenstein: "Instead of a perfect human being, the evil in Frankenstein's mind creates a MONSTER."  (Emphasis ours, all ours).
Although this is Kenneth Branagh scaling precariously close to the peak of his ego (he would summit with 1996's four-plus-hour Hamlet- its pageantry out the butt, but an altogether better work than this), Robert De Niro secures top billing as the creature.  The genius of De Niro's casting, while not obvious, secures a different, American Actor's Studio kind of prestige for Mary Shelley's Frankenstein.  Still thought of as a "dangerous" actor in 1994, his inclusion is a gambit that pays off.  Branagh allows De Niro a freedom of performative decompression not at all afforded to fine fellow talent Helena Bonham Carter (as Frankenstein's tortured love Elizabeth), Tom Hulce (as friend Henry), Aiden Quinn (as the previously oft-omitted sea captain, Walton), Ian Holm (as Victor's father), John Cleese (as a very serious naysaying professor), and Richard Briers (as "Grandfather").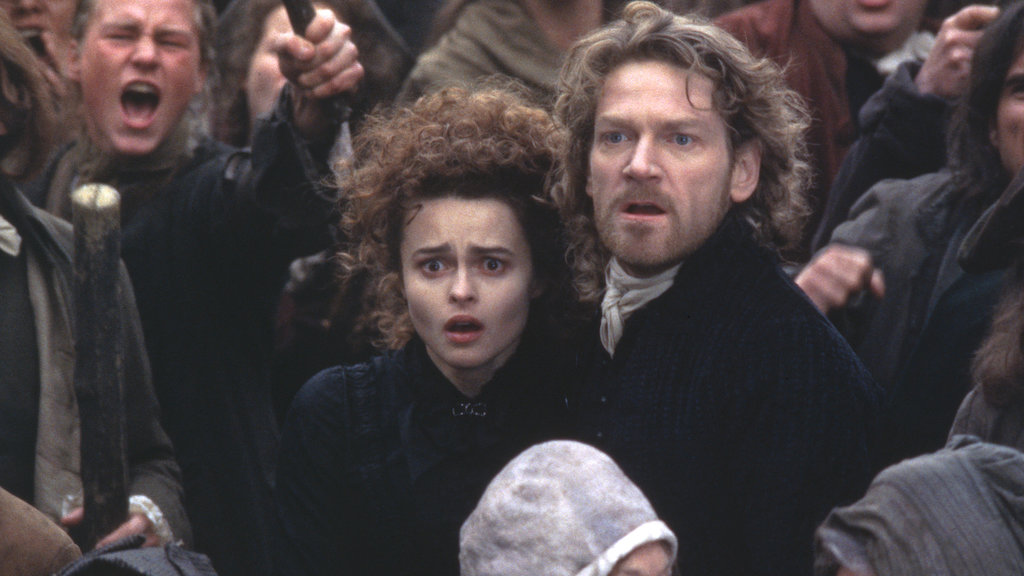 As corpses pile up with the monster on the loose, it is the soul of Victor Frankenstein that hangs in the balance. But we know from the outset that Victor is a madman at worst, a warped obsessive at best. A genius, sure, but a genius of the grotesque. His view of human cadavers purely as spare parts receptacles is a hard-beaten drum throughout. This being a horror story, such immoral (or at least insensitive) disregard will come back upon him. And all the while, at the ripped-out heart of movie is an Oedipal battle over Elizabeth fought between Victor and the creature, playing out in a bleak almost-satisfying crescendo.
Arrow Video has given new life to Mary Shelley's Frankenstein with this alluring 4K Ultra HD offering. Utilizing a new 4K restoration from the original camera negatives by Sony Pictures Entertainment, the 2160p UHD Blu-ray presentation (in Dolby Vision, HDR10 compatible) maintains a nearly too-dense degree of rich film grain. The movie's elemental, textured nature of so much fire and ice (one of the film's strong points) finds its own proper display, promoting the intended extremes of warmth and frigidity. The original uncompressed stereo audio as well as a newer DTS-HD MA 5.1 surround audio track are available (all the better in showcasing composer Patrick Doyle's music, which he discusses in a new interview of his own), as are optional English subtitles for the deaf and hard of hearing. The case contains a very nice full color glossy thirty-six-page booklet with writings by Jon Towlson and Amy C. Chambers. The reversible sleeve features original and eye-catching newly commissioned artwork by Laz Marquez.
Among the several brand new on-camera interviews conducted by Arrow for this release is the film's costume designer, James Acheson. Acheson's lighthearted recollection of how Branagh's black leather pants worn in the pivotal creation of the creature sequence harkens back to more serious criticisms of Mary Shelley's Frankenstein at the time of its release: that, as evidenced by his shiny, candlelit shirtlessness in said sequence, Branagh was, first and foremost, fixated on how he shot himself. It's De Niro's moment, but as director of the film, Branagh did everything in his considerable power to own it.
De Niro emerges as the corpse-assembled creature, netting the only moments of nuance and pause in this film. His scant moments of existential quivering and processing are by far the movie's best. Even through some seriously spectacular macabre makeup, De Niro can still outdo every other actor in the continental radius. Make-up designer Daniel Parker, in his own brand-new interview for this disc, recalls the three-and-a-half-hour close-up-proof application gauntlet, and how the actor integrated it into his performance. He even internalizes the film's logical actuality that one of his legs would be longer than the other. Suffices to say, De Niro's sped-up hobbling is far more satisfying than the similar narrative hobbling of Mary Shelley's Frankenstein.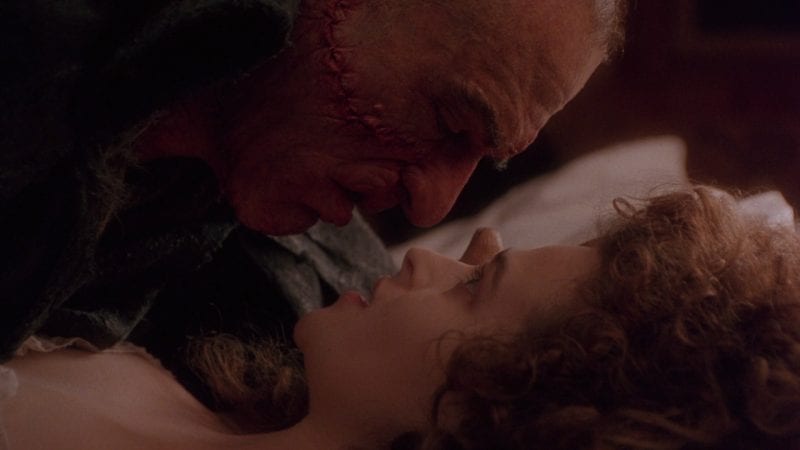 And yet, this movie- perhaps one of the great uniquely 1990s cinema misfires- is worth the examination provided by Arrow. Brand new featurettes Mary Shelley and The Creation of a Monster, on the origins and evolution of the Frankenstein story, and Dissecting Mary Shelley's Frankenstein, on the differences between the novel and Kenneth Branagh's screen adaptation, feature Gothic specialists David Pirie, Jonathan Rigby and Stephen Volk. These three experts, seated in front of their shelves of many books, are tremendous to have on hand as enthusiastic historians. If there's a criticism to be lodged, it would be that perhaps someone besides aging British white males could have a say on this treatment of the famously female-forged tale?
While the brand-new audio commentary by film historians Michael Brooke and Johnny Mains offers no such alternative representation, it does present a more critical breakdown of the film (particularly as a professing Shelley interpretation), and the many liberties that have been taken with it. It is a lively and enlightening tour through this ambitiously troubled realization.
Finally, aside from some release trailers, Arrow includes J. Searle Dawley's 1910 silent, black and white production of Shelley's tale, fully titled Frankenstein: A Liberal Adaptation from Mrs. Shelley's Famous Story, created for Edison Productions. The oft-overlooked fourteen-minute three-hander (just Victor, Elizabeth, and the very heavy metal-looking monster are in it) is presented in a 2K restoration by the Library of Congress, with terrific music by Donald Sosin. While Dawley doesn't break new filmmaking ground with his customarily stagey-for-the-time Frankenstein, he does include some not-unclever blocking with the use of a mirror. The fate of the monster, however, as somehow trapped within the mirror, might've better served Branagh's film, as proud as he is of his own oiled physique.
Still, it is understood that what Victor does, he does for love.  At least that's why he thinks he does it.  That may as well be why Branagh thinks he does it as well, though does self-love count…?  Thankfully, the filmmaker would outgrow such bombastic self-aggrandizing pomposity, and settle into more refined if occasionally bland directorial projects.  For every personal accomplishment such as Belfast there's at least one certifiably disastrous Artemis Fowl.  Comfortably between those, many a Murder on the Orient Express, Cinderella or Thor.  This final category may be where the Branagh of today most comfortably resides.  It's not often that a director of early-career Welles-ian praise and comparison comes along, and even more infrequently that he manages to sidestep the later-career Welles-ian fate of slipping from the ice wall into the fire.  But in all things, it's the quality that matters- even when the sum of the parts doesn't always connect.