A Major NYC Indie Film Magnate gets his due
DIRECTED BY IRA DEUTCHMAN/2019
BLU-RAY STREET DATE: JUNE 7, 2022/DEUTCHMAN COMPANY INC.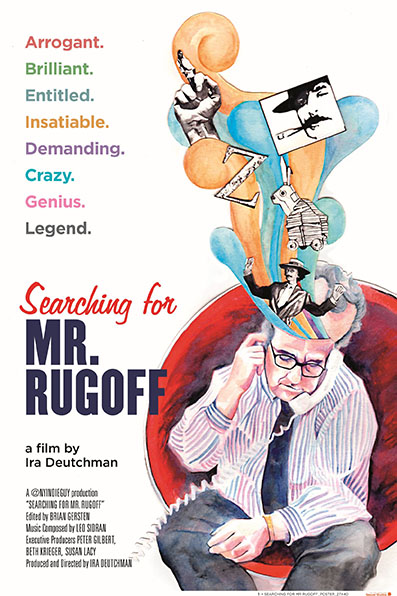 It's hard to label Searching for Mr. Rugoff as a tribute to a great man when the film makes a point of being upfront about what a bastard the elusive Mr. Rugoff could be. Yet, if anyone is likely to find the silver linings in the life and career of Donald Rugoff, the groundbreaking distributor of independent films, it's another successful distributor of independent films. Enter this documentary's director and the manager who made Fine Line Features so fine, (Fine Line being the "mini major" that put out Altman's The Player, Jarmusch's Night on Earth, Van Sant's My Own Private Idaho, to name a few) Ira Deutchman. For him, this project is a matter of credit where credit is due.
The life of late New York movie magnate Rugoff was one of high highs and low lows. Per the many contemporary talking-head interviews that dominate the ninety-four-minute film (including Costa-Gavras, Lina Wertmuller, and Robert Downey Sr.), the Cinema 5 founder, strategist, impresario and visionary was prickly, passionate, obsessive, and bold in his many risks. In the cases of the films celebrated here, such risks absolutely paid off. Rugoff saw potential in titles such as Costa-Gavras' Z, Nicolas Roeg's The Man Who Fell to Earth, Lina Wertmuller's Swept Away, and the now-iconic comedy classic, Monty Python and the Holy Grail when every other distributor passed on them. He snapped them up; the rest is film history.
Perhaps the most fascinating portion of the film is near the middle, when Deutchman talks to people about Rugoff's often innovative and sometimes off-kilter approach to promoting the diverse array of films he acquired. Though a Cinema 5 "house style" is deduced and acknowledged, the graphic wallops of Rugoff's posters for Robert Downey's Putney Swope– a giant finger flicking the bird, but the middle finger is a seductive woman- or Sarah Kernochan's Marjoe- a bright blue screen print of the title evangelist which implies patriotic subversion- are not only formidable, but they also proved influential. Rugoff was never above shock tactics.
Likewise, the many radio ads communicate unconventional approaches from one film to the next. Finally, several grassroots campaigns are recalled, particularly one where two office underlings were dressed as Graham Chapman's Arthur and Terry Gilliam Patsy and made to galivant all over the Big Apple for several days to promote the U.S. release of Monty Python and the Holy Grail. Appropriately, it was indeed such sandwich-board wearing nonsense that effectively launched that film stateside.
It appears that director Deutchman, who makes his own search for Rugoff's final cinema (said to have been a converted church building at Martha's Vineyard) as well as the man's final resting place the reoccurring through line of the documentary, has adjusted his film distributor's cap to release Searching for Mr. Rugoff on his own. He's done a great job of getting it out there, as it is now available on DVD, Blu-ray, and all TVOD platforms. The Blu-ray (reviewed here) has excellent picture and sound quality, as well as a long list of short bonus clips from the many interviews conducted for the film.
Searching for Mr. Rugoff is a great little find for devoted film buffs, though perhaps a bit too "inside baseball" for most anyone else. In any case, it stands as a merely above-average watch at best. That said, Deutchman's personal passion for telling this story with eyes wide open comes through nicely- from the making of the film itself to its own grassroots marketing and distribution.