A Depression-era View From The 27th Floor
DIRECTED BY WILLIAM WYLER
STREET DATE: March 28th, 2023/KINO LORBER STUDIO CLASSICS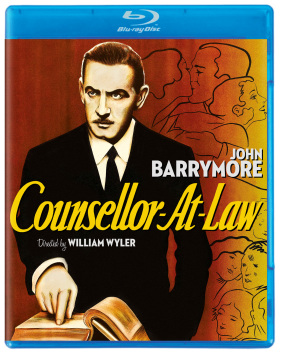 Though unannounced thus, Kino Lorber Studio Classics' 90th anniversary home video release of director William Wyler's first big screen success, the 1933 filming of playwright Elmer Rice's 1931 New York City stage production Counsellor at Law, comes to Blu-ray on a "brand new 2K master". Lesser known than subsequent classics in possibly the richest directorial filmography in classic Hollywood history, which includes Dodsworth (1936), Jezebel (1938), Wuthering Heights (1938), The Little Foxes (1941), Mrs. Minniver (1942), The Best Years of Our Lives (1946), The Heiress (1948), The Big Country (1958), Ben-Hur (1959), and too many others to list, Counsellor at Law not only established Wyler's double-edged reputation as a "director of quality", but also offered declining acting legend John Barrymore, shortly after being released from his long-term MGM contract, the opportunity to give possibly his finest performance on film. As the highly-charged title character George Simon, risen from the Jewish ghetto of the Lower East Side to the 27th floor of the Empire State Building, balancing awareness of his origins and personal conscience against the demands of power and influence, Barrymore is tough, tender, wise, manic, despaired, deceived, deceiving, and fascinating in a multi-faceted screen performance that seems to capture the striving and rising Jewish-American immigrant experience in a brisk 82 minutes. And like another titan of the screen making an early visit to the recently completed Empire State Building that very same year, King Kong himself, the 90 years that have passed in both movie and historical terms have done nothing to diminish the impact of that impressive view.
Taking place entirely between the lobby, waiting rooms, records office, and inner sanctums of a bustling 27th-floor law practice, famed defense attorney George Simon (Barrymore) slips quietly through the back door of his private office just past the five-minute mark, or a bit after 9 AM in movie terms, the morning after getting the tabloid-queen-of-the-moment (Mayo Methot) off a first-degree murder charge of her husband. Over the next 10 or so hours, or a lightning-paced hour and 10 in film-time, Simon receives visits and fields endless requests and demands on his valuable time from his devoted mother, unappreciative wife, indifferent children, and an undifferentiated slew of clients, politicians, detectives, high society-types and low-down characters alike, all while his loyal secretary (Bebe Daniels) quietly registers growing concern over her boss's unraveling mental state. Threatened with disbarment due to unknowingly having advised a former client (John Qualen) to take a false alibi years before, Simon's silent contemplation of those 27 stories between the present height of his profession down to the depths and humiliation of the street scene below becomes alarmingly clear as the camera swoops down and tracks in to the sagging, careworn features of a man risen from humble origins to his current seat of tough demands and hard decision.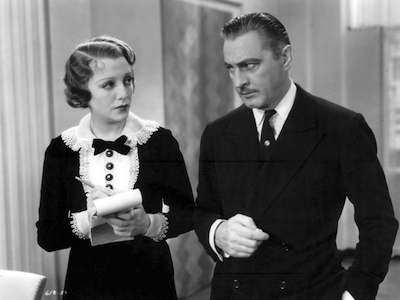 Dramatizing class, national origin, personal background, and the trappings of social, economic, and professional success, Counsellor at Law remains unusually timely for its peculiarly American evocation of material splendor and manic energy masking emotional emptiness and psychological desperation. The unstated backdrop of all these uptown doings – the blonde-coiffured phone receptionist in the gleaming Art Deco front office cadence-like screening scores of calls simultaneously from the Mayor's office, Wall Street brokers, Congress members, and even US Steel – is of course the Great Depression, and George Simon's relentlessly upward trajectory from the steerage class of a creaky ocean liner forty or so years before, to carving his hard path from office boy to law clerk to defense attorney, to finally ascending 27 stories up the most architecturally magnificent building in the world as partner to Upper Manhattan's premier firm – all while accumulating the expected high society wife, exclusive academy-educated children, and gated, landed upstate estate along the way – comes also with a greater awareness of how all that he has achieved could be so easily stripped away.
Although handled subtly, Simon's ethnicity comes into play when writing out a check to a philandering social better (Melvyn Douglas), taking a pro bono case for a lady from the old neighborhood's firebrand communist son (future director Vincent Sherman), or even involuntarily letting loose with a little Yiddish in a stressful moment. While Barrymore's powerful performances in no way reads "Jewish", stereotypical or otherwise, it rather and more intriguingly plays like a man whose greatest performance is own life. We don't see him arguing a heated case in a packed courtroom, obviously his grandest theater, undoubtedly stalking the well-worn floor between the judge on his bench and jury in their box like Hamlet on his stage, but Simon's intensity, charisma, and dedication nevertheless shines through every interaction. What becomes implicitly apparent, however, is that that level of ability and success will always attract opposition from those social and often prejudicial forces that would want to remind him of his to their view "humble origins", even after he lends them money or successfully defends them from criminal charges.
Uneasily married as he is to an upper class woman who doesn't respect him, with children who are emotionally distanced from and probably embarrassed by him, Simon's world of fixers, snoopers, cigar-chomping wardheels, shifty-eyed touts, slick gangsters, women of fashion, and ladies of the night puts bread on the table – possibly paying membership to a Brahmin country club he'd undoubtedly be restricted from if he actually tried to attend – but is again viewed with ever-polite disdain by those he so effectively serves. Oh well. William Wyler's energetic direction, with its visually rich foreground-background compositions, incredibly fast pace, bustling and vibrant mise-en-scene, and restless, roving camerawork lends the best kind of support to Barrymore's dynamic, despairing, but also triumphant performance in that life as lived on that 27th floor offers more variety and interest than any Park Avenue drawing-room, swank after-hours club, or exclusive uptown eatery; any time of the night or day. Even, say, when that view is obscured by night, when all hope seems lost, and where one's features droop in the dusky gloom to almost perfectly resemble one's older and usually more desperate actor-brother Lionel's.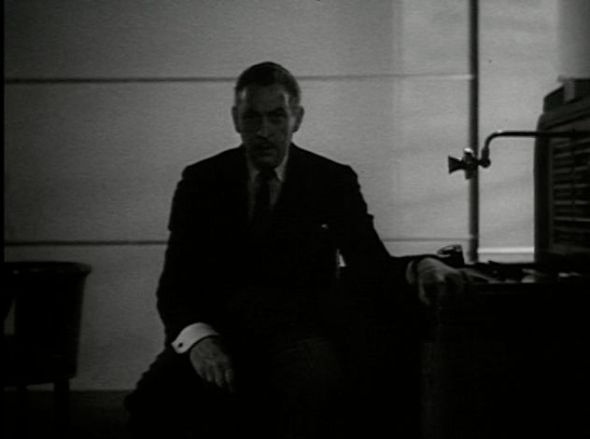 In addition to the mentioned new digital transfer, Kino Lorber's Blu-ray features a newly-recorded audio commentary with filmmaker/historian Daniel Kremer and Catherine Wyler, Wyler's daughter who had filmed the last interview with her father shortly before the director's death in 1981. (The latter released in 1986 as the hour-long feature documentary Directed by William Wyler, which was included as a special feature on KL's superb Blu-ray release of Wyler's 1958 epic western The Big Country.) With Kremer covering the commentary basics of topical issues and biographical artistic personnel relevant to the production and filming of Counsellor at Law, the discussion between Kremer and Wyler is most interesting when addressing Barrymore's haunted performance in relation to the film's implicit subject matter of Jewish identity. The latter rarely addressed in Hollywood films of the period despite most of the major studios, including Counsellor's Universal, founded by William Wyler's distant cousin Carl Laemmle, having been overwhelmingly owned and operated by Jewish immigrants. Wyler himself having emigrated as a young man of Jewish descent from his native Alsace Lorraine, Counsellor at Law, after mainly routine comedies and westerns made at Universal Studios, not only offered him past his apprenticeship his first big chance as a director, but as a play adapted for film artistically followed a similarly upwardly striving path to that of Barrymore's George Simon. The extent to which William Wyler himself may have strongly identified with the character can be largely measured by the still powerful impact of the film.
Images in this review are used solely as a visual reference and do not reflect Kino Lorber's Blu-ray.