The Aging Historical Casanova is Explored, Slept on.
DIRECTED BY BENOÎT JACQUOT/FRENCH/2019
BLU-RAY STREET DATE: OCTOBER 12, 2021/COHEN MEDIA GROUP (VIA KINO LORBER)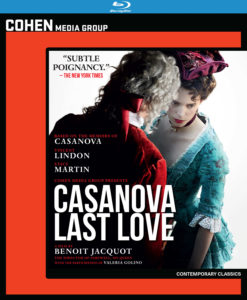 Though actor Benoît Jacquot's directorial career has been fruitful in terms of acclaim and festival attention, not every effort has been certified fresh. In the past decade, Jacquot's filmmaking productivity has resembled that of a working actor of a certain age. Think Gene Hackman in the '90s, or John Travolta now- established names hustling to cash in while they still have the energy for it.
But then again, Jacquot has clung to a certain perceived prestige that has no doubt enabled his steady productivity. Perhaps, in strictly professional terms, he should then be gleaned a kind of higher-falutin' Woody Allen, or Ridley Scott- the "working director" who strides along steadily on his own terms… even when perhaps he should instead take a breather.
2019's Casanova, Last Love (Dernier Amour) proves to be one such squelcher. Dressed to the hilt in period garb and boasting a cast that any film should be proud to possess, this tale of an aged and displaced Casanova (Vincent Lindon, giving his eye-twinkling all) unexpectedly finding himself in true love fails to ever get energized.  In it, the legendary lothario finds himself in high-class London, adrift and past his promiscuous prime.  A young enigmatic courtesan, Marianne de Charpillon (the supremely talented Stacy Martin, first seen in Lars von Trier's Nymph()maniac), catches his eye, and quickly owns his fascination.  And she likes it.
Martin imbues Casanova, Last Love with a firm sensuality- that a too-often used woman coming into her own- almost in spite of Jacquot's limp and drowsy direction. If this unfortunately forgettable film is worth seeing for any reason, the first would be for her assured performance. Never once do we doubt that this beguiling yet fully vulnerable woman (still under the thumb of her overbearing and manipulative mother, played by Anna Cottis) could have an experienced man such as the title character in the palm of her hand.
Comparison to Federico Fellini's Casanova, the Italian maestro's 1976 over-the-top panorama of orgies gone ookie, is unavoidable; not only because Kino Lorber only recently released that film to Blu-ray in an excellently restored edition.  They both deal with, attempting a certain depth, a wash-up and aging Casanova.  Also, they both take place in the same prim and proper powdered-wig eighteenth century timeframe.  Yet, they might as well be different worlds; Fellini's taking place in the director's warped studio-fabricated circus world, Jacquot's playing out practically in The Age of Boredom.  
Jacquot's realization of the mid-to-late English 1700s (replete with no shortage of fluent French speakers) looks beautiful on the brand-new Blu-ray release of the film by the Cohen Media Group. Casanova, Last Love's attention to period detail, down to undergarments and castle decor, is to be commended. Devotees of such historical recreations as well as fans of actors Lindon and Martin will want to consider checking out this otherwise flawed effort. The disc, however, offers no extras aside from trailers for other Cohen output.
The film attempts to explore notions of a frequently broke elite culture on the brink of collapse, albeit to no avail. Casanova himself, no stranger to debt and evasion of said debt, is no doubt intended as a narrative surrogate for such a scene, though the connection is never meaningfully drawn. As it is, we have yet another credited adaptation of a portion of the true-life memoirs of the Giacomo Casanova, cherry-picked and served up half baked. The memoirs, so irresistible over the years in terms of film adaptation, all too often are mined in the interest of name-only romance and even softcore pornography. Jacquot's film is neither, making a recognizable attempt to get at the historically complex Casanova. But alas, it is not to be.