Stop the Presses: As Lou Grant, Ed Asner Personified What's Best About Being a Journalist
Despite being individuals who earn their living sifting truth from fiction, it's hard for many journalists to accept that Ed Asner didn't have an extensive background in the news media.
Asner created such an indelible TV character in Lou Grant that those of us who labor in this profession find it astonishing he wasn't a veteran member of the press. When we review his resume, we expect to see a list of newspapers he's worked at over the years. How could he demonstrate such a depth of knowledge about journalism if he hadn't been thoroughly enmeshed in it?
This was Asner's gift as an actor. He enveloped himself in each role and delivered a stellar performance. He won Primetime Emmy Awards for two landmark television miniseries: Rich Man, Poor Man (1976) and Roots (1977).
Asner appeared in numerous films. These include The Murder Men (1961), El Dorado(1966), The Wrestler (1974), Fort Apache, The Bronx (1981), JFK (1991), The Christmas Card (2006) and Home Alone: Holiday Heist (2012). He was brilliantly cast as Santa Claus in Elf (2003), and he won acclaim providing the voice of Carl Fredricksen in the animated movie Up (2009).
But it was in breathing life into the gruff yet wise newsman Lou Grant that Asner will be most remembered. He won five Primetime Emmy Awards and four Golden Globe Awards for portraying Grant, both in The Mary Tyler Moore Show (1970-1977) and the spinoff Lou Grant (1977-1982). He is among the few actors to play the same role in both a comedy and a drama.
Asner died Sunday in Tarzana, Calif., at the age of 91. He is survived by his four children, 10 grandchildren and legions of friends and fans.
As fate would have it, journalism's loss turned into acting's gain. The meager wages typically offered in the news business robbed our profession of an excellent prospect.
"Asner, born in Kansas City, Mo., in 1929, almost became a newsman in real life. He studied journalism at the University of Chicago until a professor told him there was little money to be made in the profession," according to a story published Sunday by the Associated Press. "He quickly switched to drama, debuting as the martyred Thomas Becket in a campus production of T.S. Eliot's Murder in the Cathedral. He eventually dropped out of school, going to work as a taxi driver and other jobs before being drafted in 1951. He served with the Army Signal Corps in France.
Returning to Chicago after military service, he appeared at the Playwrights Theatre Club and [Compass Players, a precursor of the Second City], the famed satire troupe that launched the careers of dozens of top comedians. Later, in New York, he joined the long-running The Threepenny Opera and appeared opposite Jack Lemmon in Face of a Hero.
Arriving in Hollywood in 1961 for an episode of television's Naked City, Asner decided to stay and appeared in numerous movies and TV shows, including the film El Dorado, opposite John Wayne; and the Elvis Presley vehicles Kid Galahad and Change of Habit. He was a regular in the 1960s political drama series Slattery's People."
In 1970, he became involved in a project that presented him with the role of a lifetime. The Mary Tyler Moore Show debuted in September of that year. Based in Minneapolis, the program highlighted the news division of fictional broadcast station WJM-TV.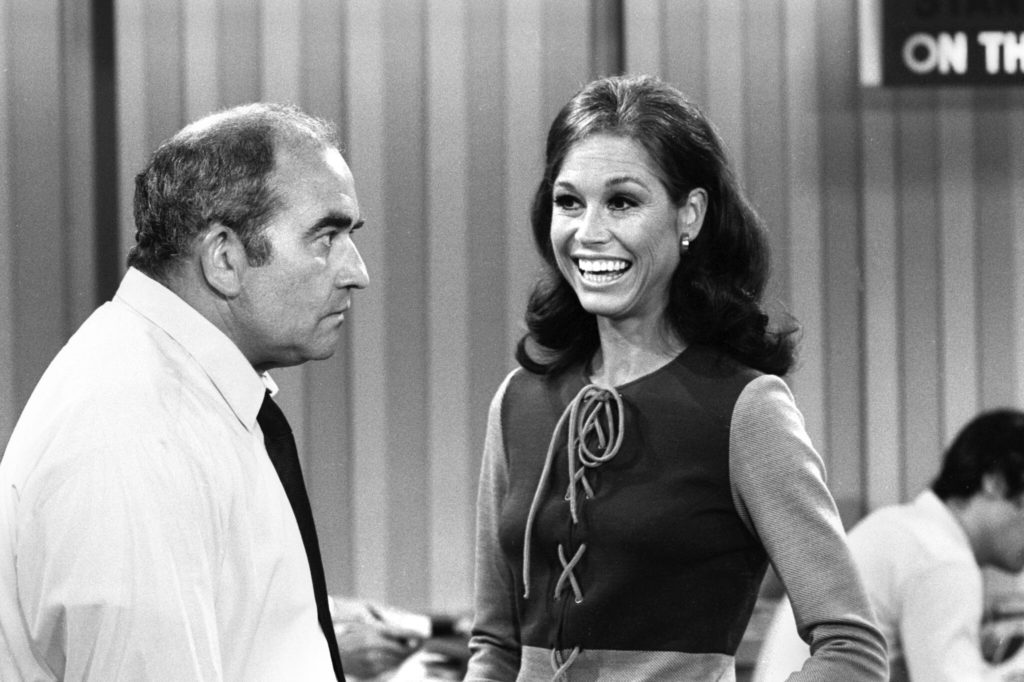 It chronicled the professional and personal exploits of Mary Richards (Mary Tyler Moore), the associate producer for the station's 6 p.m. news program. Other characters included Murray Slaughter (Gavin MacLeod), Rhoda Morgenstern (Valerie Harper), Phyllis Lindstrom (Cloris Leachman), Ted Baxter (Ted Knight) and Sue Ann Nivens (Betty White).
Lou Grant, news director of WJM-TV, was Mary Richards's boss. Grant was as abrasive as Richards was timid. But his hard-nosed exterior often concealed his more sensitive interior.
The chemistry between the characters was wonderful. Fans lauded the show for the way is examined various social issues while delivering first-rate comedy. The Mary Tyler Moore Show is ranked No. 6 on the "101 Best Written TV Series of All Time" by WGA/TV Guide.
While news was always the backdrop of The Mary Tyler Moore Show, the intricacies of journalism never dominated the program. But Asner eventually got to delve into the weeds of Lou Grant's profession.
In the 1960s and '70s, the news industry took on a new significance in U.S. society. CBS debuted its groundbreaking newsmagazine 60 Minutes in 1968. And efforts by investigative journalists to examine the Watergate scandal, spearheaded by The Washington Post, exposed the corruption of the Nixon administration.
Asner took the lead role in the hourlong drama Lou Grant just in time to take advantage of this renewed interest in the news media. While it didn't turn more financially lucrative for those who worked in it (it still hasn't!), journalism had again become culturally popular. Most Americans trusted news outlets to tell them the story.
In the late 1970s, I was preparing to finish high school and began exploring my options for college. Embarking on a career in journalism was my goal, and so I latched onto the Lou Grant show.
Moving from Minneapolis to Los Angeles, Asner converted his sit-com Lou Grant into a dramatic Lou Grant. The character took on the role of city editor at the fictional Los Angeles Tribune.
Sure, Grant retained his sense of humor. But he became more serious about the work his staff produced. He pushed reporters to follow the facts, write with readers in mind — and to get it right as well as to get it first!
The program didn't merely reflect current events. It gave an insider's view of how a newspaper covered current events.
This also chronicled how reporters and editors wrestled with issues pertaining to media ethics: Should we print this story? How can we present it in a manner that's fair to everyone? What will be the consequences if we go ahead with publication?
The newspaper business has changed drastically since Lou Grant rolled up his sleeves for the last time in 1982, but some aspects have remained the same. Ed Asner personified the best of what it means to be a journalist, and I feel fortunate to have watched him play out this role.