Michael Keaton Chases the Big Story in Ron Howard's busy Comedy
DIRECTED BY RON HOWARD/1994
BLU-RAY STREET DATE: OCTOBER 4, 2022/MILL CREEK ENTERTAINMENT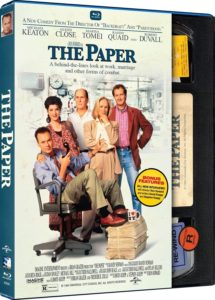 Anton Chekov's adage about an established gun going off in the final act is well antiquated. Yet, it remains as reliable as the morning edition hitting the doorstep. The same could be said about an extremely pregnant character giving birth by the end. Ron Howard's movie The Paper is also well antiquated (if only by virtue of being an old-school newspaper movie) but manages to pull off both cliches. Some things are simply universal.
Universal Studios obviously agreed, as it is the home base for this 1994 "workplace comedy" that dares to get ever so dramatic and challenge the newspaper grind… if only a little. Hard news may be on the docket for the characters (including Michael Keaton, Glenn Close, Marisa Tomei, Robert Duvall, Jason Alexander, and Randy Quaid, all great in this), but, in actuality, The Paper is a tightly dolloped bit of lily-white Hollywood pablum by way of Park Row.
Running with the format of covering the events of a single 24-hour span, The Paper crams an awful lot into its parameters. Michael Keaton stars perfectly as the mile-a-minute New York City newsman Henry Hackett, a mid-level journalist at a mid-level (at best) tabloid paper. In the single day depicted, his wife (Tomei), who, at any minute, is about to give birth to their first child, is on his case about being too focused on work. The twist? Being another reporter on maternity leave, so is she.
But Henry's also got a high-stakes job interview with the chief of one of the major papers (Spalding Gray), which he knows has key details in a story he's been chasing. That story, about two Black youths who get wrongly fingered for the brutal slaying of two out-of-town businessmen, is one that might be handled differently if told today. (In that, the fate of two innocent people of color would probably not be quite so massively marginalized and left in the hands of an all-white main cast).
One thing that Ron Howard nails is the buzzing workaday tenor, channeling as much of His Girl Friday as he can. There's a ticking clock in the story that punches (hard) the ticking clock of the morning edition going to press. That's a good thing. And, as if the newspaper people bobbing and weaving between desks and doorways isn't enough zip, the air conditioning is being worked on all over the building. That assures not just unwanted heat, but Sternberg-ian degrees of visual clutter throughout. (Guys on ladders, dangling wads of wiring, et cetra).
*****
Extras Extras! Read all about 'em! Mill Creek isn't known for supplying bonus features to their budget catalog releases, but The Paper, for whatever reason, made the cut. I can't confirm nor deny, but it appears that all three of these brief featurettes might in fact be new and original on behalf of Mill Creek. Director Ron Howard appears (in what admittedly looks like older video footage) chatting up the movie in great detail in a piece called "Between the Lines: Inside The Paper". Whenever it was shot, the filmmaker remains enthusiastic about what he and his fine cast accomplished.
Running less than ten minutes is "Shines for All: Stephen Koepp on The Paper". In it, the co-writer of the screenplay discusses notions of work/life balance that permeates his whole screenplay. For him, it was personal, as he had done his time in print journalism. He acknowledges that The Paper hails from a more idealistic age, when politics didn't dominate agendas within media outlets. He goes unseen as his voice is heard over silent clips from the film. Similar in format is "Stop the Press: David Koepp on The Paper". Here, the Jurassic Park adapter talks about his experience co-writing The Paper with his brother, and the research that went into it.
As for the quality of the picture, it is presented in a decent (though far from stunning) widescreen transfer, which is more than could be said for The Paper's 1997 DVD debut, which was pan and scanned. The film was delivered in its original aspect ratio on a barebones Blu-ray in 2017, likely with the same transfer we get here. The audio sounds a little muffled every now and then, but is, for the most part, totally passable. Mill Creek does its part to incentivize purchasers with a low price and a fun "Retro VHS" slipcover.
*****
Though Howard's directorial track record runs hot and cold, he's often at his most interesting when it's running somewhere in between. Like his 2013 F1 racing film Rush, The Paper is both frustrating and fascinating. When it goes off-register, you want to relegate it to fish wrapping. When it clicks, you want to give it a Pulitzer. Sometimes such a ride is just what we're looking for.
Despite inclusion of such perpetually hot-button subjects of racially motivated violence, the ethics of journalists, and the politics of mainstream media, The Paper remains lightweight by design. As Ron Howard says in one of the retrospective bonus features, the film is "a love letter to the tabloid papers"… a sentiment that can't help but resonate more now, with so many dead and gone. But like the often-hypocritical bottom line of the newspaper business, in the end it's all about sales. And one needn't squint at The Paper to see just how commercial it went before ticket one was ever sold at the box office: Michael Keaton chugs so much Coca-Cola that the soft drink might as well have its own byline. If, however, that's what he needs to carry this bundle of talent, then buy the man another. Keaton is never not above the fold in this comedy that never quite figuratively stops the presses… even when it really does.