Friendship in the Face of Capitalism
Directed by Miquel Arteta
Starring Tiffany Haddish, Rose Byrne, Salma Hayek
Rated R
Released January 10th, 2020
Mia and Mel (Tiffany Haddish and Rose Byrne) own a beauty supply company, selling, among other things, "One Night Stand" kits consisting of all the makeup essentials for such an event. This product creates enough buzz that a major beauty corporation run by Claire Luna (Salma Hayek) offers to distribute Mia and Mel's products, in exchange for 51% ownership in their company. Anyone who has watched Shark Tank could tell you this isn't a very good offer, but perhaps Mia and Mel should take it. Mel informs Mia (and the audience) that their business is failing. They only have around six months left before they have to close up shop.
Mia and Mel tentatively accept the offer, but before the deal goes through, they have to compete for the Claire Luna opportunity against Greg and Ron (Ryan Hansen and Jimmy O. Yang), misogynist owners of a beauty company called "Get Some" that is vying for Claire Luna's attention. This leads to an awkward climax involving a live makeup tutorial and a cringe-inducing "Proud Mary" karaoke sing along. Before we get there, we are subjected to jokes and gags and one liners that rarely land.
The laughs are few and far between, but Karan Soni has some good moments as Josh, Claire's right hand man. Jennifer Coolidge is Sydney, an employee of Mia and Mel's, and is her usual space cadet self. The funniest scene in the film is courtesy Billy Porter, who delivers a hilarious reaction when his character Barrett is let go from Mia and Mel's shop. Rose Byrne continues to be a wonderful comedic actor, as evidenced in Spy, Bridesmaids, Get Him to the Greek, and the Neighbors films. Tiffany Haddish is funny and displays a strong energy that keeps lackluster scenes afloat.
Haddish and Byrne have good chemistry. It's easy to believe that they've been friends since they were kids, which is what Like a Boss asks of us. You don't expect, nor do we receive, deep character development in a raunchy comedy such as this, but I like Mia and Mel. They're written as fully capable businesswomen, who are smart and understand their market. They're also written as sex and recreational drug positive, meaning they're able to have hook ups and smoke pot, but not have those things negativly impact their lives.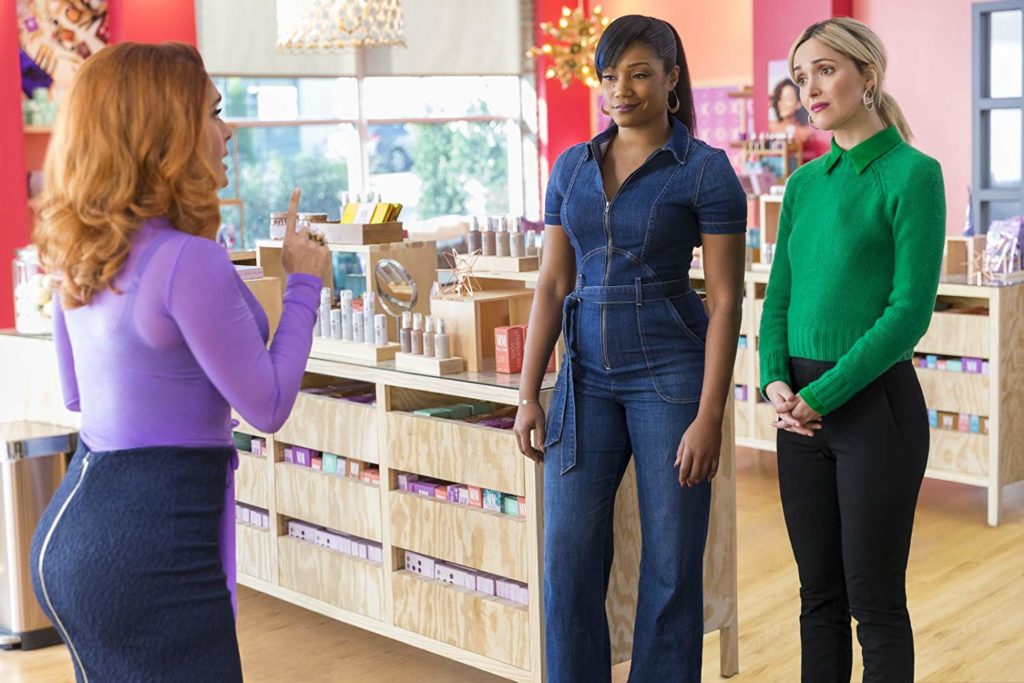 It's good to see two women run a business together on screen while maintaining their friendship. Even the giant corporation who wants to buy them out is run by a woman. And while Salma Hayek is playing more of a caricature than anything else, she's clearly having fun and nobody questions that she could run that empire all by herself. Like a Boss may not be a very successful comedy, but it shows women in control of their own destiny and that's not a small thing.