The Strange and Surprising Chained for Life
DIRECTED BY AARON SCHIMBERG / 2019
BLU-RAY STREET DATE JANUARY 7, 2020 / KINO LORBER
In Chained for Life Jess Weixler (Teeth) plays Mabel, an actress starring in an art house horror film by a pretentious German director (known only as Herr Director, and played by former child-star Charlie Korsmo, whom you might remember from Dick Tracy or Hook). The movie-within-a-movie seems to be a takeoff of Tod Browning's Freaks, and they've cast a number of sideshow and circus performers to appear in it. Among these is a man named Rosenthal, who has severe facial tumors as a result of neurofibromatosis. He's played by Adam Pearson, whom you will remember as one of Scarlett Johanssen's victims in Under the Skin. 
Over the course of the shoot, Mabel and Rosenthal work together on the scenes the two of them share. She's friendly and attempts to be supportive towards him, but at the end of the day goes back to the nice hotel with the rest of the cast, while the sideshow performers must remain behind at the hospital where the movie is being shot.
In the movie-within-the-movie, Mabel plays a character named Frieda, who is blind and therefore does not know about the physical deformities of the other characters around her. Rosenthal, on the other hand, plays a character named Rosenthal… who has severe facial tumors as a result of neurofibromatosis. Mabel can put on her blond wig, add some makeup and slip into and out of any part she desires. Rosenthal can only play himself.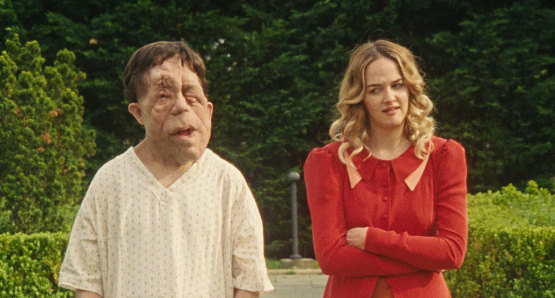 There's a lot to unpack, thematically, in Chained for Life. On one level, it's all about surface appearances versus the underlying reality, but that is, ironically, a superficial reading of the film. Characters throughout the movie are being called out for being 'fake' or 'frauds.' There are even doubts as to whether or not Herr Director is actually German. 
German or not, Herr Director has a funny bit where he is describing the climactic scene of The Muppet Movie to another character. "Half-man, half-beasts; like the Egyptian god Anubis!" Writer/director Aaron Schimberg is having a blast channelling Werner Herzog here.
Many of the conversations between characters revolve around actors playing characters physically different than them. Orson Welles (whose name is invoked so many times in the film he should get screen credit) as Othello, Charlton Heston's "white mexican" character from Touch of Evil, and Daniel Day Lewis as Christy Brown in My Left Foot. One character, from Nigeria, is asked who should play him in the movie of his life. He responds with both Denzel Washington or Daniel Day Lewis.
When Mabel first meets Rosenthal, he expresses doubts as to whether or not he can manage to learn his lines correctly. She smiles and gives him assurances that he'll be great, but her encouragement comes off as condescending and forced. And all the while, she can hardly manage to look directly at his face.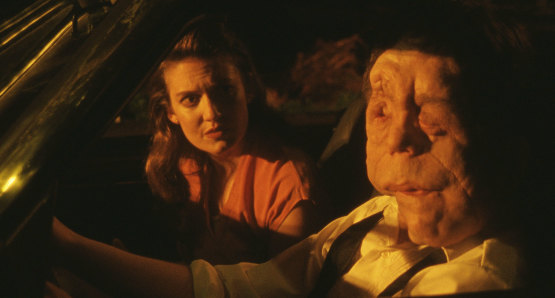 Scenes in Chained for Life bounce back and forth from the 'real world' to scenes shot within the 'fake' movie and there's often not any warning for the audience when this occurs. When something terrible happens to someone on screen, is it 'really' happening or is it happening in the fictional movie, or is it merely a story dreamed up by someone on the production? When the performers get their hands on the equipment left behind at night by the film crew and start making up their own movies, another layer of fantasy is added.
Chained for Life is a movie that laced through and through with irony. Two different characters express their hidden dreams of becoming a waiter. "That's an attainable dream," one of them is told. For the other, however, it turns out it's easier to become a movie star. 
Chained for Life isn't a perfect masterpiece of a movie, but it is a darn good one. It's funny and warm, and surprising. The way it builds scenes to make you think it's heading in one direction, but swerves off in another totally unexpected one, keeps you off-balance enough to keep you guessing, but never frustrated. It's a delight.
Kino Lorber's Blu-Ray release of Chained For Life comes packaged with interviews with Weixler and Pearson and Sari Lennick, who plays Mabel's friend and fellow actor Sarah. It also has an audio commentary by Schimberg, a deleted scene, and a theatrical trailer. It's presented in 1.85:1 aspect ratio at 1080p.