Clouzot Unchained for his Final Completed Film.
DIRECTED BY HENRI-GEORGES CLOUZOT/FRENCH/1968
BLU-RAY STREET DATE: MAY 28, 2019/KINO LORBER
Perhaps you've heard this story before: A smart but naive woman becomes increasingly attracted to a wealthy, entitled, powerful man when she discovers his fetish-driven personal life.
Welcome to the free and untethered modern world of what ended up being Henri-Georges Clouzot's final film, La Prisonniére. Laurent Terzieff portrays the bespectacled and intimidating Stanislas Hassler (people call him Stan), a visionary capitalist who believes that select, mass-produced fine art is not only the future of gallery life, but it's the only thing that people would truly understand. It's not about democratizing the insular art world; it's about prescribing taste. There's money to be made from the masses whom wish to be controlled. That's Stan's worldview and modus operandi. Mostly.
Stan also has a hobby. It is confirmed with the methodical set-up of his camera's tripod. Slide, clang; one leg. Slide clang; the second leg. Slide-clang! The third. And out comes the camera itself. Then, the lighting- an amateur arrangement of soft-boxes and photo-floods. And finally, the subject arrives to his apartment: an attractive young woman (Dany Carrel) who explains that she's happy to pose for Stan, as the money's necessary, and he never lays a finger on her. Which strikes Stan's other guest, the curious observer José (Elizabeth Wiener) as odd, due to the highly perverse sexual nature of his photography: Women in chains.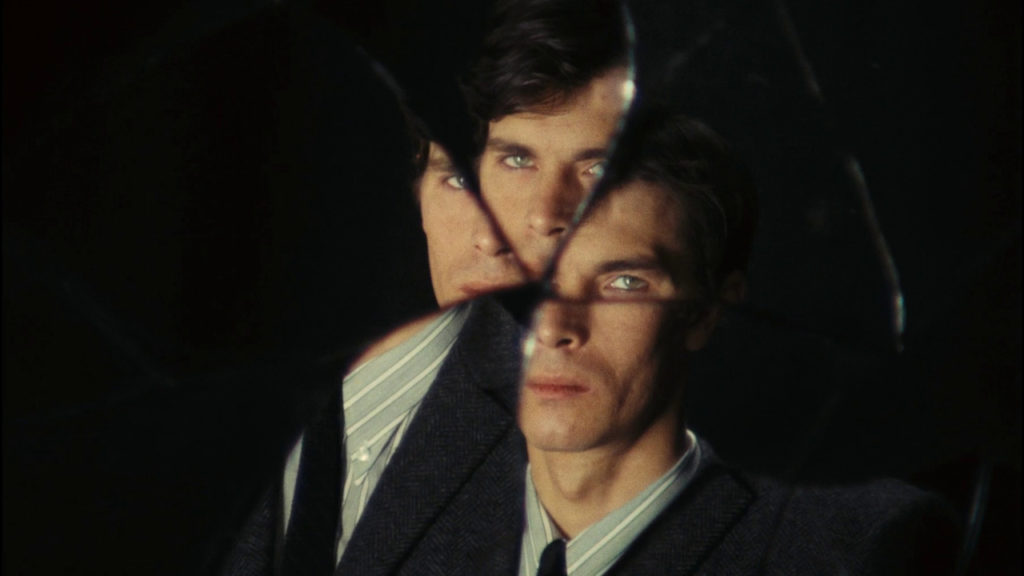 Though Sam Taylor-Johnson's Fifty Shades of Grey shares the overshadowing notion with Clouzot's La Prisonniére that the lead in any dominant/submissive relationship is psychologically maladjusted- and in both films, male- they deviate wildly in terms of their female protagonists' subsequent enticements into the secret world. While, Fifty Shades, the much newer film, enables a so-called "girl power" theme/empowerment fantasy wherein the heroine manages to turn the tables by assuming control via the power of love, Clouzot's film plays out in a far darker way. It doesn't take a pessimist to declare the latter film the more "realistic" of the two, even as they both cultivate extremely niche worlds.
Per Terzieff's insanely bold performance and towering presence, Stan's icy fixed gaze is the stuff of true nightmares. From the very beginning, when the character is seen alone, erotically pawing at Barbie dolls, it's clear that he's a creep.
But then, we meet José and her husband, Gilbert (Bernard Fresson). They're an ultra-modern couple in an open marriage, happy to grant one another total sexual freedom as long as they are completely honest with one another. Their set-up is the same as the main couple in the original, also French Emmanuelle trilogy (1973-1977), as is their downfall.
José, at a social gathering, spies Gilbert kissing another woman, and is shocked by her own traditional response to it. Her jealousy gives way to possessiveness, distrust, anger, and failure to report. Stan seizes on it all to shame her, also preying upon both her supposed progressiveness and her fascination with his bondage photography. And darn it, she falls in love with him. But can he also love her?
Gilbert, early on, has forsaken his profession as an ad man for a career in fine art- and Stan, with his supposedly forward thinking Paris gallery, has reeled him in. As Clouzot's camera fixates on the shifting zoetrope-like qualities of certain sculptures on display there, it becomes apparent that La Prisonniére is a film very interested in perception. For a while, with its increasing close-ups of uniformly bent spinning wire and whatnot, it even seems to be about perception. Gilbert hangs out of the window of a moving train, viewing the landscape through the adjoined Ls of his hands, that gesture directors use to help frame shots in their minds.
Later, Stan utilizes the same gesture, "zooming in" on José in a blow-up from an eventual session with her and another model, whom he's mentally cropping out in that moment. Getting José to the eventual point of posing (which, unlike the other models, she does in earnest, showing true passion) is Stan's slow game of enticement, control, and possession of her. He exploits the smallest of cracks in José's otherwise strong, self-confident exterior. "…just like the young woman wants to be encaged, he believes that consumers of art only want the illusion of choice and freedom", states film writer Elena Lazic.
Instances such as those detailed above, on behalf of Clouzot himself, betray an uneasy admission of identification with these men, particularly Stan. The theoretical meta-hypocrisy of the film director wielding, manipulating and bending (willing) talent to his will for the benefit of his camera and the commodification of his personal art does not seem to escape the acclaimed filmmaker. Nor, at any point, does it play as a confessional. By tone, La Prisonniére is an extremely cold, weirdly impotent outing. Only sparingly is it explicit in terms of nudity, though its handling of its central themes and ideas are not only extremely adult, but horror-centric. Stan is less than one step removed from the fetishizing tripod murderer of Michael Powell's Peeping Tom.
In the published essay that comprises most of of the glossy eight-page accompanying booklet, French film writer Elena Lazic spends paragraphs drawing parallels between La Prisonniére and the real-life French youth-led upheaval in May of 1968. It's true that the film was made concurrently with the country's broader political situation coming to boil.
It's also true that like all of France at that time, the making of La Prisonniére was a severely fractured ordeal, with an unintended months-long break separating the start and end of filming. But, considering Clouzot's age at the time and his then-unfolding history of incomplete productions, it seems overreaching to force the suggestion of the filmmaker as the prophetic artist in this particular instance. Then again, like all movies, La Prisonniére is a product of its time. In a time as precariously volatile as May 1968, any astute director would be keyed into the disruption… particularly when it's effecting his cast.
On a twenty-five minute recent video piece on lead actress Elisabeth Wiener, she details how her own skepticism over whether she'd been miscast flared up in the face of the civil unrest going on outside in the streets. Wiener was a part of the youth protests, and found herself increasingly losing respect for the aging, ailing, nouvelle vague outsider Clouzot. The growing rift between her- the central protagonist of the picture- and the director definitely factored into the production gap.
Though far from a bona fide feminist film per today's outward empowerment outlook, Kino Lorber is careful to giveall of its ancillary platforms on this release of La Prisonniére to women. As mentioned earlier, French film writer Elena Lazic contributes a well-realized, even courageous essay in the booklet. Elisabeth Wiener is the only on-screen talent to appear in any kind of retrospective capacity, and the audio commentary duties are handled by the ever-busy Daughter of Darkness Kat Ellinger, a presence that only further solidifies La Prisonniére's standing in the world of horror cinema. The film's new 4k restoration is nothing short of beautiful, presenting Clouzot's vivid and sometimes oneiric colors and angles in excellent fashion. All in all, a beautiful acquisition for cinephiles.
La Prisonnière, aka Woman in Chains is the rare film that manages to utilize its unintended messiness and missteps to its own benefit. It could've just as easily have been "Director in Chains". Major national political unrest wreaking havoc with an already-precarious project by an unhealthy director who's been deemed too old fashioned would most surely be the death of most any other project. But for whatever reason, not this one. Battered and bruised, it lives.
"May 68" is said to have succeeded as a social revolution, if not as the political one it was brewed to be. Nevertheless, it's a battle won, if not the war. As the saying goes, when life gives you lemons, make lemonade. The protesters and strikers outside the studio knew lemons all too well, as the fruit was a prime nullification against the state-ordered tear gas counter-strikes. Alas, no tears need be shed for La Prisonnière, as tone deaf as it may appear on its surface. This is the director of the masterpieces Wages of Fear and Diabolique surviving the perilous journey to rise up, very much still alive; very much an artist unchained.