Kevin Costner Leads Winning Cast in Political Comedy.
DIRECTED BY: JOSHUA MICHAEL STERN/2008
KINO LORBER STREET DATE: MAY 7, 2019/KINO LORBER STUDIO CLASSICS
2008 was an historic election year that saw Barak Obama become the first African-American to be elected President in history, as he defeated the late Sen. John McCain. Despite what would become an historic election, cynicism was running high. As the country was heading into a recession, which would then be topped off by the housing crises, and bailout of banks and automobile companies, a film sought to time its release for maximum effect. This film was Swing Vote starring Kevin Costner in his down-on-his luck every-man role that served him so well in sports films, now applied to the electoral college.
Costner stars as Bud Johnson, a man who drinks more often than he should, who has just lost his job at a New Mexico egg company factory. His daughter Molly (Madeline Carroll), is his polar opposite. She is the one waking up early, being responsible, and trying to teach him to care about the wider world. She is deeply concerned about politics, the environment, and being a better citizen. She is also in elementary school.
As election day approaches, Molly pleads with her dad to pick her up from school and after school activities, and then head to the polling station. Bud, just fired, decides to drink instead, passing out in his car before he can leave the bar. Molly, walks into the polling station just before it closes, and while the poll worker is distracted, signs Bud's name, takes a ballot and proceeds to vote, until the power goes out on the machine leaving Bud's vote un-cast. In a throwback to the year 2000 election, it happens that New Mexico will decide the Presidential election, and given its small population, there is currently a tie vote for the state's small electoral votes, with Bud's vote being the deciding vote. The film is of course extremely far fetched, but it creates a comical vehicle to make some larger points.
Once the state Attorney General and Governor find out whose vote was the deciding one, and scheduling a date for Bud to re-cast his vote that was cancelled when the power went out on the machine, Bud finds himself swamped by news reporters, and the two candidates themselves. Kelsey Grammer plays President Andrew Boone, a republican incumbent who is seeking a second term in office, while his democratic challenger is Donald Greenleaf, played by Costner's Waterworld co-star, Dennis Hopper.
The film makes it broader points about political corruption as both candidates swarm on this tiny fictional town in New Mexico, driven by their respective campaign managers Art Crumb (Nathan Lane) for Greenleaf, and Martin Fox (Stanley Tucci) for President Boone. They each tell their candidates to do whatever it takes to win over this one guy so that they can get enough electoral points to win the office.
Soon its the republican who is making the NRA mad, all for gay marriage (in a pre-Supreme Court decision hot-topic issue) and making environmentalist happy, and its the democrat who is cutting taxes and being a hardliner on immigration laws. Traditional voter demographics are completely upended. To quote Bill Murray from Ghostbusters, "dogs and cats, living together… mass hysteria!"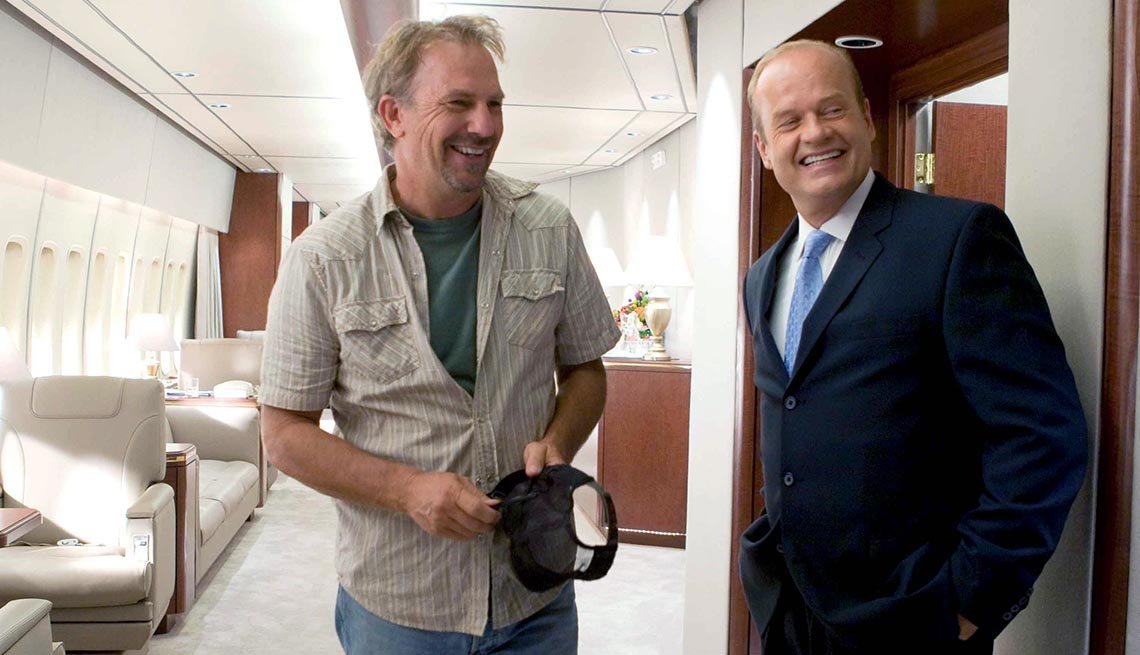 Eventually, Costner will have to choose, and it is through an opening speech, as Bud hosts a debate between the two candidates, that we all learn a lesson. Costner channels his inner Jimmy Stewart as he waxes poetically about what could be, as he, and both campaigns have to wrestle with telling the truth, and doing the right thing. Even the local reporter, Kate Madison (Paula Patton) looking for her first national scoop, may do the unthinkable and not push her way to the story, opting to embrace the people at the heart of it.
It is all so touchy-feely, but it mostly works through the performances of its all-star cast. The supporting cast is equally strong with other roles being filled by George Lopez, Judge Reinhold, Richard Petty and Willie Nelson playing themselves, and a strong scene with Mare Winningham, as Bud's ex-wife, Larissa.
Kino Lorber's blu-ray release comes with several extras including: Audio commentary from director Joshua Michael Stern, deleted and extended scenes (with optional director commentary), the theatrical trailer, and a featurette called "Inside the Campaign: The Politics of Production". The film is presented in color and features 5.1 Surround/2.0 Stereo, 2.35:1, 1920x1080P, and Subtitles: English.