Family, Politics, and Religion fuel this compelling film with standout performances by Saoirse Ronan and Margot Robbie.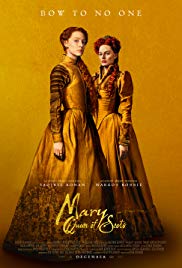 Directed by: Josie Rourke/2018
Like The Favourite, which also recently opened, Mary Queen of Scots is another powerhouse film featuring two formidable female leads giving award worthy performances.  The script comes from Beau Willimon (Ides of March), and is based on John Guy's "Queen of Scots: The True Life of Mary Stuart", whose research has been seen as challenging to the previous held narrative about Mary, the Queen of Scotland, and her cousin who ruled on England's throne, Queen Elizabeth I.  Headed by director Josie Rourke in her directorial debut, the film is a compelling political drama of two women trying to occupy their respective thrones, while deftly holding all of their potential male usurpers, and each other, at bay.
Mary Stuart (Saoirse Ronan-Lady Bird, Brooklyn) is the only surviving child of King James V who has a legitimate claim to the throne.  She ascended to the throne after his death when she was just a child, and spent most of her formative years in France, her mother's native land, where she eventually married the man who became the King of France, King Francis II, making Mary the Queen consort of France.  She was quickly made a widow before making her return to Scotland at the age of 19. Scotland had been run by regents in her absence, including by her half-brother James-Earl of Moray (James McArdle-'71).  As she returns, everyone plays nice to her face, but brewing underneath the surface of it all is the deadly and bitter divide between the Protestant and Catholic Christians, which was felt on all of the island, including Scotland and England, and beyond.
To the south, Queen Elizabeth I (Margot Robbie-I, Tonya, The Wolf of Wall Street) sits on the throne having been recognized as the heir of her sister Queen Mary I who had died childless. Both Mary I and Elizabeth I were daughters of King Henry VIII, but Elizabeth I was largely seen as an illegitimate ruler by Catholics in England, who saw the descendant of King Henry VIII's sister, Margaret Tudor, as having a stronger claim to the throne of England.  That descendant was Queen Elizabeth I's cousin, none other than Mary Stuart of Scotland.
This made Mary and Elizabeth cousins, but for Elizabeth, it also made Mary a threat, as Mary had a claim on the throne of England if she wished to press the issue.  Given that Mary was a Catholic, and Elizabeth a protestant, due to her father starting the Church of England so that he could get a divorce which the Catholic church would not allow him to do, it also would threaten to engulf both countries into wars with each other, but also religious wars among themselves.
While Mary Queen of Scots is a largely politically-based film, it also deals with complex family drama, along with bitter fights over religion.  The old adage says that at family gatherings you really shouldn't discuss politics and religion.  Mary and Elizabeth's collective family, and their subjects in Scotland and England, obviously didn't listen to such sound advice. This makes for a fantastic film to watch as it is full of shrewd gamesmanship, sexual politics, war, love, double-crosses and backstabbing, while also looking at the political realities of marriages and value placed on women to conceive of an "heir".
What makes it all work is the performances of Ronan and Robbie.  Saoirse Ronan has been recognized for her outstanding performances, receiving Oscar nominations for Lady Bird and Brooklyn, and her performance in Mary Queen of Scots is another one on par with the best of her work.  While playing a young monarch, she is able to capture the dual identities that embody this historical character. Firstly, she must demonstrate the prudence and wisdom that comes with being a ruler who is responsible for her nation, and someone who must consistently demonstrate that they are in charge against a backdrop of prideful Scottish men, who seem to have very set ideas of a woman's place in society, no matter her title.  She also demonstrates the youthful desire to have fun, gossip, dance, and enjoy youth.  These worlds often clash, but Ronan embodies both identities throughout the film in a way that feels like a natural extension of herself, not two things that are mutually exclusive.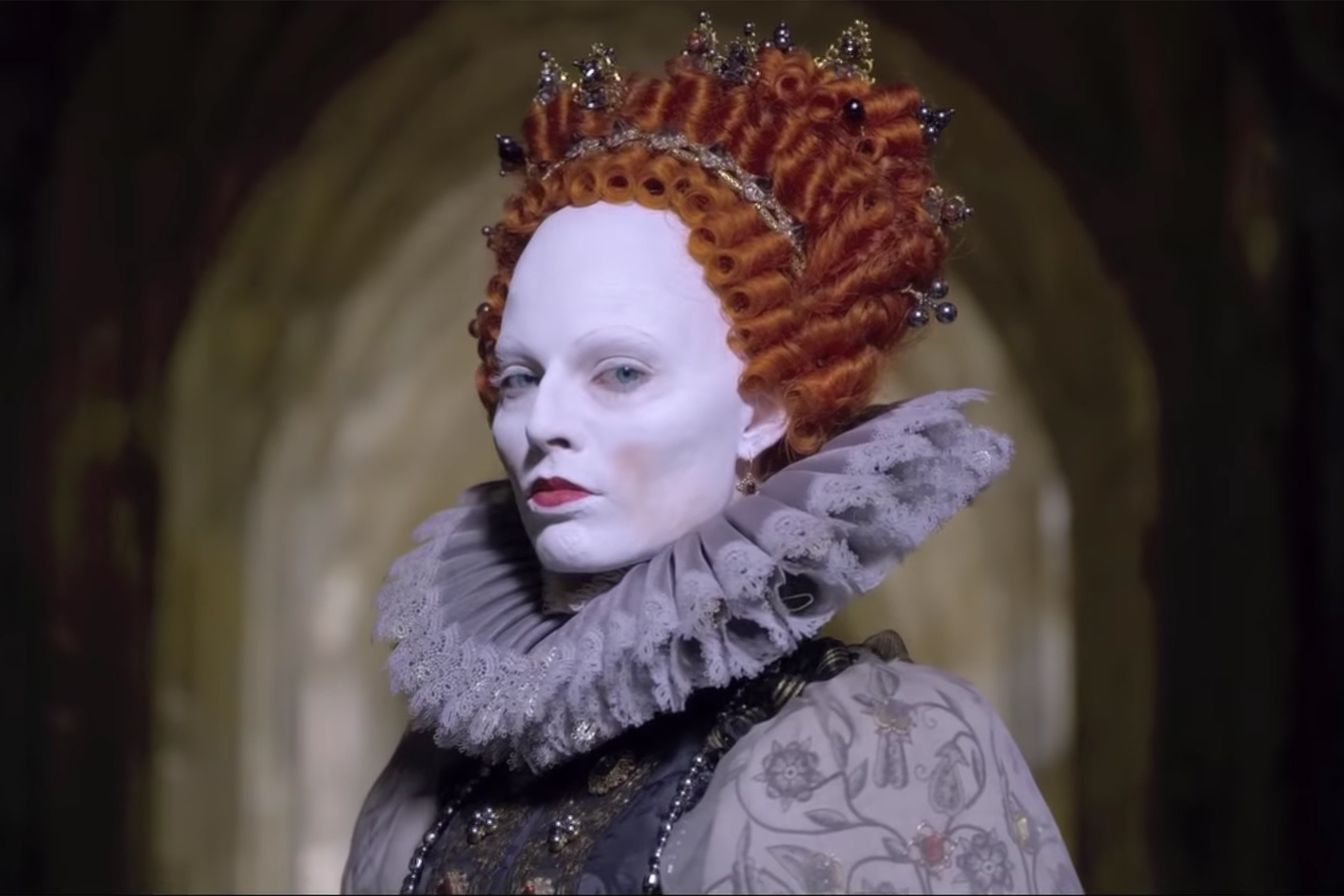 As good as Ronan is, Margot Robbie is the one who should be turning heads with this performance.  Her transformation into Tonya Harding, in last year's hilariously tragic I, Tonya, was well done, but her portrayal of Elizabeth I is transcendent.  All praise should be given to the make-up team responsible for completely changing the shape of her nose, mouth, and other facial features.  More astonishing is when Elizabeth contracts smallpox, which leads to her facial features being permanently altered as a result.  Margot Robbie becomes nearly unrecognizable at times as a result of their work, and as such is able to completely disappear into the role.  The prosthetics and make-up give her the tools necessary to fully embody this character and convey a whole range of heartbreaking emotions as her role of being England's queen comes at the expense of everything she truly desires in her heart.
As Mary and Elizabeth's time on the throne highlights many of the parallels of their respective rules, it also helps speak to the ideas of gender politics in the 16th Century.  While these two women capably ruled their countries, this was still a man's world, where no action was out of bounds if it meant maintaining the status quo, and keeping power in the hands of ambitious men.  Women who are just as ambitious are a threat to them. This is shown broadly by a protestant minister named John Knox (David Tennant-Doctor Who, Broadchurch), and through her marriage to her first cousin, Lord Darnley (Jack Lowden-Dunkirk) who helps her produce an heir to the throne of Scotland. As a result, their child is also a potential heir to the throne of England since Elizabeth has failed to marry and produce an heir of her own.  There are other examples in the film of male schemes which I'll hold back on so as not to give away some of the plot points for those who don't know the full historical narrative of these fascinating people.
While The Favourite is still the better film involving the tale of an English Queen and the political upheaval that occurs between the two women battling for that Queen's affections, Mary Queen of Scots is also a very strong film featuring another two standout performances from female leads.  And while one shouldn't discuss politics and religion at family gatherings if they hope such gatherings to remain civil, Mary Queen of Scots revels in a story where all three are combined in a way that created one of the most compelling conflicts in European history.