Sixth Espionage Adventure Cruise Controls to a Big Blast
DIRECTED BY CHRISTOPHER MCQUARIE/2018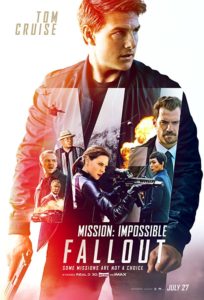 We should all choose to accept it – The Mission: Impossible series is among the very best film franchises going.  
Beginning with Brian De Palma's 1996 paranoid knotty classic Mission: Impossible, the series has never truly disappointed.  Even John Woo's derided second installment is a goofy operatic thrill machine that works on its own terms.  That film is where the "Tom Cruise stunt factor" really kicked in, beginning with an eye-popping rock climb in the opening sequence.  
Since then, the messaging that Cruise is really doing these insane stunts has become a central part of the Mission: Impossible mythos and allure.  Is he really?  Everyone involved certainly says that he does them…  The motorcycle chases, the helicopter flying, the free-running sprints… and all of that's just in this latest endeavor- during which he apparently broke his leg while filming.  In truth, though, whether it really is Tom Cruise risking his movie star neck on a repeated basis, or if that's all an elaborate ruse worthy of the IMF (Impossible Mission Force), it doesn't ultimately compromise the sheer adrenalized enjoyment that's regularly put forth by this series.
Fallout, though relatively slow to start, quickly finds its firm footing as the most satisfyingly criss-crossy, hard-to-pin-down, hardcore espionage-style Mission: Impossible since the labyrinthine first one.
Complicating things is the fact that the series' greatest asset is also its most glaring liability: Tom Cruise himself.  Even before Cruise ran into a thicket of bad P.R. in the mid-2000s, audiences had began to grow weary of his million megawatt smile and perceived hot-stuff arrogance.  Consequently, since at least the fourth M:I installment, the marketing of every film has been a strange blend of downplaying the actor's likeness in print while pushing his over-the-top stunts in other media marketing.
Whatever publicity tightropes are being walked, the bottom line is that Fallout, though relatively slow to start, quickly finds its firm footing as the most satisfyingly criss-crossy, hard-to-pin-down, hardcore espionage-style Mission: Impossible since the labyrinthine first one.  That original film is subtly evoked throughout, a welcome nod to De Palma; he himself no stranger to welcome nods to other films.  
Fallout ups the ante plot wise, and supplies a surplus of action and tension to support it.  Things get complicated along the way, but the bottom line is that it's an international race against the clock to stop three nuclear weapons from detonating.  Not only does Fallout settle as one of the finest films in a very strong series, it's got some kinetic film grammar that will have audiences ducking for cover., even upon repeat viewings.  Writer/director Christopher McQuarrie more than earns the honor of being the first director to return for a second Mission.  It's time to stop thinking of McQuarrie as a screenwriter in a director's chair, and rather a tremendously talented action director.
Once again, for the sixth time, Tom Cruise is super-spy Ethan Hunt.  As the series has evolved into embracing the team dynamic of the classic television show from which it originally derived, Hunt has taken on the Jim Phelps part of team leader.  It's a position that suits him, since he's seen it all and survived just about everything at this point.  Unsurprisingly, the role remains tailor-made for Cruise, maintaining Hunt as the tightlipped handsome daredevil with a warmhearted streak that we've all grown accustomed to.  One could say at this point that the part fits him like an old shoe, if such an old shoe were to put petal to the metal for a wild Parisian truck chase, more memorable madman-on-a-motorcycle moments of mayhem, and a helicopter set-piece the likes of which we've never seen.
Series veterans Simon Pegg and Ving Rhames return as their usual tech genius second fiddles.  Though edits are clearly being made around Rhames every time his character has do any running (this was also the case with the previous film, Rogue Nation), and Pegg's not getting any younger, either, both actors are always a welcome sight in these movies; it will be a sad day when they're not a part of them any longer.  Several other familiar faces grace Fallout, furthering established character threads- some of which might've been deemed forgotten.  
Another welcome return is Rebecca Ferguson as the deadly Isla Faust, the beguiling super-spy who gave Ethan and company a run for their money in Rogue Nation.  Cruise- the ultimate creative force behind this entire series- doesn't quite allow Ferguson to steal the film away from him the way she stole the previous entry, though her character is once again an essential portion of the overall mix.  Her loyalties remain ever in question, even if her moral compass does not.
Henry Cavill joins the cast as an ominous new agent with a mission of his own.  Notoriously, this is the movie shoot that prevented Cavill from shaving his mustache to play Superman in the reshoots for Zach Snyder's/Joss Whedon's Justice League, causing that production to give the man of steel a CGI shave.  Cavill's character in Fallout, however, is no Boy Scout.  From the first moment of meeting him, it's obvious that that mustache is probably for twirling.  He's got a perpetually clinched jaw and he swears more than anyone in the series to date.  Supplanting no-show Jeremy Renner, he immediately ups the wallop factor.  Angela Bassett, Vanessa Kirby, and Wes Bentley also infiltrate their way into the M:I family this time around.
Whatever proves predictable and whatever doesn't scarcely matters by the end of this one.  Summer filmgoers should fall in line for Fallout, one of the smartest and savviest movies of its type, and one that won't soon be disavowed in the minds of those who experience it.