Henry Silva does Double Time in Vengeful Spy Actioner
DIRECTED BY EMILO P. MIRAGLIA/1967
BLU-RAY STREET DATE: NOVEMBER 15, 2022/KL STUDIO CLASSICS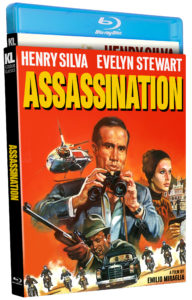 On September 14, 2022, Henry Silva died for the last time. The always unique, always fascinating actor no doubt met more dramatic fates on screen dozens of times in his five-plus-decade career than he did last year at age ninety-five in a Hollywood retirement home. Silva proved to be a tremendously compelling staple in genre projects, particularly crime films, made all over the world. In 1967's globetrotting Italian crime/spy thriller Assassination, of which he's the star, he is dispensed with immediately.
In this Bond-era/post-A Fistful of Dollars actioner, the venerable character actor assumes the lead as not one but two brothers (well, kind of) caught up in deadly espionage.  Right away, however, he goes from a prison cell to the electric chair.  As the clock hits 12:00:00, the switch is thrown, and the lights give that telltale fatal flicker.  That's the first few minutes of Assassination.
The very next sequence finds Silva in a hospital bed being brainwashed to apparently become his "brother". We learn he's been given plastic surgery in preparation for being dispatched by the CIA. Or something like that. Honestly, after my initial viewing of Assassination (which co-stars Fred Beir and Evelyn Stewart), I can't claim to have followed what was going on. The 1967 movie, with its oblique storytelling and urban action, occupies its own weird space between "cutting-edge cool" (angry men carrying guns with silencers, all hyper-focused on dirty deeds; the whole thing set to dynamic 007-esque music) and "weirdly disengaging" (the angry men lack personality or any kind of engaging qualities- aside from Silva's very welcome oddball presence). I came at this movie fully caffeinated and still had a hard time remaining interested.
After visiting both Wikipedia and IMDb in hopes of a plot summary but coming up short, I began to suspect that my own troubles with Assassination's narrative were not unique. In this regard, it's not necessarily surprising to learn that Assassination was the directorial debut of Emilio P. Miraglia (credited onscreen as "Hal Brady"), who would go on to make his mark in the soon-to-emerge giallo horror movement (1971's The Night Evelyn Came Out of the Grave; 1972's The Red Queen Kills Seven Times) – a sub-genre bursting with panache but not known for cohesive storytelling. Assassination's globetrotting tale of cold-blooded scheming and deceit takes to New York City (with priceless rambling location photography through Times Square and into the Macy's Thanksgiving Day Parade) and then to Hamburg for the second half. Meanwhile, the famed Cinecittà studio in Rome served as homebase for many of the interior scenes.
Finally, I looked to that trusty triumvirate of film historians, Howard S. Berger, Steve Mitchell and Nathaniel Thompson, to hopefully set me straight via their new audio commentary track, found on KL Studio Classics' recent Blu-ray release of Assassination. These guys, with their collective and individual wealths of obscure movie knowledge, come through with plenty of eye-opening and positive observations of the film. Recorded by happenstance on Silva's death date of September 14, 2022, the track at times appropriately takes on a more elegiac quality. Do they crack the plot? No, they do not- which for me, serves as some degree of personal vindication. They do, however, remarkably talk to and around that issue, to expert results.
While there are moments of rather overstated analysis- set dressing observations and whatnot (The deliberate clutter in the frame is said to be "working to complicate the idea as opposed to watching something complicated". As a former art director for film, I'll buy that only to a narrow point)- Berger, Mitchell, and Thompson once again, on the whole, function as a finely tuned unit of cinema appreciation, shining light where there previously was very little if any. I emerged from this commentary with a far more vibrant appreciation of not only Assassination, but of all manner of films of this formally pushed niche of period genre cinema.
The brightly primary-colored Assassination with its new 4K restoration absolutely pops on this new Blu-ray edition from KL Studio Classics. (Additionally, the film's stylish trailer has also been given a 4K remaster and is included). This pulsating palate is one of the solid draws for this warped 007-on-the-Tiber outing. The other is of course its leading man. At the beginning, Silva's ever waxy visage appears extra gaunt, extra devoid, his face resembling nothing but a skull with clammy skin on it. His central character of John Chandler (a rather obvious shout-out to Noir novelist Raymond Chandler; the character's brother Philip Chandler even more so), though, is emotionally volatile from the start. By the end, he's lashing out like a frustrated child with a machine gun. Though it's impossible to ever get any kind of meaningful bead on the character, perhaps that's to the actor's unique credit. Silva was an actor like no other, as witnessed by Miraglia's close-ups on his eyes. If you put a hand up to cover one eye, the character appears wizened, settled. Do the reverse in the same take, and he appears the very definition of unhinged, crazed.
While I can't say that I was ever truly drawn into Assassination, I can absolutely recommend the Blu-ray for its striking visual restoration and commentary track. Here's to the career and unmatched presence of Henry Silva, a man who will live on in the varied annals of cinema history.