Ah-ah-ah-SCARED! With 8 Classic Bud & Lou Fright Comedies
Universal Studios, the late 1940s. With TV chipping away at movie attendance and audiences dwindling for their once popular Gothic horror movies, none of which had reached the screen in the three years since the release of House of Dracula (1945), comedy producer Robert Arthur found himself with a similar problem on the other end of the Universal lot. From 1940 on, the team of Bud Abbott and Lou Costello had virtually propped up the flailing fortunes of the studio with an extremely lucrative, comparatively low-budget series of comedies. Starting with popular service comedies at the outset of World War II (Buck Privates [1940], In The Navy, Keep 'Em Flying [both 1941]), the duo soon traveled West (Ride 'Em Cowboy '['42]), East (Pardon My Sarong ['42]), North (Hit The Ice ['43]), and practically every point and place in between (In Society ['44], Here Come the Co-Eds, The Naughty Nineties [both '45]). After 8 years and 15 films, however, the two-man vaudevillians possibly needed a fresh new direction for their comedy stylings: new comic blood, as it were.
Enter The Monster. Actually, Abbott & Costello entertained ambitions of mixing horror and laughs as early as 1941, when the pair initially approached terror icon Bela Lugosi for a Broadway stage show, but Robert Arthur's suggestion that the partnership combine their quarrelsome comic routines with the Universal legacy of monster movies ultimately deserves credit not only for injecting fresh vigor into moribund screen properties but also for the birth of a new Hollywood genre. The fright comedy has its predecessors, most notably the 1939 Bob Hope vehicle The Cat and the Canary, and has further roots (as we will discuss) in A&C's previous body of work, but never before had there been such a conscious and equal melding of the two genres as eventually appeared in 1948's horror-and-comedy fest Abbott and Costello Meet Frankenstein.
Encountering not only the title monster but also Dracula and the Wolfman in this initial cross-genre effort, the successfully established screen dynamic between Bud and Lou – one the perpetual conman and the other the perpetually conned; one the eternal wiseguy and the other the eternally wised-out – beautifully translated itself to their respective reactions, per the team's familiar comic personae, to encountering the supernatural. Bud the rational skeptic and Lou the childlike believer, with all the frantic scare-takes, breathless mutterings, and logic-looping arguments in between, Abbott and Costello Meet [Insert Monster Here] proved a winning combination of slapstick comedy meeting real terror.
And so the fright comedy was born. This past October, in preparation for my annual Halloween movie list, I have mined the mirthful muddle of over 25 movies Abbott and Costello made at Universal Pictures (later Universal-International) between 1940 and 1955 – in their earliest and most popular phase, between 1941 and 1945, putting out films at a blistering pace of 3 or 4 per year – and have winnowed that considerable filmography to 8 representative scareshtick (or, more awkwardly, slapterror) examples. Mostly, though, this was just an excuse to watch some fun Abbott and Costello movies – like one should even need an excuse – and writing about pop culture pleasure, as always, is my particular form of self-imposed penance: in this case, for both the laughs and the scares.
Hold That Ghost
1941, dir. Arthur Lubin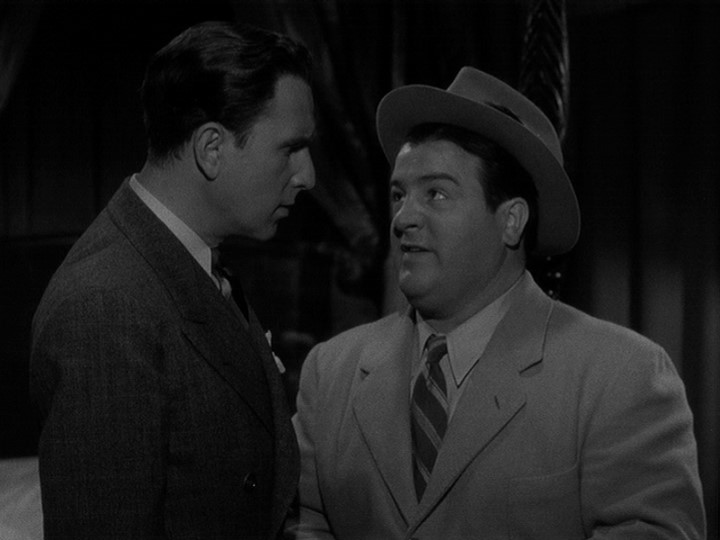 Ted Lewis and the Andrews Sisters open up this slightly prewar entry for Abbott and Costello, their fourth comedy for Universal, and like many of the pair's other early musical-comedy efforts is initially set in a swanky nightclub, but the action of this at first lighthearted and breezy farce quickly shifts to a deserted roadside tavern where haunted house happenings darken the tone considerably with crooks, cobwebs, and the unexplained. Bud and Lou are Chuck and Ferdie, as if changing their names between films even mattered, and more importantly are their usual and quarrelsome selves as two muggs locked in the eternal conflict between growling impatience and guileless innocence. A&C's comic variation on a good ol'-fashioned, rip-roarin' Old Dark House thriller comes complete with mobile corpses and candles, both of which famously move with an apparent supernatural agency equal only to their powers of atmospheric dread for the former and shadowy lighting for the latter. Setting a pattern the comedy team would continue to exploit through all their fright comedies, Lou's character sees a hand creeping from behind a wall fixture or watches helplessly as the dimensions and furnishings of a room shifts before his eyes, but is unable to persuade anyone else – notably Bud's character – of these strange goings-on. Proving both Lou and Bud right in their earliest dark mystery comedy, the faux-ghostly shenanigans are entirely explained, but the dead gangster's plot of concealing loot in a hunter's trophy has enough scares leading up to that revelation to fool unwary viewers into thinking they've stumbled onto an honest-to-ghost horror flick. A favorite of many Abbott and Costello fans, including this one, Hold That Ghost expertly balances the pair's verbal flights of fancy – my favorite is a pun on the word "rumor" as applied to "landlord" – with the stylistically evoked fantasy of long shadows and dark corridors.
Who Done It?
1942, dir. Erle C. Kenton
A&C's second dark comedy continues the stylistic devices of Hold That Ghost – including shadowy lighting and scary set design – but is much more an obvious mystery film, per the title, than their previous fright flick. Bud and Lou are soda jerks with dreams of breaking into the radio business who find their big opportunity to solve a real-life mystery when, attending a live broadcast of Murder at Midnight, the president of the local network (Thomas Gomez) is bodily recipient of 10,000 volts of radio power at the outset of his most popular show. Impersonating detectives in a highly questionable scheme to win a place on the show by solving the real crime, the fake pair of investigators are soon pursued by a real detective pair (William[s] Bendix and Gargan) who suspect the others of posing as would-be officers in order to deflect suspicion of their guilt. Reality and fantasy further collide only insofar as the lies and impostors mount alongside the deepening pile of corpses; so while there are no supernatural elements for Lou to be scared of or Bud to scoff at in Who Done It?, there is still plenty of creeping around corners, frantic rooftop chases, and murders most foul to satisfy one's Halloween lust for innocent depravity. Along with Arthur Lubin, who directed Abbott and Costello's first five film successes, including Hold That Ghost, and would go on to make 1943's The Phantom of the Opera, director Erle C. Kenton had recently made Ghost of Frankenstein ('42) and would go on to essay both Universal Monster-terminating entries House of Frankenstein ('44) and House of Dracula ('45). Considering the facility with which directors at Universal could alternate between darker fare and light, it is tempting to assume that mixing scares and laughs came quite easily for the studio's contract journeymen, who naturally had vast experience in both.
The Time of Their Lives
1946, dir. Charles Barton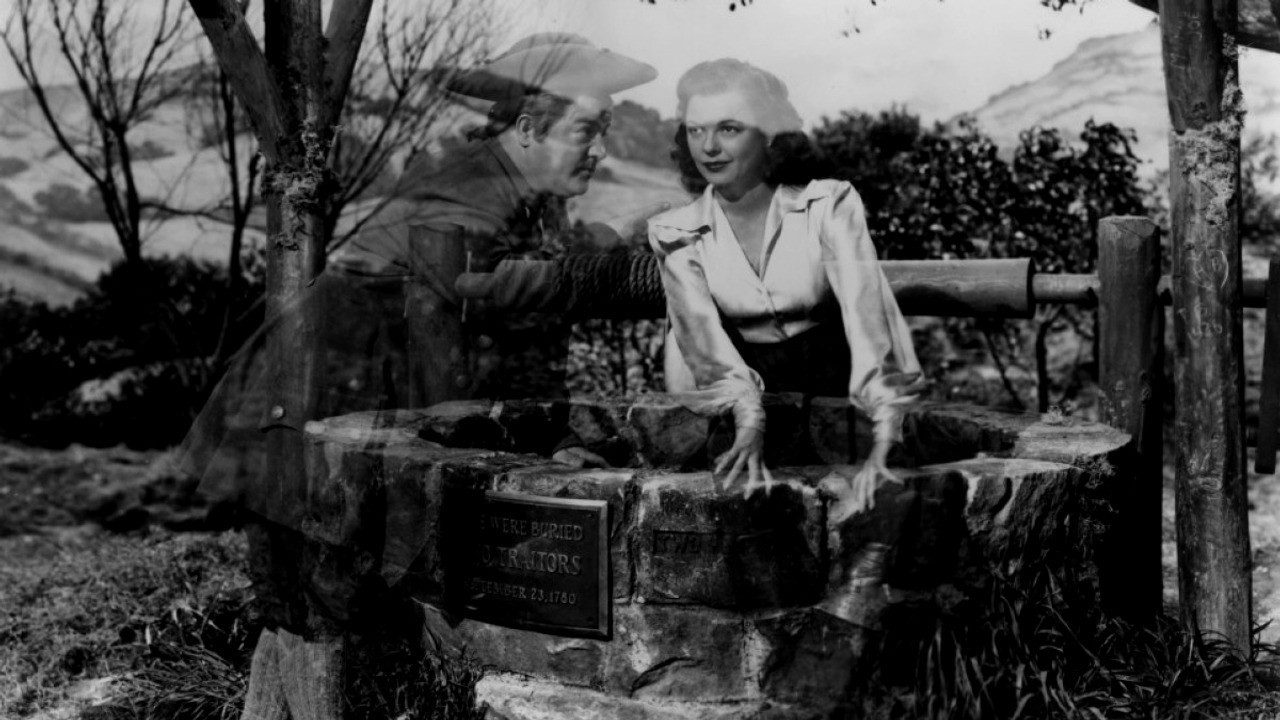 Abbott and Costello's first fully-fledged supernatural movie contains zero scares and fewer laughs, but is instead a sophisticated attempt – at least in Abbott and Costello terms – at a ghost-haunting fantasy in the vein of The Ghost Goes West (1935), I Married a Witch ('42), or The Canterville Ghost ('44). American Revolutionary-era specters Horatio Prim (Costello), a humble tinker, and Melody Allen (Marjorie Reynolds), an heiress and titled lady, have been spiritually bound to the Upper New York estate of Danbury, victims of a curse mistaking the two patriots for traitorous collaborators in Benedict Arnold's infamous plot. Burned to its purified ashes on that long ago and fateful night, Danbury is restored to its original state 165 years later by one of its heirs (John Shelton), and the ghostly pair see an opportunity in contemporary mid-1940s to prove their innocence when a party of curiosity seekers, including famous fright psychologist Dr. Greenway (Abbott), a descendant of the estate's original butler Cuthbert (also Abbott), visit the born-again baronial manor. Beyond the novelty of Costello as an eighteenth century ghost constantly saying "Odsbodkins!", there is not as much of the pair's energetic verbal comedy on display in The Time of Their Lives, which one supposes to be an unfortunate albeit necessary casualty of the plot demands where Bud's character is unable to directly see or hear Lou's ghost character through the spectral mist. As such, it is however an interesting twist that Bud rather than Lou is here forced to perceive a reality beyond the pale. Through Ghost Lou's persistent haunting, Bud the skeptical psychologist is unwilling if not quite as entertaining witness to the moving furniture and ghostly harpsichord notes that would normally be reserved for non-Ghost Lou's credulous eyes and ears. This decidedly unusual A&C effort marked the comedy team's first collaboration with imaginative director Charles Barton; a partnership that would pay even greater dividends two years later with our next supernatural comic entry.
Abbott and Costello Meet Frankenstein
1948, dir. Charles Barton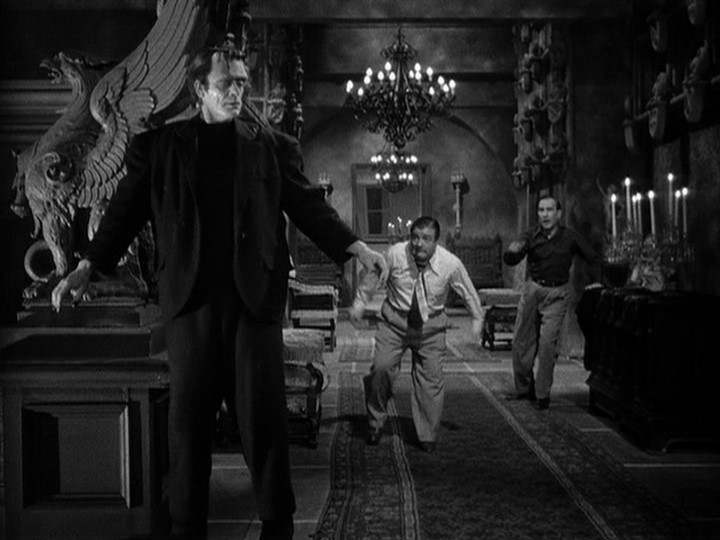 The Abbott and Costello formula reached screen perfection in their seminal 1948 classic, which revived not only their own successful comic dynamic but also and more literally the long-absent Universal screen monsters who, as discussed in the introduction, had not terrorized audiences since 1945's House of Dracula. First and foremost, the studio persuaded Bela Lugosi to return to the role that had earned him equally literal immortality, and joined by Lon Chaney, Jr. and Glenn Strange, the trio of Dracula, the Wolfman, and the title monster provides Bud and Lou with precisely the oversized screen threats that their gargantuan comic chemistry of conflict apparently required. Chick (Bud) and Wilbur (Lou) are Florida railway package handlers who improbably receive a shipment to a local wax museum that contains the unearthly remains of Count Dracula and the Frankenstein monster. The long-tortured soul of one Lawrence Talbot, AKA the Wolfman, soon arrives on the midnight scene, but his persistent warnings fall on deaf ears as disastrously as his visit is ill-timed with an apparent full week of full moons. With a fetching femme fatale in Dr. Sandra Mornay (Lenore Aubert), whose untoward interest in Wilbur conceals further sinister plans, the Dracula conspiracy at the vampire's Gothic island fortress – posing as a rather unlikely "Dr. Lejos" – is complete, and Wilbur is of course given multiple opportunities to repeatedly scream "Oh Chick!" through all the lumbering monster chases and electric surgical laboratories of the classic Universal horror flick. As much fun as one could conceivably have at the movies, the pair's initial and inaugural fright comedy is still as sublimely ridiculous as it is prime Halloween entertainment. The non-cameo in its closing moments even presaging a future film "encounter", Abbott and Costello Meet Frankenstein is the one essential film that fans of both horror and comedy need to see: like Wilbur's "pliant" brain and the Frankenstein monster's "unruly" body, one's film education simply isn't complete without it.
Abbott and Costello Meet the Killer, Boris Karloff
1949, Charles Barton
Depending on the reliability (or unreliability) of one's conflicting sources, this quickie cash-in on Abbott and Costello Meet Frankenstein began unnatural life as either a vehicle intended for Bob Hope or a follow-up to the comedy team's earlier murder mystery comedies Hold That Ghost and Who Done It? Complicating matters of origin further, even beyond its frankly incomprehensible though bizarrely enjoyable plot, is how "The Killer" exactly fits into the story or film, except as an excuse to fit Boris Karloff with a turban and call him a "swami". Well, pardon this film fan as he places all objections of sense and reason behind to follow Bud and Lou along on yet another darkly funny screen adventure. On this outing, the boys are Freddie (Lou), a bellboy, and Casey (Bud), a house detective, in a swank though remote hotel resort where the peevish manager Melton (Alan Mowbray) currently presides over a growing guest list of sinister murder suspects, including a hypnotizing fortune teller named Talpur (Boris Karloff). Through plot complications better left unexplained, poor Freddie becomes the prime suspect of Dets. Wellman (James Flavin) and Stone (Mikel Conrad), with only frequent verbal sparring partner Casey left to prove his innocence. Containing possibly the best iteration of A&C's famed Changing Room gag – where the mounting pile of corpses suddenly show up under bed covers and in closets, and unaccountably disappear the moment frantic Freddie shows them to unbelieving Casey – Meet The Killer also contains one of their most nonsensical plot misdirections regarding the ultimate identity of the film's fearsome foe. However, if you don't think about the point too much, there's atmosphere and silliness a-plenty to enjoy in this macabre vacation spot with Bud and Lou.
Abbott and Costello Meet the Invisible Man
1951, Charles Lamont
Fulfilling the promise of the mentioned secret cameo at the end of Abbott and Costello Meet Frankenstein, courtesy of Vincent Price, who had starred in 1940's The Invisible Man Returns, Abbott and Costello's practically predestined encounter with the shifting and revolving identities of the unseen one also features a photograph cameo from Universal's very first Invisible Man (1933): specifically, a young and dapper Claude Rains before he bodily disappeared into his debut role as mad scientist Griffin. For all those careful connections to the earlier series, one might be unsurprised to learn that Abbott and Costello Meet the Invisible Man started off as a legitimate entry in the Invisible Man series – one in which a boxer (Arthur Franz) takes the invisibility serum in order to prove his innocence of a suspected murder – before frequent A&C screenwriters Robert Lees and John Grant seamlessly added The Boys – here playing hapless private detectives rendering their usual level of unassistance – to undoubtedly improve upon the straight played entry that might otherwise have resulted. With less emphasis on verbal and more on physical comedy this screen go-round, Bud and Lou as Detectives Bud and Lou lay the slapstick rather heavily throughout the boxing and gangland invisibility tale, culminating in Lou's undercover boxing tour-de-force, with an Invisible Man assist, as uppercut sensation Louie the Looper. A point worth addressing as we move further down the A&C Meet series itself is whether Abbott and Costello were the kiss of death or last hurrah for all these great Universal Monsters, especially considering none of them appeared again on screen after having "met" Bud and Lou. Personally, though, I think it attests to the considerable power of comedy: once you've laughed away your fears, they simply lose their power to frighten; and one further supposes no monster has the power to survive the incomparable comedy jesting of Abbott and Costello.
Abbott and Costello Meet Dr. Jekyll and Mr. Hyde
1953, Charles Lamont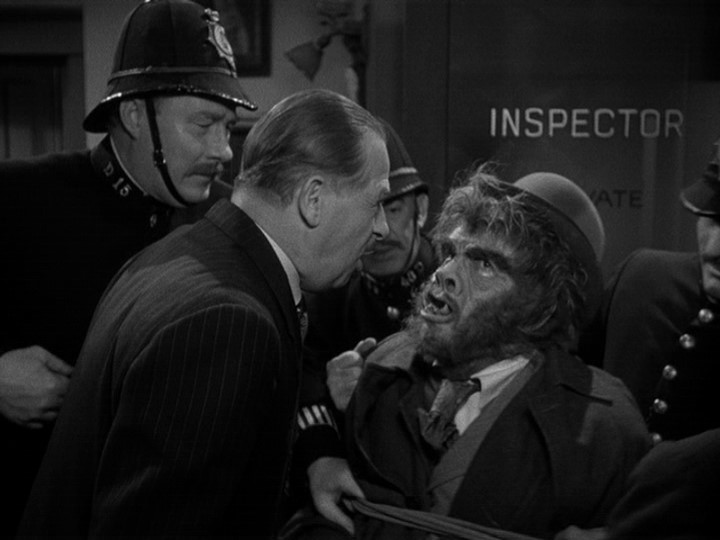 Boris Karloff makes a welcome co-starring return to the world of Abbott & Costello, here essaying the dual role of Robert Louis Stevenson's Victorian-era scientist and madman. Bud and Lou pose a comic duality of their own as Slim and Tubby, two bumbling Americans somehow serving as constables on London's police force. Another of the pair's fright comedies that initially started out as a straight horror movie, Slim and Tubby play like the drama's equivalent of Rosencrantz and Guildenstern: two side characters witness to bizarre happenings which neither fully comprehend but who together end up teasing out the bad side to the good doctor's persona through sheer comic annoyance. And while there are plenty of comic chases and cases of mistaken identity, the original script per its pre-Abbott and Costello rewrite shows through, with Dr. Jekyll's possessive romantic interest in his music hall performing ward (Helen Westcott), along with the jealousy love triangle arising from an interloping young journalist (Craig Stevens), adding unhealthy layers to the usual Abbott and Costello tomfoolery. (In other words, the combined Jekyll and Hyde-like inconsistencies of the horror script and comedy film display certain schizophrenic symptoms of their own.) A quite handsome period production is supported by the equally astonishing make-up effects, which is certainly another point worth mentioning in the four monster A&C Meet-up films. Using plaster molds and streamlined time-lapse photography techniques, the transformation of horror legend Boris Karloff as Dr. Jekyll into the scaly and simian Mr. Hyde achieves as seamless a screen effect as the equally impressive transformation of Lou's Tubby, mid-film, into a giant anthropomorphic mouse.
Abbott and Costello Meet the Mummy
1955, Charles Lamont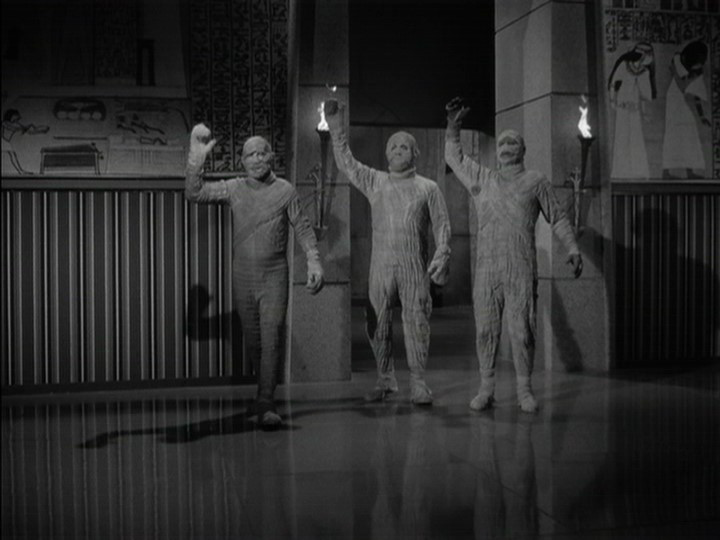 Abbott and Costello's final film for Universal is also, appropriately, their final Universal Monster mash-up, this time encountering the venerable shroud-wrapped and slow-motion walking corpse. A further question may arise for unwary viewers as they proceed down the latter portion of Abbott and Costello's monster-themed filmography: are all these comedy scare-trips (or, more awkwardly, horror-cations) genuinely worth taking? From Victorian London to all the Gothic Horror locales in between, the Abbott and Costello comedy world tour is to this viewer definitely worth the entire journey, and Bud Abbott and Lou Costello's terror-trek through Cairo, Egypt comes highly recommended. Playing, finally, comic versions of themselves, "Hey, Abbott!" and "Oh, Costello!" are two travelers bumming around the City of the Living who find themselves unwilling pawns between a gang of thieves (lead by film noir femme fatale Marie Windsor) and an ancient Egyptian cult (ruled over by familiar TV patsy Richard Deacon). A personal note here: my dad was a phy. ed. teacher who on annual fall in-service days – right around Halloween, actually – would trot out a battered 16mm copy of this very film to project on his elementary school gymnasium's big stage curtain. Lou eating a magic medallion he mistakes for a hamburger or Bud smoothly bilking the gang of a cool five grand or just the way the Mummy's burial wrappings hang loosely off his fearsome frame – an innovation on his more tightly-wrapped previous film appearances, actually – are all treasured childhood memories for this lifelong fan of old comedies and horror movies. And watching now as an adult, a final point worth making is the consistency with which Abbott and Costello Meet the Mummy ends in relation to all their previous Universal films: finally back in the States, Bud and Lou open Klub Klaris, in thematic honor of the Mummy, and the musical-comedy stylings of the film's big musical finish hearkens back to the stylish milieu of their first big wartime successes. The long fright comedy world tour over, and Abbott and Costello having finally disposed of all the Universal Monsters, one almost expects Ted Lewis and the Andrews Sisters to be heading tomorrow evening's bill.
All images, with the exception of Hold That Ghost and the cover image from Abbott and Costello Meet Frankenstein, are credited to DVDBeaver.