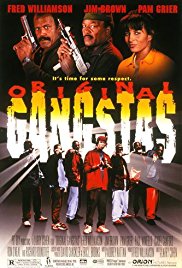 Director: Larry Cohen/1996
Street Date: October 3, 2017/Kino Lorber Studio Classics
Twenty-plus years after the height of blaxploitation films, there seemed to finally be a reason to get the gang back together.  Original Gangstas is the 1996 film that brought together Fred Williamson (Black Caesar), Jim Brown (Black Gunn), Pam Grier (Foxy Brown), Richard Roundtree (Shaft), Ron O'Neal (Super Fly), with a supporting cast of Paul Winfield, Isabel Sanford, Oscar Brown Jr., and Christopher B. Duncan.  They find themselves in the town of Gary, Indiana where the steel mills have shut down and people have moved away to find work elsewhere.  For those that stayed, it has been a tough slog of just getting by, or finding yourself under the boot of the local gang, The Rebels. When Kenny, the son of Pam Grier's Laurie Thompson, is gunned down in a phone booth it unleashes a battle for the soul of the city.
Marvin (Oscar Brown, Jr.) and Gracie (Isabel Sanford) Bookman have owned their local grocery store for years.  When Kenny is killed outside their store, Marvin takes the risk of snitching on The Rebels member who was the trigger man.  When the gang hears about it, their leader Spyro (Christopher B. Duncan) sends his guys to kill Marvin and take ownership of the store.  Marvin is roughed up and finds himself in the hospital with a bullet-wound.  But his wife has called their son, and now John Bookman (Williamson) is back in town.
John Bookman is a celebrity in Gary, Indiana for making something of himself as a professional football player.  He immediately calls out the mayor, before heading down to the grocery store to rough up The Rebels who are there, declaring that the store is not theirs, setting up a conflict that will engulf the entire community.  Slowly, the original gangstas make their way back to Gary to join John.  It is here that we learn that they are the founders of The Rebels gang, which used to be a protection gang for the neighborhood.  When they left Gary for a better life, the gang they founded became a criminal element, mirroring the then current gangs that were rampant during the 1990's, making Original Gangstas a current event/social commentary film at the time of its release.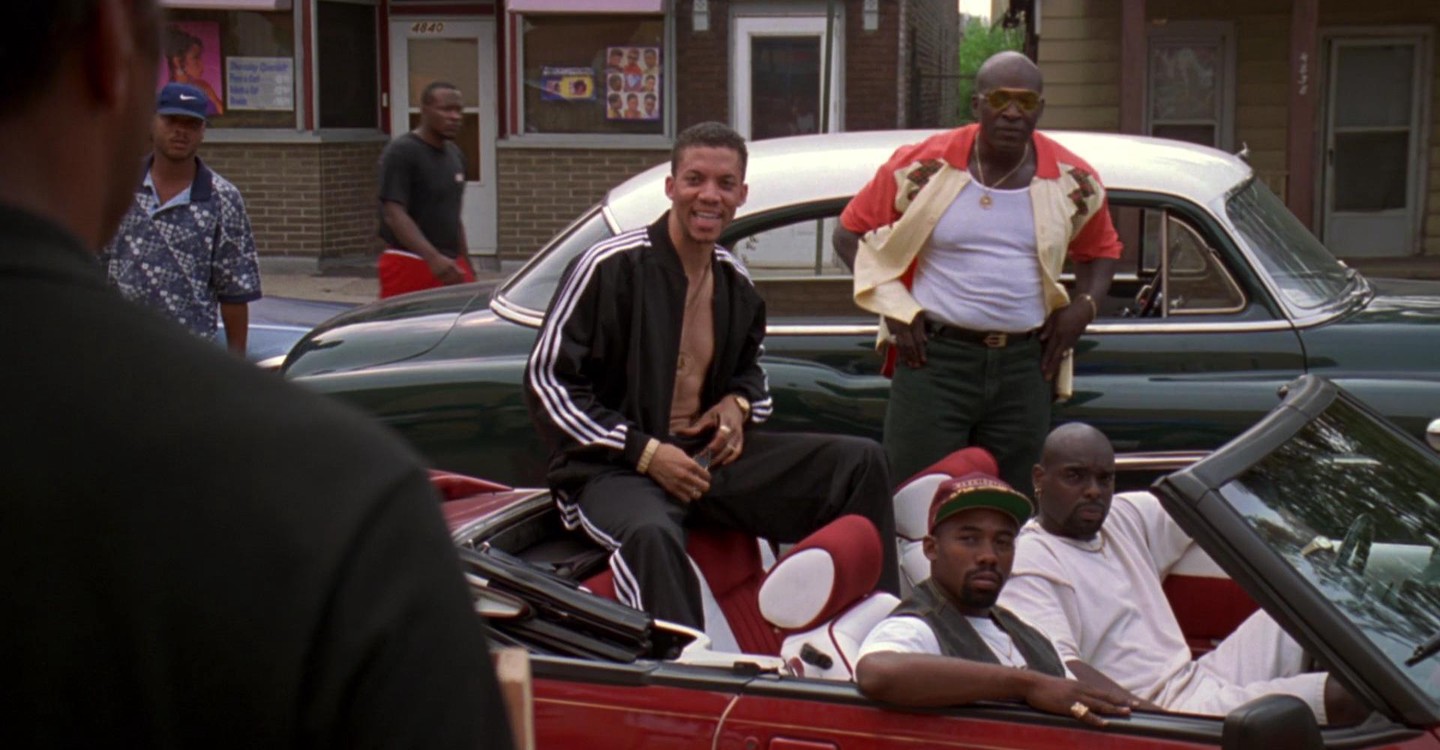 The main three ex-Rebels are John, Laurie, and Jake Trevor (Brown) who is Kenny's father, and Laurie's ex-love.  While he never knew his son due to Laurie pushing him away so that she wouldn't hold him back from his dream to be a fighter, he has been keeping track of his boy, and this has led Jake back to help Laurie avenge their son's death, and help John take out the same gang that shot his father.  Slowly they recruit Slick (Roundtree) and Bubba (O'Neal), and much of the local community to fight back against Spyro, Damien (Eddie Bo Smith Jr.), and all of The Rebels who have held this community hostage.
Despite making sure that we know that they were a "protection gang" back in the day, its amazing how easily they are able to handle multiple types of weapons, killing the modern gang members in large numbers, with no remorse, like the very gang members they are now fighting.  Its all glossed over, as the point of all of this is that these O.G.'s are the good guys, and like the larger-than-life action films of the 1980's, especially those with Chuck Norris, Charles Bronson, Steven Seagal and the like, they can do no wrong as they take out the bad guys of the film.  Its all meant to be a little over-the-top, but the competent cast keeps it grounded.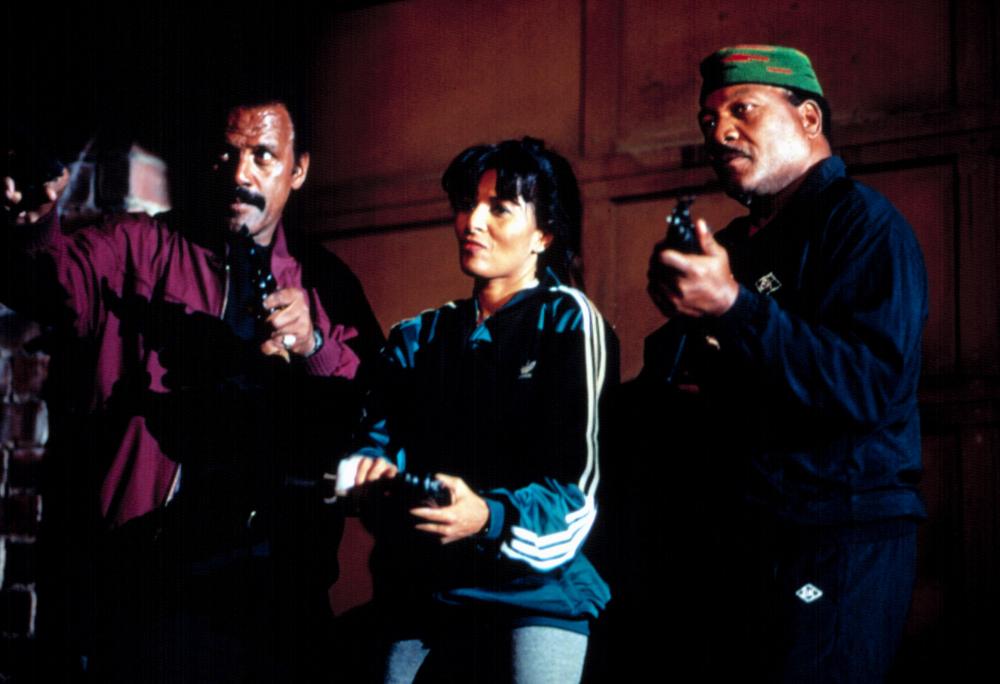 While each of the main actors have continued to make films since this 1996 outing, this film is an interesting one to transfer to blu-ray as it really is a celebration of sorts of the blaxploitation films of the early 1970's. It also serves as a celebration of the power of community, especially the black community, as they are seen in this film as painting a picture of what was possible when a whole community stands up to the gang culture that was stealing their youth by enticing them with money, power, and a sense of purpose, that was nothing but a hollow shell.  In many places, this battle is still taking place, and seeing these classic action heroes unite to lead the charge, albeit through a fun, low-budget action tale, was an inspiring moment for those in 1996.  It can also be so for us today. Apparently, lightning is trying to strike twice as Fred Williamson is currently in pre-production as the director and star for a 2018 release of a new film called Old School Gangstas reuniting Williamson, Grier, Brown, and Roundtree, though they are playing different roles from this 1996 film.
This Kino Lorber blu-ray release of Original Gangstas features Audio Commentary from director Larry Cohen, which is moderated by filmmaker Elijah Drenner.  There is also a trailer gallery of other Kino Lorber releases, as well as the original theatrical trailer for Original Gangstas.  The film is in color, and presented in 1.85:1, 1920 x 1080P with English subtitles.