Cars 3 director: Brian Fee
Note: The Cars 3 Tour is traveling to cities near you, see their itinerary here.
Cars 3 doesn't hit theaters until June 16, but that isn't stopping Disney Pixar from bringing the experience to 27 cities across the nation.  For several months now, the Cars 3 Tour has been traveling to promote "Road to the Races".  As it rolled into Houston, Texas, I, along with my family, were able to experience first hand a little bit of the growing hype as Disney Pixar begins revving its engines in hopes of getting everyone to the theater to see Lightning McQueen (Owen Wilson) try to prove that he his still has what it takes to be a champion.
The event is extremely kid friendly and features several stations where kids can enter the sport of racing.  From changing the lug nuts on a wooden mock up of a race car, to contributing to the artwork of several race scenes, to putting together their own paper cut-outs to form 3-D versions of their favorite Cars characters, there is something for all ages. Life-size models of Lightning McQueen, Jackson Storm (Armie Hammer), and Cruz Ramirez (Cristela Alonzo) were also available for pictures.
The gathering was well attended over the 3-day weekend, with many waiting well over 30 minutes to even get into the venue.  The biggest draw, however, was the chance to enter Lightning McQueen's travel trailer, that was set up as a theater inside, for a chance to hear interviews with director Brian Fee, Pixar's John Lasseter, and to see the film's trailer, and 10 minutes of exclusive footage.
John Fee gave us all a rundown on why this story is able to bring us back into the world of the original film, Cars.  He contrasted the first film where Lightning McQueen was the young racer with an ego that far outpaced his accomplishments on the track, to the new film where Lightning McQueen is simply yesterday's news. After several years of racing, he finds himself being pushed out by new racers, newer technology, and the feelings of doubt that he just doesn't have what it takes to win anymore.
John Lasseter, who has steered Pixar's biggest successes, and directed Cars 1 & 2, among many others (like Toy Story 1, 2, and the upcoming 4), seems excited about this latest installment, despite not being in the drivers seat, turning those duties to Brian Fee while keeping his toe in the water as a producer on Cars 3.  He simply gave it rave reviews and when asked about what most excites him about this latest installment, he simply said "everything".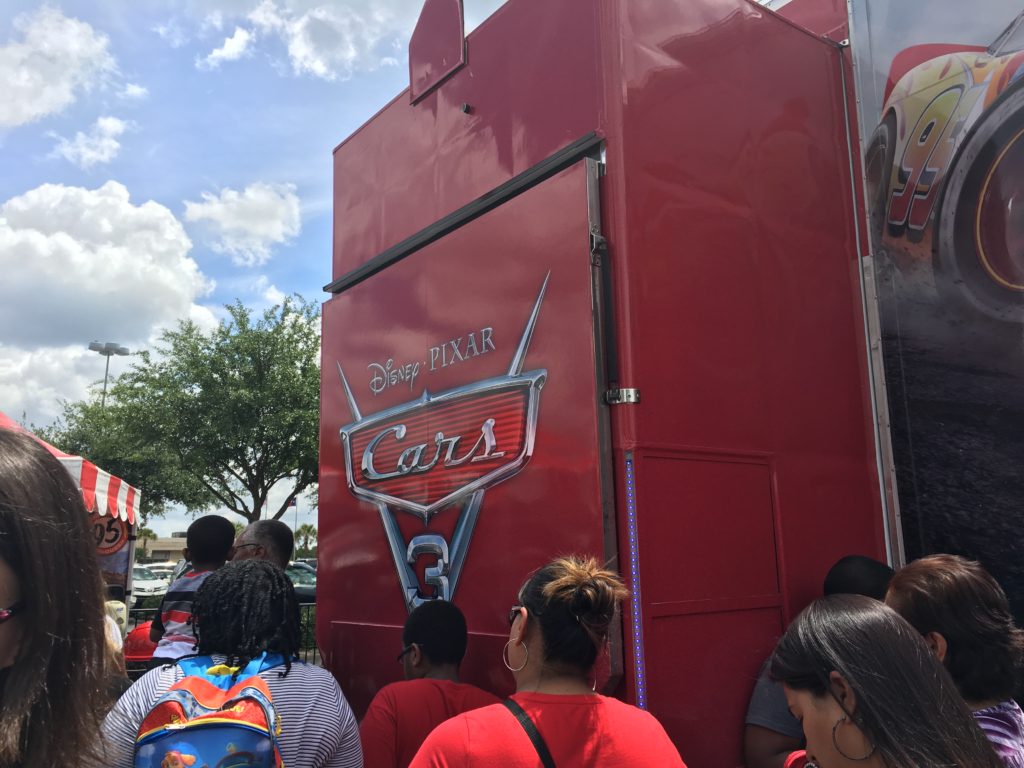 The 10 minutes of exclusive footage was well worth the wait and gave the audience a good sense of what we can expect.  The classic feel of the first film is there, but they have clearly expanded the world of Cars while grounding it in the sensibility of the original.  New characters were introduced, and we got a small look at some of the fan favorites, such as Mater (Larry the Cable Guy).  Of course, as soon as you are drawn in to the story you are seeing, the screen goes black with the simple logo of Cars 3 appearing on screen, followed by June 16, 2017.
Kids of all ages may not be able to wait for the film that is just over 2 months away, but in the meantime, they may be able to quench their thirst for all things Cars if the Cars 3 Tour finds its way into your town.