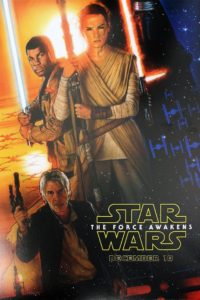 I have been resisting the Star Wars hype since the development ofThe Force Awakens was announced. I avoided all of the online speculation – and there was a lot of it – over who would or should be in the movie, whether J.J. Abrams was the man for the job, how the narrative would connect to the previous films. I didn't lose my mind every time a new teaser trailer was released, like crumbs to starving masses. Even now, on opening day, I have no ticket, and no idea of exactly when I will see Star Wars: The Force Awakens.
But yesterday I read or listened to three separate (blessedly spoiler-free) reviews of the movie, including the ZekeFilm review by Jim Tudor. They were all positive, and as I listened to the third, an NPR review from Bob Mondello, I actually started to cry. It's a bit embarrassing to admit that, but I think they were tears of relief.
I so want "The Force Awakens" to be good; to reignite some of the wonder that I felt 38 years ago. It may be too much to ask, but I can't keep myself from hoping.
I was 12 years old in the summer of 1977.  I went to see Star Wars with my older brother, his best friend, and his best friend's younger sister. The truth is that I can't remember the first viewing of the movie at all. I can't remember how that John Williams score worked on me, or what I felt upon first seeing Darth Vader, or whether I cried when Obi-Wan Kenobi was slain. I can't remember, in part, because I have seen the movie so many times since then that the entire thing is permanently grafted in my memory. Star Wars just is: always has been, always will be.
But here's what I do remember.  I remember coming home from the movie delirious with excitement, feeling that everything had changed; believing that a movie had been made just for us – for children heading into adulthood who still loved swords and sorcery, princesses and knights and monsters; but also cowboys and spaceships, and who also knew what it felt like to be a small town kid who wanted to go somewhere, anywhere, and have an adventure. I remember my brother and I chasing each other around our front yard at dusk, pretending that we were battling with light sabers. I remember the joy of falling in love not simply with a movie, but with the world it created.
I am not a fan of the prequels, but I had a young son when they came out. While the movies might have been a disappointment to me, I enjoyed seeing my son caught up in the Star Wars universe – and I was all aboard the merch train by that time. We still have a crate full of action figures and spaceships. I still occasionally find a Star Wars t-shirt in the hand me downs. I wonder what happened to all of the battery operated light sabers we used to own.
I see the merchandise crowding the store aisles and the commercials again, and I am not beyond wanting to buy some of it. I'm still drawn to the Lego sets and the action figures, even if they feature characters I don't yet know.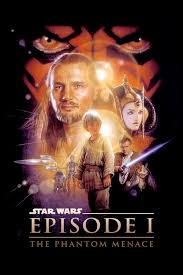 When my brother and I chased each other around the yard we had no merchandise, no t-shirts or bedding sets, no retractable battery operated light sabers. But we didn't need them, of course. We provided the light sabers, the sound effects, the dialogue. When we'd left the theater we had taken the Star Wars universe with us, and it has never left me. On that dusky evening, at 12 years of age, Star Wars had entranced me. It had enthralled me. It had transported me to a galaxy far, far away.
Maybe it's too much to hope that The Force Awakens can provide that kind of movie-going experience for me now. I'm 50 years old, after all. But perhaps it can provide it for my children, and perhaps even I can feel some of that same joy as I watch it, if only for a little while.