Relationships with Computers, Oppressors, Places and Ideas
It all comes down to relationships. So much of what compels us toward any given story are the fundamental relationships shared by people, places, objects, and ideas effectively put forth by the storyteller. 2013 yielded its fair share of memorable on-screen relationships: A man and his computer. A slave and his masters. A young girl and her repressive country. A child and her caretakers. A young woman and her city.
It doesn't matter if the film is a narrative tale or a reality-based documentary, as evidenced by the fine batch of documentaries selected below, as well as others that I had no room to spotlight: (Blackfish, 20 Feet from Stardom.) A man and his town and business. A filmmaker and his foreign aid worker best friend. Ourselves and our shining propensity toward obsession.
At the time of this publication, I'd seen 120 movies released in the 2013 calendar year. This list represents the best according to my own opinion of any given film's artistic success, significant value, and simply how much I appreciate it. Although it's true that comparing one great film to another is, in the end, a frankly ridiculous notion, these sorts of year-end round-ups can be fun for all of us, provoking conversations and spotlighting many truly great movies that may've easily overlooked by many. My relationship with these films, and many on my list beyond these top twenty, have quickly become special to me. I hope you will give them a chance, and perhaps feel the same:
Wherever possible, I link to a ZekeFilm review or article dealing with the film in question.
Movies I've yet to see:  Prisoners, Don Jon, Trance, The Sightseers, The Conjuring, the Paradise trilogy, The Spectacular Now, Prince Avalanche, Tabu, Lore, In the House, Evocatuer: The Morton Downey Jr. Movie.
A simple question for iPhone users: What if SIRI actually worked? Our computers know everything about us. It's terrifying to realize that our relationships with our computers may be our most intimate relationships, lopsidedly outweighing those we maintain with our friends and loved ones. And yet, Her presents a certain viability within the notion. And then, it proceeds to leave us to ponder and question it all the while, even as we're absolutely absorbed within Joaquin Phoenix's beautifully delicate performance as the lonely, wounded, socially invisible misfit Theodore living in Jonze's "five minutes in the future" vision of Los Angeles.
As the parameters of what's socially acceptable in intimate human relationships is extended in ways many could not fathom and have difficulty comprehending, Her reminds us that no matter what, it's people at the core of these relationships. If SIRI worked, she may prove irresistible to many. And then, how long before she reciprocates? Would such a thing be "real"? Would it be okay? Herlegitimately takes us to a world – one frighteningly recognizable – where all of this is plausible, and completely true. And that's what great science fiction can do. The relationship between Theodore and his newfangled operating system Samantha is the most compelling, most emotionally raw depiction of a love relationship in 2013.
My own previous Top Films of the Year include Toy Story 3 (2010), The Tree of Life (2011), and Life of Pi (last year). Of the several unintentional patterns running through these picks, the most obvious is that of youth, growing up. The mystery, wonder and inevitable finality of childhood is one of my own emotional "sweet spots", perhaps partially explaining my propensity for these films, and others. Spike Jonze's Her may seem an odd fit, as it doesn't sport a child or even a teenager of any kind. And yet, between Spike Jonze's ever playful and strangely whimsical view of the world runs throughout his filmography (1999's Being John Malkovich, 2002's Adaptation, and 2009's Where the Wild Things Are), it's evident that even as the emotional springboard of Her is decidedly one of contemporary adult male loneliness, the wondrous and weird view of this world is in many ways ever-youthful, ever-fantastic.
Filmmaker Steve McQueen's historical slavery tale is positively everything you've heard about it: Frank, brutal, essential, and undeniable. But it's also beautifully crafted and amazingly, daringly acted. Most are skittish to see it (I was), but all who have taken this cinematic trip 200 years back to America's dark heart will confirm that you also must see it (I am). I have a theory that this may be the first Academy Award Best Picture winner that more voters will have lied about seeing, but voted for anyway it because of how important they heard it is. If and when it wins, I hope that's not why. Don't let the "Schindler's List of slavery" line drive you away – 12 Years is not just necessary, it's immaculate. But don't just take my word for it – ask EVERY FILM CRITIC.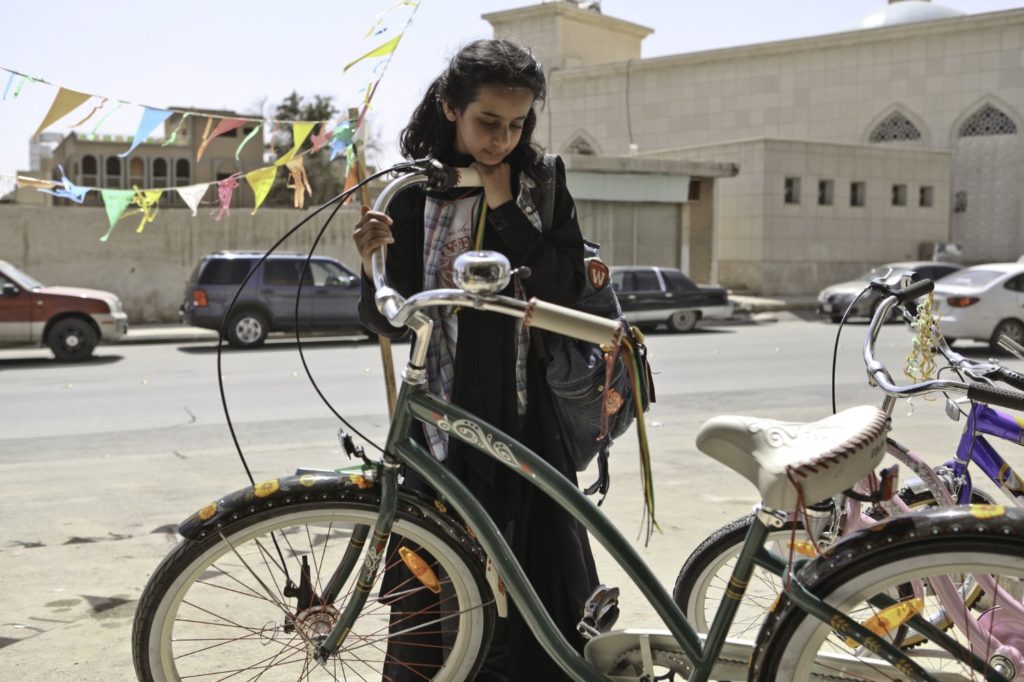 Billed as the first film from Saudi Arabia, Wadjda is simply revolutionary. But that's not why. The fact that it's directed by a woman, much of it in secret since that sort of thing ranges from unthinkable to socially unacceptable in such a highly patriarchal land, is tremendously significant, but still only part of the reason why it's revolutionary. No, the reason it's revolutionary is that a film such as this dares to, in human terms, expose and then blatantly challenge the country's ingrained repression of the fairer gender. It does so not as an angry polemic, but as a charming tale of a twelve year old local girl (named Wadjda) who wants a bicycle. (Also socially unacceptable.) The plan she concocts to get the money to buy one is a plan that turns the tables on the religious tradition that keeps her down. Thus, Wadjda is universally approachable and entirely enjoyable. And, revolutionarily speaking, a lot of fun.
4.  Blood Brother
Documentary one of three: The "Christian" doc. In what turned out to be an exceptional year for all types of documentaries, the best one is also one of the most under-the-radar entries. Hopefully in 2014, the undistributed Sundance darling Blood Brother will have better circulation. There's no preachiness, propaganda or "church talk" in this cinematically grassroots exploration of why young American Rocky Bratt, an aid worker to AIDS stricken kids in undeveloped India, does what he does. It's simply a genuine portrait of an imperfect but altogether devoted servant to those caught up in a seemingly lost cause, and his filmmaker friend's (director Steve Hoover) struggle to understand his mission, and him. The result is this unforgettable and award winning film.
5.  Muscle Shoals
Documentary two of three: The music doc. The rock doc Muscle Shoals is straight forward, sometimes stagey, and maybe even a tad cheesy. But all that is immediately forgiven for its soaring rawness and nonjudgemental fresh eye to history. From the opening credits onward, there's little doubt that we are in the hands of a filmmaker of Scorsese-like precision and high-wire potential, as unafraid of risks as he is of the truth. Muscle Shoals not only details the in-depth history behind this legendary swampy backwoods haven of hit records (from Wilson Pickett to Aretha Franklin to the Rolling Stones), it makes you feel it. Through the deeply communicated life pain of studio owner Rick Hall, we bear witness to the emersion of some of the most life-affirming and culturally significant music of the twentieth century. You may never hear Lynyard Skynard's "Free Bird" the same way again…
6.  Room 237
Documentary three of three: The movie doc? Stanley Kubrick's 1980 horror smorgasbord The Shining is currently enjoying a widespread critical re-evaluation, but that's not the point of Room 237, the fascinating and wholly unique film that uses it as a springboard. No, Room 237 is all about obsession, and our individual and collective needs to read into things, to stare until we see what we want to see, to make some preexisting event or idea a little more our own. Funny thing is, before the end of Room 237, you too may be a believer in some of these conspiracy theories that various unseen talking heads detail. Cataloged are various theories speculating upon secret subtexts to The Shining, everything from Kubrick having faked the Apollo moon landing footage to a commentary on the genocide of the American Indian. There are no answers – that's not the point. But through this lovingly crafted eye-popping puzzle box of film footage, one comes away elevated via the questions it asks.
7.  Frances Ha
As Greta Gerwig, playing Frances (if there's any justice in the world, her star-making role) runs/dances down the New York City street to "Modern Love", it's hard to know if this is 1960 New Wave France, David Bowie's 1983, or our own 2013. In this magnetically rambling black and white gem, it honestly hardly matters. Except that our protagonist's denied self-actualization is entirely of the now, an immediate and comic portrait of a present-day young woman unable to move on in life. The film is as free and clear as Frances wishes she was, cleverly turning its back on the vapid "hipster" scene it appears to belong to.
8.  What Maisie Knew
Co-directors David Siegel and Scott McGehee come in from The Deep End to tell the heart-wrenching story of a little girl caught between two warring, separating parents. All performances are impeccable (the great Julianne Moore, playing Maisie's no good mother, manages to steal a scene in which she's merely the voice on the other end of a phone call), but it's the shot-from-a-kids-point-of-view directorial angle that elevates this modern day adaptation of a 100+ year old Henry James novel beyond Movie of the Week melodrama. Just as Spielberg shot E.T. (his own film about divorce), Siegel and McGehee favor the child's perspective of the world throughout. A subtle decision that communicates that the interests of a child are often far different from the anxieties of grown-ups.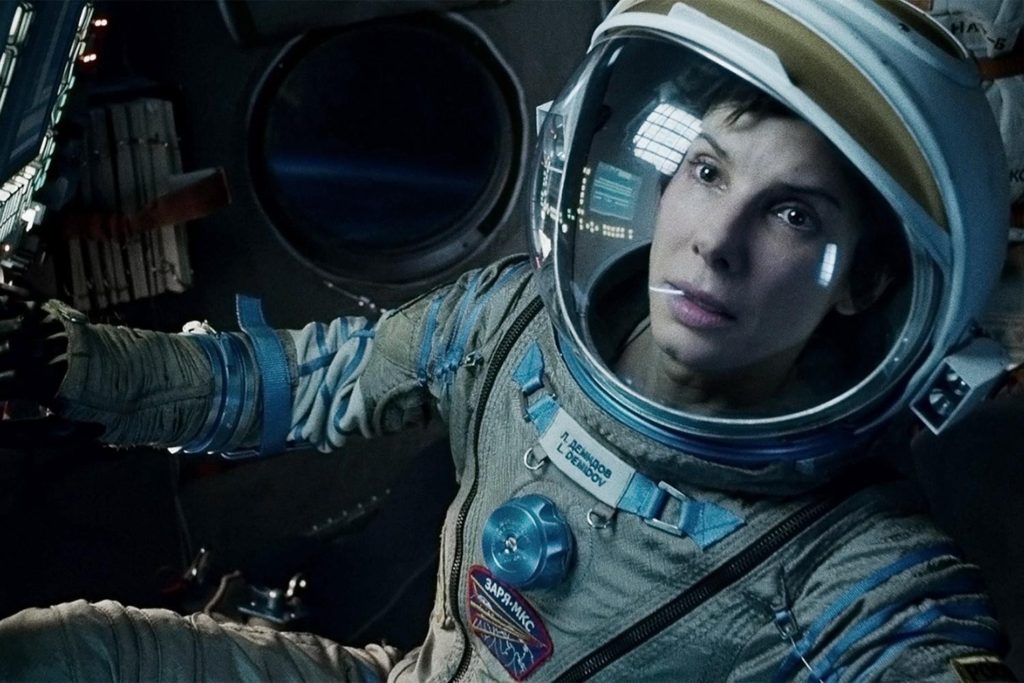 Alfonso Cuarón's mega-blockbuster may not leave audiences with much to mentally chew on other than "how'd they do that?", but it amazes audiences in that in the best possible Cecil B. DeMille parting the Red Sea kind of way. Much has been made of the magestic yet workaday extended unbroken shot that opens the film, and rightfully so. But, that's just the literal beginning of Gravity. By the end, I left the 3D IMAX theater with a true sensation weightlessness. That's pure cinema, the likes of which we haven't experienced in years, if ever.
10.  The World's End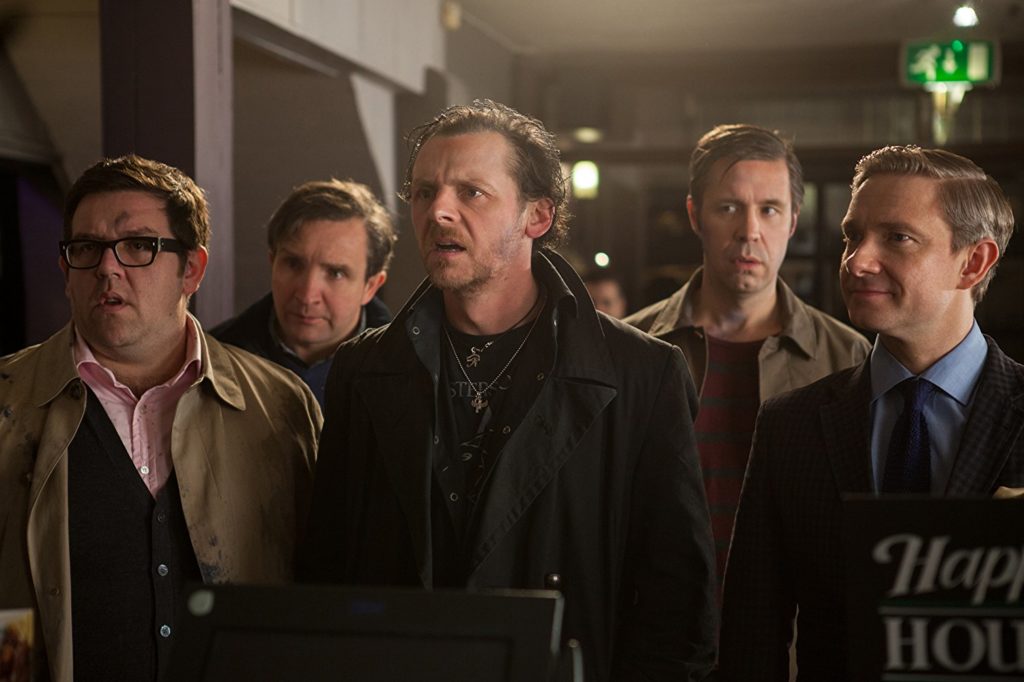 The Cornetto boys are back, albeit a bit grown up now. And it shows, as the point of The World's End isn't to end the world, but to perhaps hold a mirror up to the repressed youthful kineticism that ace director Edgar Wright and stars Simon Pegg and Nick Frost have come to represent since rocking the internet fanboy world with their previous comedies Shaun of the Dead (2004) and Hot Fuzz (2007). Since those films, all involved have gone on to tremendous success, albeit yielding nothing quite as satisfying as their hilariously detail-driven collaborations. This grouping of the three films is now being referred to as a trilogy, so I guess this is it? This rollicking yarn with something to say may be intended as their world's end, but let's hope it isn't.
My Honorable Mentions, #11-20:
11.  The Act of Killing  (d. Joshua Oppenheimer.  Denmark)
12.  Nebraska  (d. Alexander Payne.  USA)
 13.  You Ain't Seen Nothin' Yet  (d. Alain Resnais.  France)
 14.  Before Midnight  (d. Richard Linklater.  USA)
 15.  The Way Way Back  (d. Nat Faxon, Jim Rash.  USA)
 16.  Frozen  (d. Chris Buck, Jennifer Lee.  USA)
 17.  Short Term 12  (d. Destin Cretton.  USA)
 18.  Bible Quiz  (d. Nicole Teeny.  USA)
 19.  The Bling Ring  (d. Sopia Coppola.  USA)
 20.  The Hunt  (d. Thomas Vinterberg.  Denmark)