CANINE CARNAGE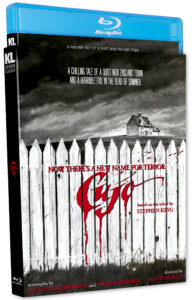 Directed by Lewis Teague
Starring Dee Wallace, Danny Pintauro, Daniel Hugh Kelly
Released August 12th, 1983
Rated R
It's 1983 and a young child watches Scooby-Doo while he eats breakfast. This is Tad Trenton (Danny Pintauro), affectionately nicknamed "Tadpole" by his parents, Vic (Daniel Hugh Kelly) and Donna (Dee Wallace). Tad loves his parents, loves his Pac-Man lunchbox, and is scared of the monster he believes lives in his bedroom closet. Vic works for an ad agency that has a client in Sharp Cereal (perhaps not the best name for a cereal brand). Sharp has just had a major public relations disaster, and Vic has just discovered that his wife is having an affair with Steve (Christopher Stone), a friend of the family. So, things are going great. He's got to leave town for a few days for work, taking one car and leaving his wife with the other, a pinto that has as many issues as their marriage.
With Vic out of town, Donna and Tad drive the sputtering vehicle to local mechanic Joe Camber (Ed Lauter), who lives with his wife, son, and their lovable St. Bernard, Cujo. The Camber family appears to love Cujo, but apparently not enough to have him vaccinated against rabies. Maybe they are anti-vaxxers. After Cujo is bitten on the nose by a bat, loud noises begin to bother him. He really doesn't like it when someone calls his house, which is something I have in common with Cujo. The everyday noises that bother the dog are mixed high, so they bother us too. It's a neat device that puts the audience on the same page as the suffering canine.
Between the Trenton family and the Camber family, nobody is happy in this film. Nobody starts out happy, nobody ends up happy. It's a bleak movie! The movie really gets vicious once mother and son are trapped in their broken-down pinto with the blazing sun beating down on them and a rabid dog bashing into the car as if it personally wronged him. The film does an admirable job making the audience feel sad about Cujo's situation, while still acknowledging that he's become aggressive and deadly. You feel bad for the good doggo, while also feeling scared for the safety of this kid and his mom as they bake in the hot sun, trapped in their metal cage.
Tad says Cujo is the monster in his closet that has come to life to attack him in the bright light of day. While that connection may be stronger in the book, in the film Cujo comes across as a representation of Tad's life being ripped apart by his parents' marital issues. I have no idea how Danny Pintauro wasn't traumatized during the making of this movie. I am aware that there are behind-the-scenes filmmaking techniques and sound effects that are added later, but my god the terror coming from this young kid is very hard to stomach. The rabies makeup on the dog is very well done. Cujo goes from a sad-eyed St. Benard to a disgusting, angry, drooling monster with matted, bloody fur. What a trooper these dog actors must have been! Multiple dogs were used to portray the title character, yet none of them receive onscreen credit. That's too bad.
The Kino Lorber Studio Classics Blu-ray boasts a new high-definition transfer that does a phenomenal job highlighting cinematographer Jan de Bont's superior camera work. The disc hosts a bevy of special features, including a roundtable interview featuring Dee Wallace, Danny Pintauro, and Daniel Hugh Kelly, two making-of featurettes, and two audio commentaries from director Lewis Teague (one from 2007, and one from 2013).
This is one of the better adaptations of a Stephen King story, although the slight supernatural elements of the book are not present. I've seen this movie twice now, once long ago on television (where the tension was unfortunately severed by commercial interruptions) and this time to review the Kino Lorber release. I have a lot of respect for it, but I find it too effective at presenting a harsh, hopeless situation. I am not sure I will watch it again.