Tobe Hooper Dresses Mädchen Amick to Kill
DIRECTED BY TOBE HOOPER/1990
BLU-RAY STREET DATE: JULY 26, 2022/KL STUDIO CLASSICS
In the earliest part of the 1990s, a great many projects came tumbling out of the enigmatic American Northwest of Twin Peaks. Thanks to the massive collective fascination with the landmark David Lynch/Mark Frost television series, there was a momentary deluge of long-form murder mysteries, lurking supernatural evil, slow-burn synth music, eccentric locals, and stylishly esoteric protagonists. We tended to see the inside of ordinary houses in an uneasy new light; after dark, you could bet that any light would be blue.
But there was also the erotically charged glut of so-called "skinamax" content, and its watered-down broadcast versions. Twin Peaks always operated in the same risqué universe as such content, though rarely indulging in the central trashy appeal. Walking the line between early '90s levels of safe and salacious was key. Tobe Hooper's (The Texas Chain Saw Massacre; Poltergeist) 1990 haunted dress movie I'm Dangerous Tonight is a fairly sturdy example.
Made for the basic cable network USA, and starring Twin Peaks cast member Mädchen Amick, I'm Dangerous Tonight is a most curiously absurd venture through this particular neo-noir-with-a-twist stylograph.  The basic plot, based upon a short story of the same title by Cornell Woolrich (who's short It Had to Be Murder famously became Hitchcock's Rear Window), could've been filmed with similar satisfaction in any era.  The premise of a seductive dress (which starts off as an ancient sacrificial cloak) that turns its wearer aggressive and even murderous, is as evergreen as it is cuckoo.  
Amick as the good-natured and put-upon Cinderella of this story, a hard-working college student named Amy, does a lot more than filling out said red dress. She completely commits to this nonsense, as do her impressive co-stars. The cast includes Corey Parker, Dee Wallace Stone (E.T.), R. Lee Ermey (Full Metal Jacket), Natalie Schafer (of Gilligan's Island fame, in her final role), and horror legend Anthony Perkins (Psycho).
I'm Dangerous Tonight's surface aesthetic is the most easily replicated aspect of Twin Peaks, though, filmmaker/historian Michael Varrati spends a bit of time on his audio commentary (included) cross-examining the production's broadcast timelines. He lands in favor of Hooper's film not being a conscious ripoff. Looking at the release dates (Twin Peaks making its splash in April of '90; I'm Dangerous Tonight in August of '90), he's got a fairly solid point. The dates are awfully close, probably too close. Separated by only four months, it unlikely that Dangerous's makers would've had sufficient time to see, absorb, and cop Peaks directly. Hooper's film is less likely an intentional appropriation of the hit show as perhaps Twin Peaks, I'm Dangerous Tonight, and any number of other visually similar projects are general appropriations of a rapidly emerging vibe that was within the zeitgeist. Amick's presence simply and immediately triggers a springboard of noticeable similarities. What the projects caught within the deluge of supposed Twin Peaks influence miss, though, is the savory homespun purity of Lynch and Frost, which offsets the emerging American horror all around.
Perhaps the true headline here is how this otherwise run-of-the-mill made-for-TV horror movie is (so we're told) currently undergoing reassessment (along with much of Hooper's far less prestigious later work). In that regard, there is a shocking and nearly absurd number of extra features on this Blu-ray disc. That is, of course, good- more optional bonus content is always welcome… But, dang. That the floodgates were opened thusly at Kino Lorber for this title, is, admittedly, a bit of a corker. These aren't tossed-off or recycled extras, either. For example, forty-eight minutes of on-set making of raw footage is accompanied by optional audio commentary by its original shooter, Stan Giesea, and moderated by filmmaker Michael Felsher. That's basically an extra within an extra. The inclusion of the commentary is a particularly nice surprise, as Giesea has plenty of great memories to share of his extended time of working with Hooper.
Besides the Varrati commentary, there's also another new track with Kristopher Woofter and Will Dodson, editors of American Twilight: The Cinema of Tobe Hooper. As it has two speakers rather than just one, this track is more conversational in tone. It reflects a spirit of two old acquaintances going on about one of their favorite subjects. It can't be said that there isn't overlap in the information shared on the two tracks (or the other extras, for that matter), but that is to be expected. Kino Lorber may well have butted up against the wall of available knowledge about this particular haunted dress movie.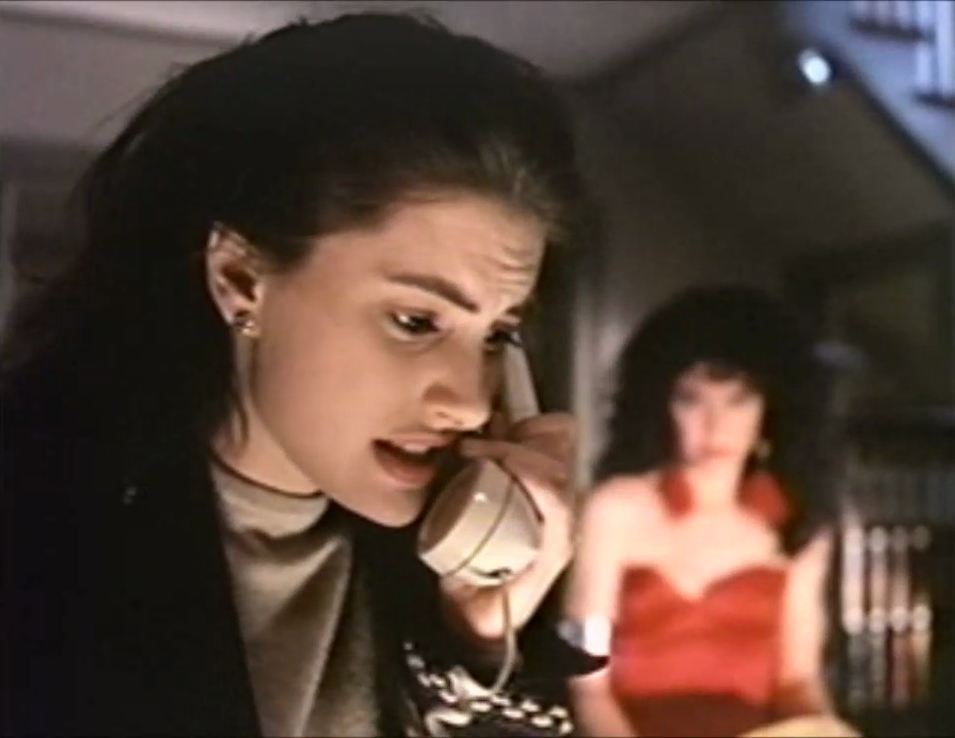 But wait, there's more: Actress Dee Wallace sat down for a new in-person interview about her positive experiences making I'm Dangerous Tonight. Also, Hooper's latter-career cinematographer Levie Isaacks turns up to discuss working with the revered filmmaker, and his crucial role in elevating the visual feel of this film. Finally, there's a terrific little video essay entitled A Dress to Bring Out the Devil in You, by filmmaker and programmer Chris O'Neill. Actually finally, there a trailer for the film's home video release.
Wrapping the whole thing up in a nice slipcover, KL Studio Classics has given fans a lot to unzip with this Blu-ray.  The package absolutely stands up to what companies like Severin and Vinegar Syndrome are doing with titles of a similar ilk.  But, in the case of I'm Dangerous Tonight, the release slots in naturally with its label's recent heightened commitment to unearthed TV horror films.  I'm Dangerous Tonight does nothing to justify its confounding R rating, but it nonetheless will continue to seduce for decades to come.