Cinema's Greatest Decade.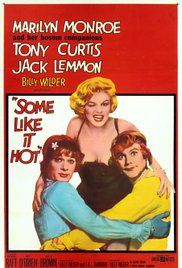 You read that right. In the not-so-humble opinion of this critic and lifelong movie buff, we've made our way to the single greatest ten-year span in film history.
Sure, there are arguments to be made for most every decade, particularly the 1970s or maybe the 1990s. Critic and film professor Stephen Farber, in his recent book Cinema '62, goes as far as to pontificate on the notion that that single year is "The Greatest Year at the Movies".
But, no. While everyone is most certainly entitled to their own opinion on this matter, varying opinions are in fact wrong. The 1950s is the greatest decade in film history. Shall I count the ways?
World cinema explodes as directors take the spotlight.  Kurosawa.  Bergman.  Fellini.  Ozu.  Antonioni.  Visconti.  Mizoguchi.  Satyajit Ray.
That's not to mention the launch of the French New Wave, which launched the likes of Godard, Truffaut, Chabrol, Varda, Rohmer…
Those directors in this decade prominently worked with exploding talent Toshiro Mifune, Brigitte Bardot, Max von Sydow, Jean-Paul Belmondo, Anna Karina, Jean-Pierre Léaud, Marcello Mastroianni, Bibi Andersson…
In the States, Marlon Brando, Karl Malden, and Kim Hunter, introduced the nation to the art of Method acting with Elia Kazan's film A Streetcar Named Desire.  The technique would change acting forever.
The Psychological Western usher's cinema's most venerable genre into a challenging new maturity of self-reflection.  The Gunfighter. The Searchers. Warlock. The Naked Spur. Track of the Cat.  The Tall T.  
Prime Hitchcock.  Stranger on a Train.  To Catch a Thief.  Rear Window.  Vertigo.  North by Nothwest.  
These last two entries saw the effective postmodern reimagines and recrafting of James Stewart, Cary Grant, Randolph Scott, and for a moment there, John Wayne.
Disney animation returns to form.  Cinderella.  Peter Pan.  Alice in Wonderland.  Lady and the Tramp.  Sleeping Beauty.  All of this with Walt himself having taken a step back from active involvement.  The company's live-action productions also take off with 20,000 Leagues Under the Sea, and others.
In short-form animation, UPA upends the medium with its no-holds-barred mid-century modern  rethinking of it all with it "Jolly Frolics" series.  Rooty Toot Toot.  Gerald McBoing-Boing.  The Unicorn in the Garden.  The Telltale Heart.  Madeline.  
Hammer Horror debuts strong with the mindfully gory and spiritually charged works of Terence Fisher, Curse of Frankenstein and Horror of Dracula (aka Dracula in its native UK).
Universal Monsters return from the dead with the atomic age horrors of Jack Arnold and others.  The Incredible Shrinking Man.  Them!.  Tarantula.  The Deadly Mantis.  The Creature From the Black Lagoon.
Peak MGM musicals, particularly from the Arthur Freed unit.  Singin' in the Rain.  Royal Wedding.  The Band Wagon.  Brigadoon.  It's Always Fair Weather.  Silk Stockings.
The Douglas Sirk melodrama soared to sublime heights.  Magnificent Obsession.  All That Heaven Allows.  Written on the Wind.  Imitation of Life.
Nicholas Ray and Sam Fuller emerge as never-not-interesting filmmakers.  In a Lonely Place.  Johnny Guitar.  Rebel Without a Cause.  Bigger Than Life.  Bitter Victory.  The Steel Helmet.  Fixed Bayonets!.  Pickup on South Street.  Run of the Arrow.  Forty Guns.
Billy Wilder ran the gamut beginning with Sunset Blvd. in 1950 to Some Like it Hot in 1959 with top-tier but overlooked titles like Ace in the Hole, Witness to the Prosecution, and Stalag 17 in-between.
The second decade of classic Film Noir.  House by the River.  Gun Crazy.  On Dangerous Ground.  The Big Combo.  Killer's Kiss.  Kiss Me Deadly.  My Gun is Quick.  Sweet Smell of Success.  Touch of Evil.
Frank Tashlin kicks the lid off of comedy with his gloriously manic, logic-defying Looney Tunes sensibilities.  Jerry Lewis goes from being Dean Martin's monkey to melancholy man child.  
Marilyn Monroe becomes a sex symbol for the ages… and a tragic figure to match.
That list is, of course, far from complete. (Feel free to yell out your own nominations). That's also not at all to say that the 1950s were the best decade, period. Please don't read this as toxic "Make America Great Again" nostalgia. When it comes to the twentieth century, the reverse is likely true. Segregation was the law of the land in much of United States, reinforced in that decade with the gross erection of numerous Confederate monuments. Women were relegated to the kitchen and non-straight people were relegated to the closet. Much of that wasn't new, but the loud resounding thud of these fear-driven narrow values resonated particularly loudly then.
The risen cream of 1950s cinema is the resulting tensions of a time so repressed and uncertain that several things sparked within the artistic hives in tinsel town and the world beyond. This spark is crucial; it is the small but burning potential of art as reconning. 1950s cinema was one of those places wherein this was occurring, often in real-time. It's lessons, glories, imperfections, conformity, defiance, and iconography remain alluringly potent.
The real-life 1950s are over and done, thank God, but it's own lessons are lessons we still collectively need, and it's internal grappling evidenced in the list above is something we very much should be critically looking too. Whether all of that truly makes the 1950s "Cinema's Greatest Decade" can only be the stuff of subjective debate.
Except, of course, that it is.
– Jim Tudor (who's opinions are not necessarily the opinions of the other contributors of this site).
ZekeFilm is 10 years old in 2022! We're commemorating it with a year-long Film Admissions series wherein each month, we take on a decade (give or take) of cinema, in chronological order. As is always the case with Film Admissions, participants are encouraged to watch a film within that month's topic that they've never seen but have been meaning to. The bigger and more well known the film, the better! Then, together, we share our individual thoughts on our findings.
An American in Paris
Directed by Vincente Minnelli/1951
by Taylor Blake
A review of An American in Paris from an American who was just in Paris!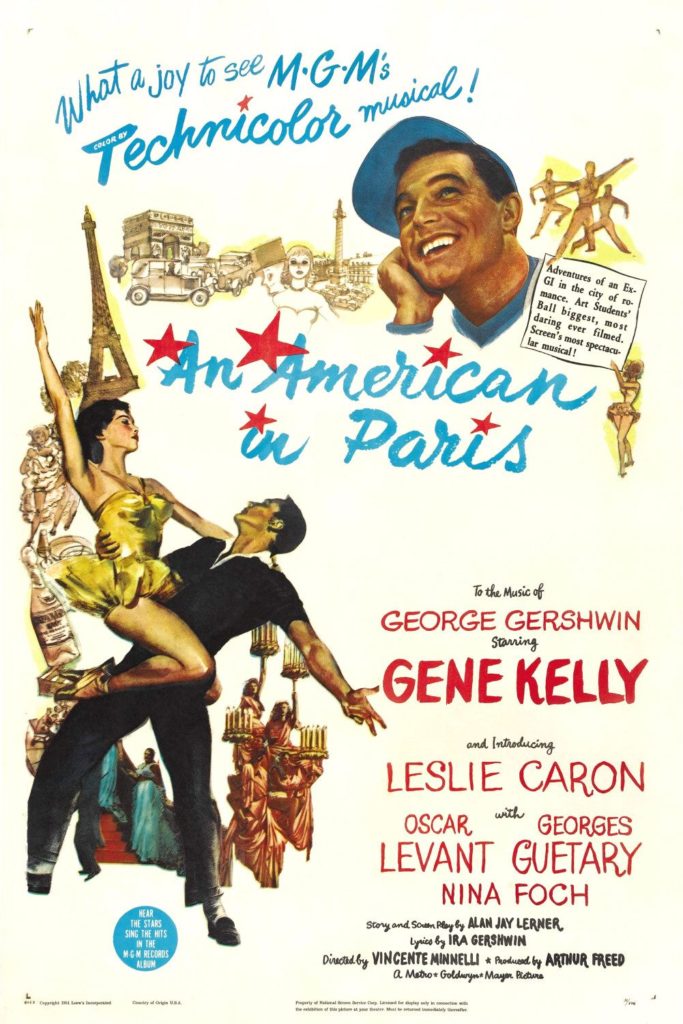 This musical-loving, Gene Kelly-crushing Oscars enthusiast has had plenty of reasons to watch this 1951 Best Picture winner, but falling in love with Paris last month has finally moved it to the top of my watchlist. (Well, that and this Film Admissions, of course.)
Kelly stars (and choreographs) as expat Jerry, a World War II G.I. who stayed in Paris to pursue his dream of painting. Inspiration surrounds him, but he still starves like an artist. When the enchanting Milo (Nina Foch) discovers his work, his fortunes may change. She offers everything he's dreamed of as his sponsor, but there's a hiccup: She's hoping for more than a business relationship, but he's just fallen for Lise (Leslie Caron). From there it's the classic conundrum every artist wrestles with: Do we live for love or money?
Another reason I may have waited so long to watch An American in Paris: Its legacy lives in the shadow of Kelly's arguably greater achievement, released just a year later. Singin' in the Rain is better remembered today, but it's not because Paris lacks spectacle. Nothing about a Vincente Minnelli/George Gershwin MGM musical can be called subtle, from the opulent costumes to the impressionist sets. Dozens of extras fill the frames, and Kelly's musical numbers (which earned him an honorary Oscar) incorporate as many of them as possible. And though some portions were filmed in studio backlots (including the final ballet sequence that cost close to $500,000), this film feels magical because it captures that Parisian je ne sais quoi obsessed with beauty and passion. If "Make 'Em Laugh" is the mission statement of Singin' in the Rain, then "Love Is Here to Stay" defines this musical. Like the City of Lights, An American in Paris is steeped in romance and grandeur, and it feels like visiting a sparkling Eiffel Tower in the evening or eating a baguette on the Seine. Much has been written about how Americans tired of over-the-top musicals by the '60s, but it's not because of '50s installments like this one.
The African Queen
Directed by John Huston/1951
by Erik Yates
Of all of my previous film admissions, The African Queen is a pretty big one. A classic film with Humphrey Bogart and Katherine Hepburn, directed by the great John Hutson, it has action, adventure, romance, and was filmed on location in both Africa (Uganda and The Congo) and the United Kingdom.
On the whole, I felt that The African Queen was largely just a middle-of-the-road film that seemed to sink more than it floated along. Bogart and Hepburn are fine in the film and the plot largely works in its first half because of them. Bogart plays Charlie Allnut. He is a worldly mine worker who uses his ship to operate independently, transporting goods along the river between various parties. He is popular with the indigenous population, and he is tolerated by British Missionaries, Rev. Samuel Sayer (Robert Morley) and his sister Rose Sayer (Hepburn). The Sayers are in German East Africa in 1914 just as World War I is kicking off. Abruptly, Samuel up and dies after Germans show up on cue to burn the indigenous people's village and haul them off to fight for Germany in the war.
The good reverend has previously just found out that a man back home, who was younger than him in seminary, had already become a bishop, while he (having failed his exams) was happy to take a mere ministry assignment in Africa. Those two things apparently cause you to immediately take on the symptoms of advanced dementia, to collapse, and to just die. Just a few minutes after Samuel's death, Charlie returns, finds out about Rev. Sayers' death, buries him, and then he and Rose are out on the river. Charlie's drinking of gin, and her firm stance against it (as a missionary) put the two at odds almost immediately. As long as they aren't getting along, the picture is interesting as there is enough sexual tension between them to make you forget that she really doesn't seem all that upset about her brother's death, the village being burnt, or the start of a world war. She also doesn't seem too concerned about the danger she is in as long as she can get a bloody cup of proper English tea while they head downstream and she learns how to steer a boat.
Once she's had some tea, a bath, and a night's sleep, she cooks up a crazy plan to keep heading downstream, past a German fort, rapids, and various crocodiles and other jungle dangers, where they will empty themselves out of the river and into Lake Victoria. Here, she wants Charlie to rig some torpedoes using some of the goods he is carrying in the boat, so that they can sink a large German ship that is patrolling the vast lake and keeping them from escaping out to open water to head back to England. It is here when the movie starts to sink.
Its not that the plot isn't interesting, as it is based on the novel by C.S. Forester, but around the time that it starts raining one night, and Charlie and Rose fight and then make up, the now out-of-nowhere love birds enter a completely different film. Dangers do pop up to keep things moving, but their interactions become a lot of gushy back and forth that isn't earned: "Hey love…can you help me?" "Sure honey…" Their relationship feels forced, unearned, and worse, it removes most of the tension of the larger plot. Even the music changes to the type of fare you'd hear in an episode of The Brady Bunch or The Andy Griffith Show. Germans are reduced to caricatures (with this film being released just six years after the end of WWII), yet John Huston manages to bring it all to a satisfying end…nearly, until the last lines of the film return to more goofy rom-com fluff as the lovers swim off to shore having accomplished their improbable plan, and gotten married by a German sea captain to boot. I can see why this would have been big at the time, given the two actors whose names are at the top of the marquee, but seventy-one years later, the script doesn't really hold up as well, and the whole film seems to be as filled with holes as the boat the film is named for.
From Here to Eternity
Directed by Fred Zinnemann/1953
by Robert Hornak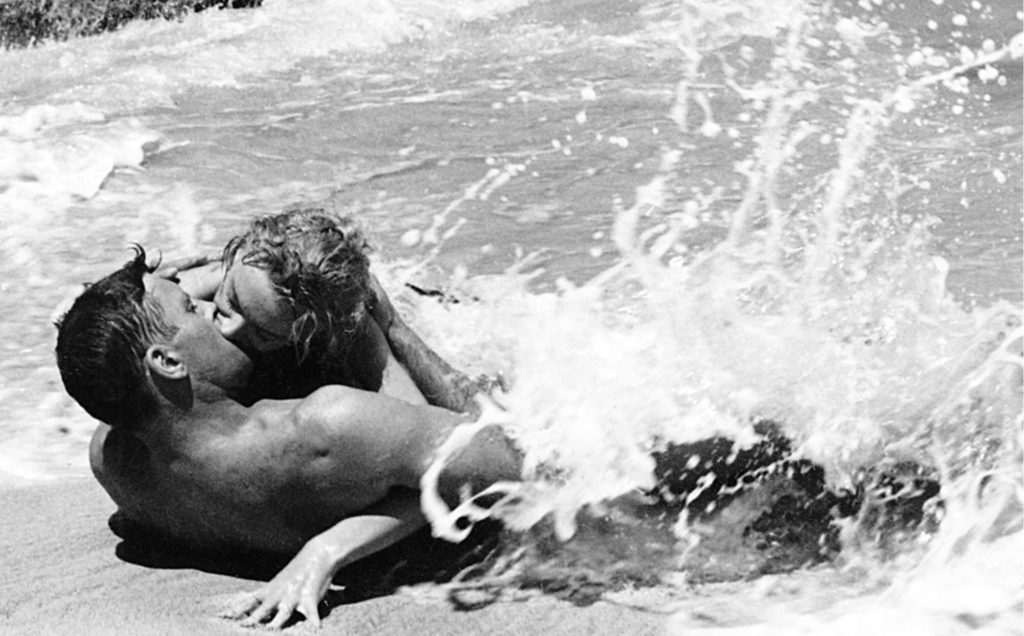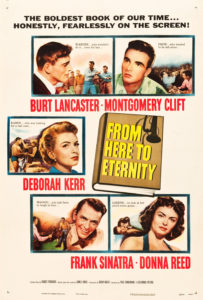 One of the handful of Best Picture winners I've missed 'til now. It's all testosterone and soul, bubbling up through the black and white, a kind of khaki soap opera stilted up on an overcrowded Rushmore of '50s masculinity of all stripes, a left-to-right sweep of types from scrawny Sinatra to rock-toothed Lancaster, with the likes of Ernest Borgnine, Jack Warden, and Monty Clift filling in the middle. And all seemingly aimed with carousing intensity at the demystification of the gallant and the brave of the greatest generation: nothing by this movie's record but a bunch of insolent, cheating, back-talking drunks in pressed pants. The mix, on paper, better conjures the likes of MASH or Catch-22 or any of your typical service send-ups, but this is all that without the laughs; it's just the way men are, or soldiers anyway. On one level it's the revelation of low character amongst the as-yet untested, with our ostensible heroes' honorable sides at bay till the moment they have to show their mettle, the better to prove us all wrong when the heat's turned up on that fateful day in the harbor. But on the other hand, when that moment comes, we're as entrenched as they are in their malignant inertia, and the war is dropped into the laps of sinners in the act, so who's the movie about and who's the movie for.
The confection got a ton of Academy medals for its fine performance in the field. Apart from Best Pic, it grabbed Best Supporting Actor/Supporting Actress (Sinatra/Donna Reed), Best Director (Zinnemann), Best Screenplay (Daniel Taradash), and a handful of others. And it does behave as a straight entertainment, watching the various uniforms all repping a different version of code to the bitter end: Lancaster's true blue Army on the surface, but saluting the captain's wife (Deborah Kerr) under the cinematically crashing tide; Clift's "personal matter" that drives him to refuse to fight with the regimental boxing team, even at the risk of his immediate freedom and/or his longterm career; Sinatra's innate duty to his own high spirits, broken to the ultimate limit in the stockade by Borgnine's duty to punish the weak, a stance not-so-convincingly masking his love of brutality. All of this is whipped up and stirred in with quick scenes and clipped dialogue that makes it all feel like a particularly sudsy weekend pass – until the bombs drop in the final fifteen and our story goes scrambling for deeper meaning, perhaps each character's realization of their own thin surface against the face of world-altering calamity. But in terms of the concerns of the several strings of plot, with their illicit romances and near-primordial infighting, it's hard to tell if the Japanese attack is meant as wake-up call or comeuppance.
Les Diaboliques
Directed by Henri-Georges Clouzot/1955
by Max Foizey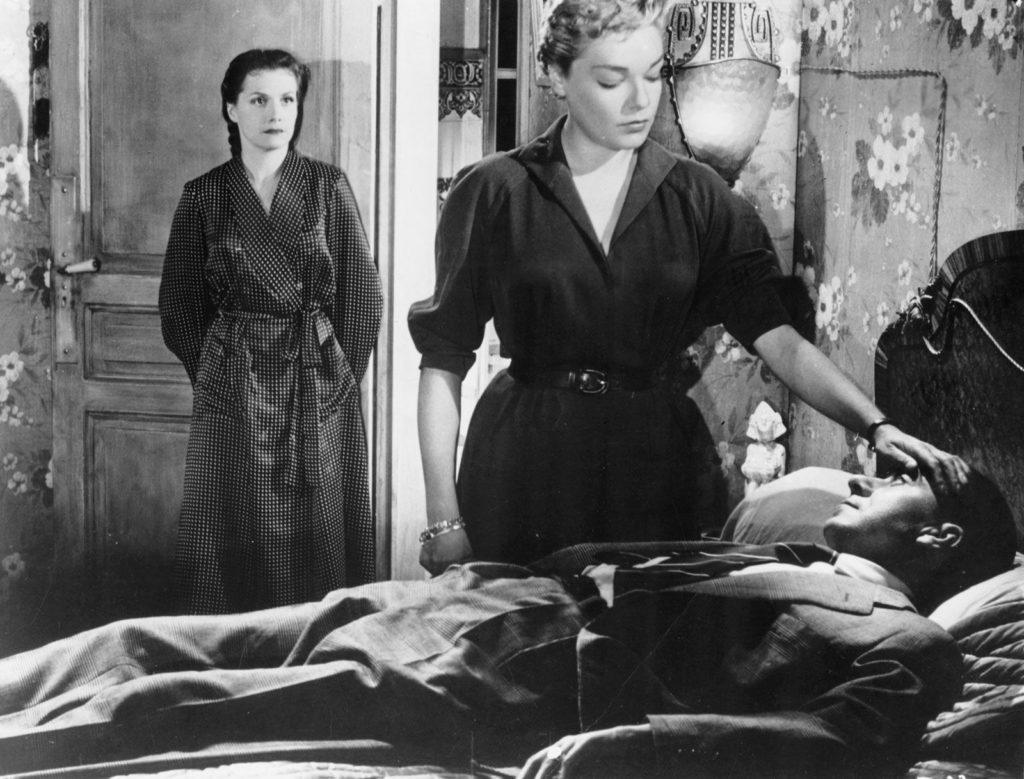 At a boy's boarding school in France, we meet Michel (Paul Meuisse), a cruel man who makes for a cruel headmaster. He's also cruel to his wife Christina (Véra Clouzot), the owner of the school. She is a meek young woman with a heart condition, trapped in a loveless marriage. He mocks her in front of guests, in front of students, and he openly carries on an affair with one of her fellow teachers, Nicole (Simone Signoret). When we first meet Nicole, she is wearing sunglasses indoors to hide a shiner from Michel's beatings. Instead of being rivals, Nicole and Christina have formed a strange bond through the pain of knowing this horrible man. Nicole has had enough and tells Christina it's time to go through with their plan to kill Michel, so they can finally be free of his cruelty.
The ladies carry out their diabolical plan, but they soon find out that murder was the easy part. Hiding and transporting a corpse isn't the easiest thing in the world, but what really throws a monkeywrench into the works is when the body disappears.
Michel isn't in the film for very long on account of his murder, but Paul Meuisse's devilish grin and his character's unrelenting cruelty leave a lasting impression upon the viewer. The striking Simone Signoret plays Nicole as a no-nonsense architect of destruction, a sharp contrast to the outwardly emotional performance Véra Clouzot gives as the winsome Christina. But it's Charles Vanel who steals the show as Inspector Fichet, a character to whom the creators of Colombo owe a massive debt.
The end of the film reveals twists you may see coming. This coupled with an insanely fast wrap-up may leave you scratching your head. But the film is so well-acted, with scenes so well crafted, it's easy to forgive a few over-the-top choices. Les Diaboliques ends with one of the earliest examples of a message urging the audience not to spoil the film's twists and turns of plot:
Don't be DIABOLICAL!
Do not destroy the interest that your friends may have in this movie.
Do not tell them what you have seen.
Thank you, on their behalf.
The film is worthy of revisiting even after its secrets have been revealed, as the magic of Les Diaboliques is how deftly director Henri-Georges Clouzot successfully marries different genres: ghost story, crime story, thriller, noir, and horror.
Anatomy of a Murder
Directed by Otto Preminger/1959
by Jim Tudor
I picked quite the moment to finally catch up with Otto Preminger's Anatomy of a Murder. The U.S. Supreme Court has opted to run roughshod on the will of the people and the good of the country in overturning past rulings, particularly a major one that hinges upon the autonomy of women. While Anatomy of a Murder is a masterpiece of continued momentum in the rather inert niche of the courtroom drama, it also treats the central rape that triggers the murder in question as a footnote, then going as far as to casually objectivifying the rape victim (played by Lee Remick). She's a provactive dresser and chronic flirt, you know. To add insult to that injury, the ace up the sleeve of our protagonist, defense layer Paul Beigler (James Stewart) is a Supreme Court ruling from the previous century, a legally irrefutable Rosetta Stone unto itself if ever there was one… in 1959.
Despite these varyingly antiquated aspects, Anatomy of a Murder stands out (and stands tall, taller even than Stewart) for saying a lot of things that were still quite verboten in cinema of the 1950s. It would all change quickly enough with the implementation of MPAA ratings a decade later, but at this time, the quite-stodgy Hays Code (its stodginess proven by bull-by-the-horns quality films such as this one) was still the governing rule of Hollywood output. Preminger, himself a lawyer and successful studio director turned independent filmmaker, was all too keen to directly challenge such gatekeeping- and Anatomy of a Murder (based on the novel by Michigan Supreme Court Justice John D. Voelker under the pen name Robert Traver) proved the perfect vehicle to do so.
Preminger historian Foster Hirsch calls Anatomy of a Murder the director's "most rigorously realistic film". I'd go steps further and say that it registers as one of most "rigorously realistic" films by any prominent filmmaker in the whole of the 1950s. With his 100% non-studio locales, his sometimes unsteady camera, his preference for long takes, his frequently unpolished "roomy" audio, and his frank approach to his subject matter, it's fair to observe that Preminger was wading into new territory (some thematically closer to the daring popular literature of the era), and would drag the rest of the American film industry behind him. The choice to shoot Anatomy of a Murder in black and white might be the most rigorously unrealistic thing about it. Even the case itself is mature in tone insofar as the murderer (Ben Gazzara) is being tried as matter of not if but why. In the end, it all literally comes out in the wash.
As for James Stewart, much has been made of the perceived incongruity of the It's a Wonderful Life star uttering the words "sexual intercourse", "penetration", "sperm", and even "panties" (the judge in the courtroom stops the trial to reinforce the acceptability of that word) in his familiar aw-shucks cadence. While I understand such response, I realized something when finally watching this very prominent classic: when I think of Stewart, the first things I think of are his against-type roles. The Hitchcock thrillers he did in the '50s, and the Anthony Mann Westerns he starred in then as well… these are my own favored works of his, in part because of just how comfortable he is in subverting that ingrained image of his. Anatomy of a Murder, wherein his character is at times opportunistic, manipulative, unhinged, unbehaved, kind of misogynistic, and, as Hirsch says, an operator, fits right in. Hirsch goes on to perfectly say that Preminger has the actor "putting on and taking off "the Jimmy Stewart mask" all through the film. That is as susinct a ruling as any in favor of this supremely subversive, tremendously accomplished, and inherently watchable film.