Dave Chappelle and Jim Bruer are not at all Problematic in Classic '90's Stoner Comedy
DIRECTED BY TAMRA DAVIS/1998
BLU-RAY STREET DATE: JUNE 22, 2021/KL STUDIO CLASSICS
In the simpler times of the 1990s, comedians Dave Chappelle and Jim Bruer could turn heads simply by starring in a studio-backed stoner comedy. And make no mistake, 1998's Half Baked loudly and constantly extols the virtues of cannabis. While falling short of out-and-out NORML weed evangelism, the film makes a sound point of playing to the already converted. Also, it also manages to be legitimately very funny.
While Half Baked lives up to its title in terms of its silly plot (part contrivance, part poor taste, yet entirely functional), it should be remembered for its carefree dispensing of varied comedic gags. A colorful cadre of shiftless ne're-do-well potheads (Chappelle, Breuer, and Guillermo Díaz) must raise $100,000 to bail their roommate (Harland Williams) out of prison for accidentally offing a police horse by feeding it junk food. If the premise is cringy (we're supposed to laugh at the mounted cop's mournful reaction to the death), many of the individual bits land, and land quite well.
Chappelle's character, Thurgood, doesn't look beyond his own longtime habit to arrive at what he decides is a perfect scheme: stealing bricks of medical marijuana from the medical center he mops for a living, then turning around and selling it. They form their own business, with a logo and everything. (Pretty audacious in the pre-legalization days). Eventually they run afoul of a dangerous criminal kingpin played with wacky gusto by the recently departed Clarence Williams III.
He did not, however, count on falling in love with an attractive anti-pot advocate (Rachel True). Her name is Mary Jane Potman, and if you assumed that Thurgood fell in love with her name first, you'd be right. The movie allows her to be the butt of the film's worst and longest joke, that she never realizes that this guy is a pothead. Thurgood outright lies to her for most of the film in his crusade to win her over, and we're meant to be on his side. The question is, will Thurgood be willing and able to go straight when she inevitably learns the truth?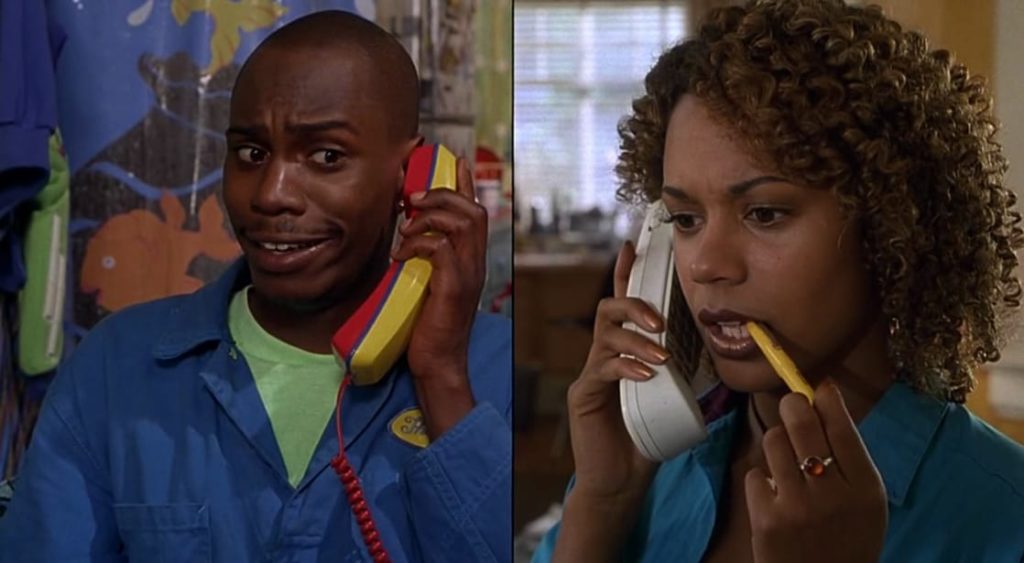 It's a low bar for a stoner comedy to entertain its named demographic. But to transcend that hazy niche, it's gotta have more than just "I'm so fried!!" gag constructs. To a non-stoner, someone lighting up a stupidly large joint is only ever as funny as someone being served a stupidly large, delicious sandwich. Stoner comedies that are content to remain stunted throughout are plentiful. Far rarer are the ones that aptly blend their absurdity with some combination of heart, sympathy, and basic underdog understanding. In this, Half Baked shares a hit with Up in Smoke (1978), the Harold and Kumar movies, and even the debatable best of them all, The Big Lebowski (1998).
Half Baked, arriving near the end of a prolonged culturally safe space wherein a movie of this rickety ilk could enjoy full studio backing, primarily gets by on the charm and eager charisma of youthful Dave Chappelle, who also originated the project and co-wrote it. That said, it doesn't take a visit into the disc's bonus menu of eight deleted scenes and an alternate ending to see that even in its production phase, Half Baked was far from fully baked. The varied ending, in particular, is an entirely different denouement. Clearly, the narrative vision for the main character was no one's first priority in constructing this joke machine.
According to the film's director Tamra Davis (Billy Madison, CB4), Chappelle and his writing partner Neal Brennan were in their early twenties when they were coming up with and then making Half Baked. Chappelle had had some success as a character actor in unlikely movies such as You've Got Mail, but this was his first big project with any creative control. Their youthfulness shows in every way- not just in the film's go-for-broke enthusiasm, but also in its scattershot approach to comedy.
High-minded (as in smart) one minute and utterly lowbrow the next, Half Baked's diversity of cleverness is reflected in its broad range of quick guest stars, including Tommy Chong, Snoop Dogg, Jon Stewart, Willie Nelson, Stephen Baldwin, Tracy Morgan, Janeane Garofalo and Bob Saget. Famously droll stand-up comedian Steven Wright has a slightly more substantial role as The Guy on the Couch- literally a guy who's always passed out on the protagonists' couch, even though no one knows who he is or how he got there. This bit might be the film's single most inspired.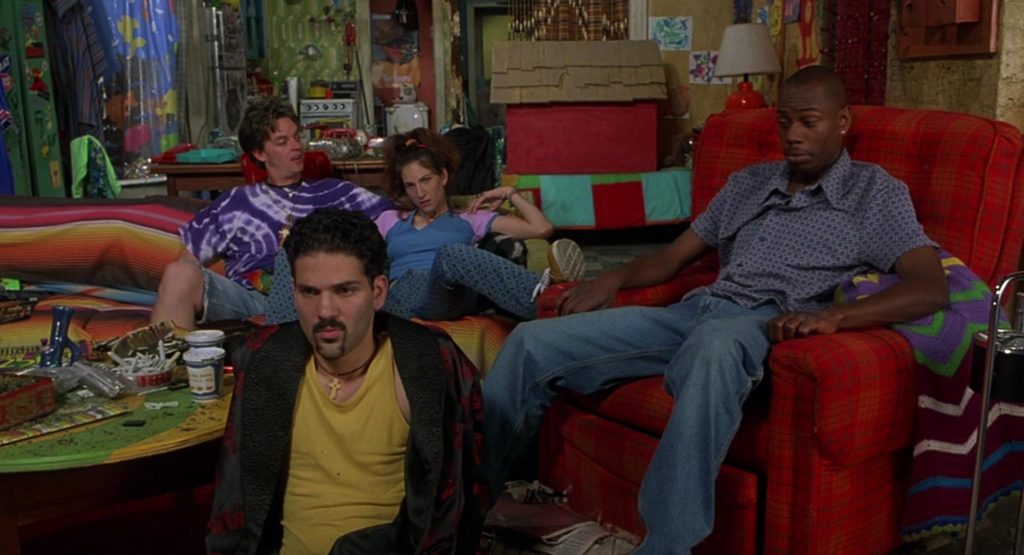 Kino Lorber Studio Classics recent Blu-ray release of Half Baked appears, in terms of bonus features, to be a port of a previous Universal DVD edition.  Besides a very gap-filled commentary by director Davis (good natured, but not giving much in the way of insights), we're served a bevy of late-90's custom extras like "Five Minutes with the Guy on the Couch" (in which a Steven Wright look-alike tosses and turns for five minutes while a bong spewed smoke), "Different Types of Smokers" and  "Granny's Guide to Bakin'" (because pot smoking' old ladies are always comedy gold).  This stuff is unwatchably bad, but it does take us right back to that time when DVDs were all the rage, and studios poured real money into them.  The HD upgrade is pretty solid, showcasing Davis's colorful colors throughout whole thing.
It's inconclusive how much of an important steppingstone Half Baked was in the subsequent cultural ascendancy of Dave Chappelle.  With his hit sketch comedy show, the guy advanced to the front of the comedy pack.  Later still, he bowed out of show business, only to return as he sees fit.  For Jim Bruer, once thought to be the SNL heir apparent to Dana Carvey, this movie was a high point.  Although it's hard to imagine Half Baked mattering to Chappelle these days, it's now only his name on the cover, Bruer's since dropped.  (The original poster, used here as cover art, features the two side by side).  
At the time of this review, both find themselves in early-2020s problematic zones.  Chappelle is in hot water over statements about trans people in his latest Netflix stand-up special, while Bruer has raised a stink against COVID vaccine requirements regarding his latest stand-up club tour.  Both completely stupid and completely avoidable, the controversies hail from different poles of contemporary comedies scene.  An imagined commonality, however, is that both, in their phobia and/or paranoia, reflect future versions of their Half Baked characters at their worst.
If one were to be as cliched about movie raves as Half Baked is about pot, one could say that this is one stoner comedy that lights up with laughter.