Is This Picture a Keeper? You Bet'cher Ass.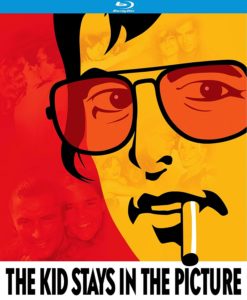 DIRECTED BY BRETT MORGAN & NANETTE BURSTEIN/2002
BLU-RAY STREET DATE: FEBRUARY 16, 2021/KL STUDIO CLASSICS
In 2019, Robert Evans' story truly wrapped. The infamous studio mogul who resurrected the dying Paramount Pictures with a string of iconic zeitgeist hits died at 89 years old. He was a romantic, a dreamer, a lover, and something of an outlaw. He left behind a palatial and luxurious Hollywood estate, a starry string of beautiful lovers and ex-wives, and a legacy with more ups and downs than a mountain climber in the gutter.
And a couple of other things he left behind: his page-turning tell-all autobiography, "The Kid Stays in the Picture", and its documentary adaptation of the same title. We're here for one reason and one reason only- to review the latter.
So, what about it? Co-directed by Brett Morgan and Nanette Burstein, 2002's The Kid Stays in the Picture lives up to the grandiose reputation of its subject and star. As narrated by raspy-voiced orator Evans with seen-it-all aplomb, the film entirely forsakes the perception of documentaries as boring. This is one picture that doesn't know how to be boring. Every turn is a new revelation, a series of peeks behind the fraying curtain of the "Easy Riders, Raging Bulls" era of Hollywood. It takes you there. Hits are made against the clock; fortunes are minted overnight. Starlets and unlikely famous faces come and go (how'd Frank Sinatra get in here?); mighty movies are magnified.
But moreso, The Kid Stays in the Picture was a gamechanger. At least, it's commonly remembered that way. You know that effect where the central focus of a photograph "floats" forward? This was where so many of us first experienced that. Such Adobe After Effects chicanery is old hat these days. But back then, it imbued the film with a faux-three-dimensional immersion. On the director's audio commentary, Morgan speaks of the effect in just such terms. For the overtly romanticized tale of a divisive man as told by said divisive man, the floatiness is an appropriate drift (grift?), to be sure.
Evans was famously discovered poolside as a young businessman by Golden Age actress Norma Shearer. He'd never yet been a studio mogul, but he was about to play one. Shearer took one look at this strident go-getter (then just a mover and shaker in the world of women's pants) and saw a reflection of her late husband, Irving Thalberg. Someone had to play Thalberg in the James Cagney film Man of a Thousand Faces, and Evans, never an actor 'til then, got the gig.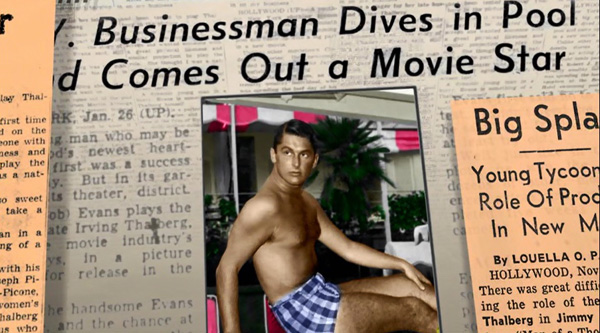 True Tales of Hollywood!
From there, it would be a lifetime in the movie business. There was no looking back. Evans, by his own admission, was a half-assed actor. But something of Thalberg must've gotten under his skin; into his blood. He didn't want to be in the movies; he wanted to make 'em. Not as a director, or even a standard producer, no. But as the head of the entire studio. And that's what he became.
Upon his arrival, of the eight major studios operating in Hollywood at that time, Paramount was in ninth place.  Our literal golden boy would turn all that around thanks to his self-described rash of outside-the-box dealmaking and vision. The Godfather. Harold and Maude.  Rosemary's Baby.  Love Story.  Marathon Man.  Chinatown.  Those are just a few of the 300+ titles that Evans greenlit in his illustrious tenure as top dog at The Mountain. Those are also the ones that the The Kid Stays in the Picture focuses on, Evans claiming full credit in the face of naysayers and nonbelievers.  (Wanna hear more about Altman's Popeye?  Or Star Trek: The Motion Picture, which doesn't come up at all?  Go elsewhere.)  It's his narrative, you'd better believe it. 
And even if you don't believe it, I defy you not to hang upon every throaty word, every fully-baked turn of a phrase. If you didn't know by now, this, in more ways than one, isn't an ordinary documentary. It's entirely the perspective of the never-seen narrator Robert Evans (his friends sometimes call him "The Kid", harkening back to the titular declaration by Daryl Zanuck himself, as others moved to oust fledging actor Evans on one of his earliest efforts), his voice literally sourced from his own six-hour audiobook recording. That means it's not merely "all him", it's all his version of things. The things he wants you to know about.
The film opens with an Evans quote as an onscreen graphic: "There are three sides to every story: Your side, my side, and the truth. And no one is lying. Memories shared serve each differently." So there's that, setting the scene. If you've come looking for bottom-line journalism, you've come to the wrong buffet. This isn't Bob Evans Family Restaurant, where everyone is served to their liking. You might like this, you might not. But are you going to turn away? Hell no.
Pictured: Robert Evans and Roman Polanski, back in the salad days.
This tale, in part the salvation of Paramount Pictures (replete with innovative use of film clips), was initially released to DVD back in the day by Warner Bros. Now, on this new Blu-ray edition as licensed by Kino Lorber Studio Classics, it opens with a Universal Studios logo. It seems that over the past nineteen years, almost everyone has had a piece of this particular pie. Short of the initial theatrical run, this latest Blu-ray Disc is the best bet. (Which goes to show, even though he's dead, never bet against Bob Evans!) This disc, loaded with swell bonus clips and the aforementioned directors' commentary track, is a winner for any film buff. These are the bells and whistles:
Audio commentary by Directors Brett Morgan and Nanette Burstein
The Truth About Bob: The Film That Saved Hollywood/The Kid Speaks/On The Red Carpet/Up Close With The Kid/The Spirit of Life Award
The Truth According to Others: Showgirls on Evans/The Evans Gag Reel/On the Red Carpet
5.1 Surround & 2.0 Lossless Audio
Theatrical Trailer
Robert Evans, perpetually bronzed and bigger than life, shines on in this essential documentary. His story, as uttered by him, is infused with a survivor's spirit that isn't about to withhold his most notorious shortcomings. While he avoids detailing the majority of his short-lived marriages (most only around a year in duration), he gets into the weeds about his botched betrothal to actress Ali McGraw. We get to hear all about his side of the story regarding his big cocaine bust, his myopic mess-makings with McGraw as he drove her into the arms of McQueen, and even his media-generated guilt-by-association in a bizarre murder. While no one denies that the whole thing is a highly varnished version of his side of things, the man could masterfully weave his own yarn. (Just as Morgan and Burstein have woven a masterful doc.) Is it the truth? Maybe. Is it transparent racontuering? Sure. Is it, at the end of its own day, somehow humanizing and life-affirming? You bet'cher ass.