Jude Law and Carrie Coon Star in a Sundance Not-Horror Story
DIRECTOR: SEAN DURKIN/2020
It's the 1980s, and a father moves his wife, daughter, and son away from all they've known. He feels his current line of work is unfulfilling, so he sells his family on a new lifestyle with more opportunity, but when they arrive, nothing pans out like he expected. No, this isn't Minari—this is The Nest.
Instead of watching the Yi family move to Arkansas to start a farm, The Nest follows the O'Hara family immigrating to the United Kingdom after Rory's (Jude Law) career in finance slogs in America. He promises his wife Allison (Carrie Coon) land to raise horses and his children (Oona Roche, Charlie Shotwell) the best schools. And instead of watching a man struggle through his dream to start a farm, we watch Rory struggle to keep up with the wealthy image he's created for himself and his family.
If you saw the tagline on the poster for this film, "Having it all is never enough," with Law smirking over Coon's shoulder in a cracked mirror, or if you watched the trailer and heard her say things like, "Something doesn't feel right," and his insisting, "There is nothing wrong with this house," then you probably came to the same expectation I did. Based on these cues, The Nest is a horror film, right? Not-a-spoiler alert: aside from the horrors of a crumbling marriage, the plot of The Nest is nothing of that sort—in fact, it's very much like the plot of its Sundance sister film Minari.
That said, I'm not sure writer/director Sean Durkin would say the same. In the opening moments, Richard Reed Parry's eerie, discordant score plays as we linger on a shot of the O'Haras' modest American home, and we begin waiting for the other shoe to drop. When a door mysteriously unlocked itself and a horse was spooked for no reason, I pulled a Carrie Coon and said aloud, "Something is not right here." I tried to guess what was coming: are we going The Haunting (or mother!) with a house that's practically alive? Jane Eyre with a secret past and a woman in the attic? "The Tell-Tale Heart" with a body in the floorboards? Talented Mr. Ripley for a meta-Jude Law performance in which he's stolen a wealthy person's identity? Though the story looked and felt Gothic, I waited for a twist that never came.
Perhaps (I hope?) The Nest was meant to feel this way as a reflection on how we never really know the ones we love, or perhaps it was meant to capture the frightening feeling of being trapped in a relationship or life situation out of your control. But like Rory's overpromising and under-delivering, the film builds unease in its audience for something that never materializes. Law and Coon are acting the heck out of this script, seething insults at each other and performing with mild hysterics just like you'd want in a creepy thriller, but because there's no haunted house or spooky ghost or stalker terrorizing their horse, this heightened emotion doesn't feel authentic to a character drama. Rory's zealous spending would doom any family's happiness, but the most severe consequence we see is his bickering with Allison, so what are the stakes?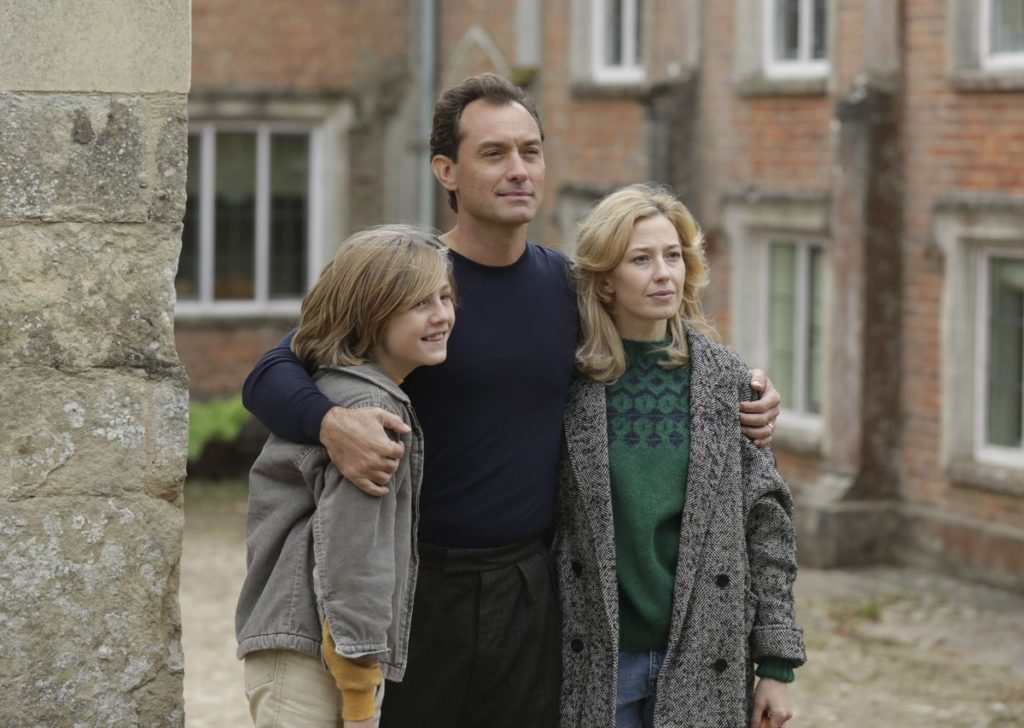 On paper, The Nest should be a movie I love. It's full of aesthetically-pleasing compositions and an '80s soundtrack with an affinity for the Thompson Twins. I am never sorry to see Jude Law, on whom I can always count to elevate a thankless role (see Captain Marvel) or become the best part of a bad movie (see Fantastic Beasts 2), and all of the actors (including Roche and Shotwell) are trying to pull something nuanced and real out of this story. The plot deals with issues of wealth, class, women's roles in marriages, finding purpose in a career, and what it means to be a good parent, but all of its thoughts on these timeless themes feel half-developed, ultimately saying very little or nothing at all about them. It turns out there was a big twist after all: this Nest is just empty.