A Pair of Literary Crime Thrillers from England, Anchored by Strong Central Performances
BRIGHTON ROCK
DIRECTED BY JOHN BOULTING / 1948
BLU-RAY STREET DATE: MAY 5, 2020/KINO LORBER STUDIO CLASSICS
Brighton Rock is a crime drama from 1948, based on a novel by Graham Greene, who also had a hand in writing the screenplay (his credited co-writer is Terrance Rattigan). Its name comes from a type of candy that was sold on the boardwalks of Brighton, which was a hardened stick made of sugar, in which one could read the name of the town. The stick was designed so that no matter how much of it you ate, you could still read Brighton. It's the same all the way down to its core.
So, too, is Pinkie Brown, a youthful gangster played by Richard Attenborough. He seems cold and hard, and violently ruthless, and wouldn't you know it, when he starts seeing a new girl, he turns out to really be cold, and hard, and violently ruthless. Brown has just ascended to leader of his small-time gang of hoods (which includes Dallow, played by future Dr. Who William Hartnell). Brown kills Fred Hale, the man he thinks is responsible for betraying the gang's former leader, and then sets his sights on Rose (Carol Marsh), a waitress who could blow Brown's alibi.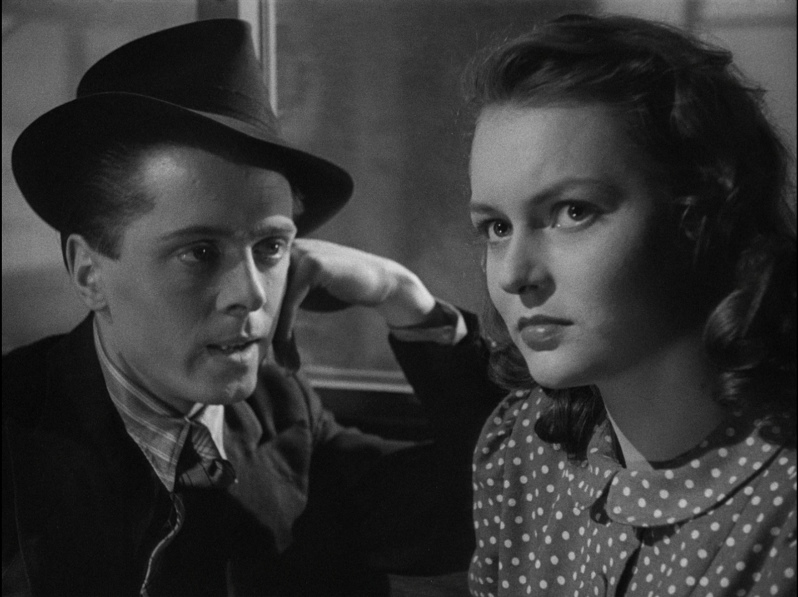 Adding to Brown's woes is a local performer, Ida Arnold (Hermione Baddeley). Arnold sees some holes in the official investigation of Hale's murder and takes it upon herself to discover the truth. Her presence, often announced by her booming cackle, shadows Brown throughout the movie. She keeps the pressure on him even as he deals with competing gangsters and dissension within his own gang's ranks.
The director, John Boulting, was half of a prolific directing/producing partnership he had with his twin brother Roy. Boulting's stylish direction seems to owe a lot to Hitchcock.
But this is Attenborough's show the whole way. Brighton Rock was adapted as a stage play in London in the mid 40's, and Attenborough gained a lot of prominence due to his performance as Brown on the stage. When time came to cast the movie, he was the obvious choice. His clout was such that he could bring along several other members of the cast along with him. Attenborough's Brown is at turns cunning, sociopathic, angry and just plain over his head. His character is half Scarface (you pick which one) and half Hannibal Lecter. I swear there are scenes where the man doesn't blink at all, even in the bright daylight of the boardwalk.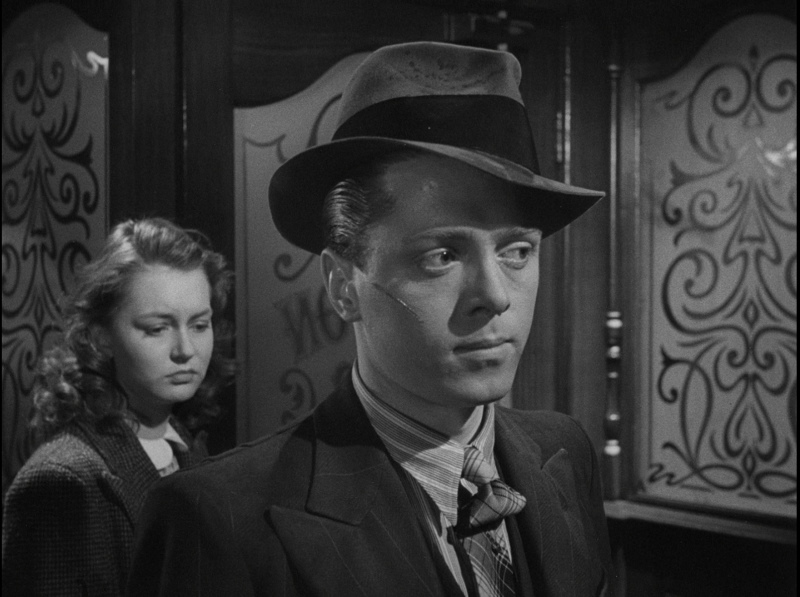 Kino Lorber's recent Blu-Ray release of Brighton Rock comes with a small smattering of trailers (but not one for Brighton Rock, curiously), and a feature-length audio commentary by film historian Tim Lucas.
AN INSPECTOR CALLS
DIRECTED BY GUY HAMILTON / 1953
BLU-RAY STREET DATE: MAY 5, 2020/KINO LORBER STUDIO CLASSICS
The name of the inspector in question is Poole, and he's played with ghoulish delight by Alastair Sim*. The family he's calling on are the Birlings. They are the wealthy owners of the town's factory, and as such believe themselves to be above reproach. The inspector's appearance, however, suggests that they are guilty of something, and over the course of the movie, we shall find out just what.
Poole's visit is prompted by the death of a young girl, Eva Smith (played in flashbacks by Jane Wenham) at the town's infirmary. She ingested poison, and by all appearances it was suicide. The Birlings initially deny all knowledge of Eva, but one by one the Inspector's probing questions reveal their lies and begin to shed light on circumstances by which each of them came into Eva's life, and how they each in their own way, brought ruin to it. The story is a scathing indictment of capitalism and the privilege of wealth.
The movie, directed by Guy Hamilton (Goldfinger) is based on a popular-in-its-day stage play by J.B. Priestley. Priestley was also responsible for the novel Benighted, which was adapted into film as 1932's The Old Dark House, a personal favorite of mine. I don't have anything else to add to this point, except that you should watch The Old Dark House.
Hamilton's An Inspector Calls is worth a watch too. Sim, a veteran of stage and screen since 1930, lives up to his star billing here (seriously, his name on the poster is bigger than the movie's title!). American audiences might know him best as the voice of Ebenezer Scrooge from the 1971 animated adaptation of A Christmas Carol. He carries himself throughout the movie as if Poole already knows all the answers to the questions he asks, and he's just giving the family the rope they'll use to hang themselves with. 
An Inspector Calls comes with the usual collection of trailers (though, again, not one from the actual movie). It also has a feature-length commentary track from film historian David Del Valle. It also includes a recent interview with Jane Wenham, the actress who plays the unfortunate Eva.
*Fun fact, I only learned after the fact, is that the character of Poole was originally named "Goole" in Priestly's stage play. A bit on the nose, perhaps.