Rockwell, Ronan and Richard Attenborough Riff on Agatha Christie
DIRECTOR: TOM GEORGE/2022
There's been a murder!
Are there four words better to kick off a plot? Agatha Christie didn't seem to think so. In London's West End in 1953, Christie's The Mousetrap is celebrating its 100th performance and is on its way to Hollywood. But an evening that starts with a party takes the inevitable turn for the macabre when the soon-to-be movie director Leo Kopernick (Adrien Brody) is found dead on stage. Was the killer the screenwriter (David Oyelowo) who argued with Kopernick over the plotting? The theater owner (Ruth Wilson) whose profits will shrink with the release of a movie? Star Richard Attenborough (Harris Dickinson) and his wife Sheila Sim (Pearl Chanda)? The Hollywood producer (Reece Shearsmith) and his mistress (Pippa Bennett-Warner)? Only the hungover Inspector Stoppard (Sam Rockwell) and new recruit Constable Stalker (Saoirse Ronan) can tell us whodunnit!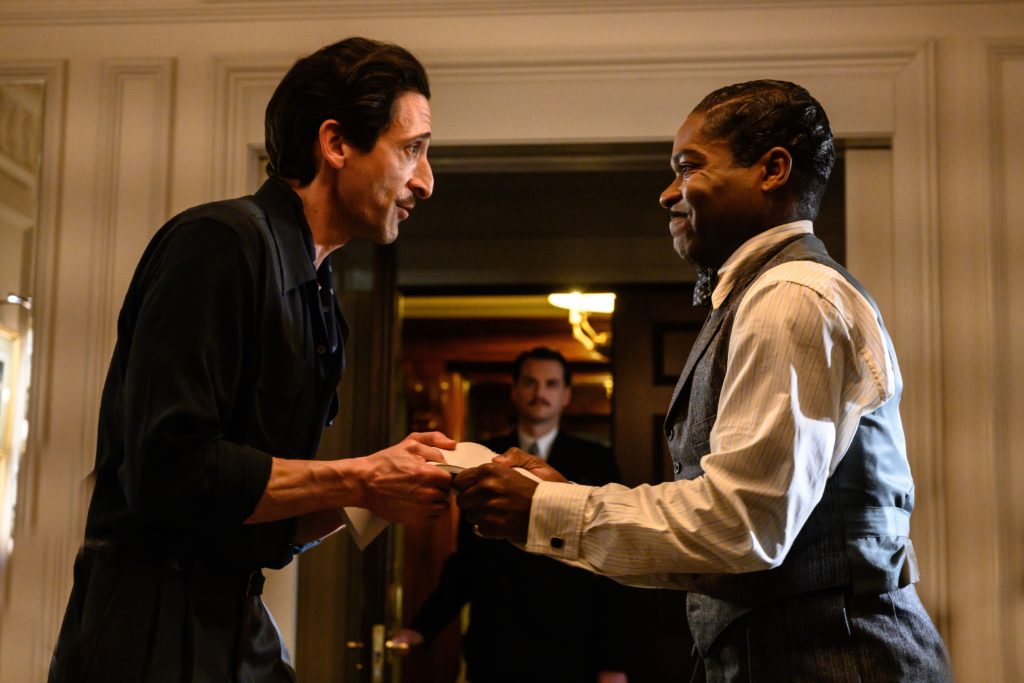 And what a charming little whodunnit this is! See How They Run is an Agatha Christie riff that both admires her genius and spoofs the repetitive nature of her formulas. Like Knives Out, its self-awareness of its structure sprinkles a refreshing silliness atop of this murder plot's violence. Central to that silliness is the Rockwell-Ronan juxtaposition—with a pair called Stoppard and Stalker, you know you're in for a good time. Stoppard (an allusion to playwright Tom Stoppard, who spoofed The Mousetrap in the '60s in The Real Inspector Hound) is the classic jaded flatfoot who will only be exhausted by an eager beaver like Stalker. Her enthusiasm means she arrives first on the scene, but her commitment to the rule book means she's of little use. His years of experience are perfect for refining her ineptitude, but his apathy means he's always late to the party. Together they almost make one functioning officer of the law.
They also make a killer avatar for the people behind the scenes. Director Tom George and writer Mark Chappell have lengthy IMDb pages for their TV work, but See How They Run is their first big screen feature. Chappell's script is filled with Easter eggs to Christie's life and work, and his plotting is careful—like Stalker, the writing is all about the homework. George's direction, meanwhile, moves with the energy of Stoppard. The camera never rushes, and there are no exclamation points accenting the jokes, which means you may miss out if you're not paying attention. The pace may be a bit sleepy—as most methodical detective stories are—but don't mistake it for laziness. The camera's clever compositions reveal clues instead of lengthy monologues, and though Brody's victim provides voice-over from the other side a lá Sunset Blvd., we're not dependent on flashback and narration like in film noir. See How They Run completes its investigation without abusing those tropes, and it does it in 98 minutes. 
Because I am never one to complain about movies that can be called short or subtle, I will only lament this one has eyes bigger than its runtime. If you compare the poster with my plot summary, you'll notice several top-billed performers missing from my description. I withheld a few to preserve surprises, but I skipped many because, well, there are just too many. Every actor does fine work with what's asked of them—Brody especially appears to be having a great time—but only Rockwell and Ronan have the time to create depth. Several suspects have only a few more lines than day players, so they can only hint at character work. I did not guess the culprit, but I'd have been held in greater suspense if several roles were condensed to allow for more development of personalities and motives.
For reasons explained in this film, it's likely See How They Run is the only screen version of The Mousetrap we'll see in our lifetimes. Though it's imperfect, it's hard to dislike a film that, like Stalker, seems just chuffed to be here, and, like Stoppard, isn't too concerned about impressing us. Its attempts at cleverness are all in the name of fun, which feels apropos for a 70-year-running production its own author only expected to last a few months on stage.