Roller Derby Queen
Directed by Cathy Yan
Starring Margot Robbie, Ewan McGregor, Jurnee Smollett-Bell
Rated R
Released February 7th, 2020
Birds of Prey is narrated by noted criminal Harley Quinn (Margot Robbie), who lets the audience know in her own colorful way that she's on her own for the first time in a long time. Harley and the Joker are kaput and once the criminals of Gotham find out she's no longer with Mr. J, she finds more than one bullseye on her back. One of those bullseyes belongs to Roman Sionis (Ewan McGregor), also known as Black Mask, a lower level mob boss.
We meet Dinah Lance (Jurnee Smollett-Bell) working as a nightclub singer in Black Mask's nightclub. Roman treats her like just another one of his possessions, nicknaming her "Pretty Bird" before eventually making her his personal driver. Dinah doesn't like the position she finds herself in and takes a liking to Quinn, who frequents the club.
Roman is looking for the Bertinelli diamond and forcibly enlists Harley to help him find it. Once she completes her mission he plans to have her killed, courtesy his main enforcer Victor Zsasz (Chris Messina), a guy who scars himself every time he murders someone. He's got a lot of scars. Roman and Victor totally have a sexual relationship. It may only be hinted at in the film, but you can't convince me they're just work buddies. Good for them. Everyone needs a special someone, even narcissistic psychopaths. Happy Valentine's Day, Roman and Victor.
Cranky police officer Renee Montoya (Rosie Perez) is familiar with Dinah Lance's family and asks her to be a spy within Roman's organization. This is how Renee gets the information that a pickpocket named Cassandra Cain (Ella Jay Basco) is in, ahem, possession of the diamond, having swallowed it before it could be confiscated. This sets off a chain of events that involves much mayhem, loud music, costume changes, and a hyena.
Roman and Victor don't consider Harley or Dinah to be worthy of their concern. They plan to acquire the Bertinelli diamond and then dispose of them. Women in this film are time and again dismissed by men as something lesser to be swatted away like a bothersome fly. Undervalued and underestimated as a whole, the women band together and eventually prevail. Nevertheless, they persisted.
Jared Leto is not in the movie, though the presence of his Joker is felt throughout. This is the story of Harley learning to value herself and deciding not to be defined by with whom she is in a relationship. That's an important, empowering message that may not have materialized in someone else's interpretation of Harley. Since debuting her take in 2016's Suicide Squad, Margot Robbie has shown a huge commitment to and deep understanding of the character of one Harley Quinn and it's obvious that Hollywood could have easily gotten the character so completely wrong.
Robbie's Harley is perfect. She's hilarious, formidable, and comfortable in her own skin. You're going to see her break kneecaps. You're going to see her eat an egg sandwich. You're going to see her lie, cheat, and steal. You're going to see her save lives. You're going to see Roller Derby Quinn, Sqwad Quinn, Animated Series Quinn, and Birds of Prey Quinn. It's quite an emancipation.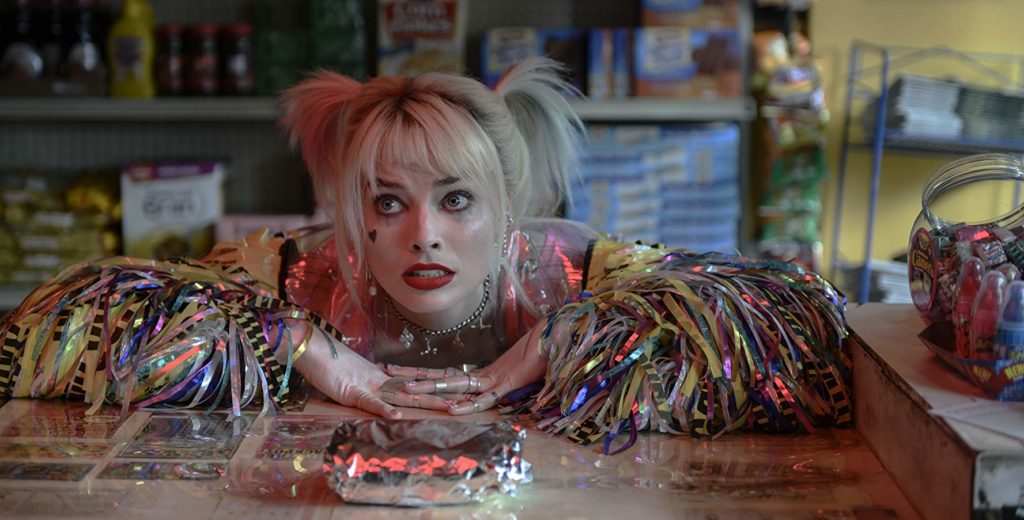 Like Quinn, the character of Renee Montoya was created for the groundbreaking television show Batman: The Animated Series. Rosie Perez is wonderful as the cynical cop, juggling her case, her drinking problem, and her ex, who happens to be Gotham's Assistant District Attorney. (Ali Wong).
Racists were upset when Jurnee Smollett-Bell was cast as Dinah Lance, because that character is caucasian in the comic books, and that is the sort of thing that upsets racists. Good thing the producers don't care about placating hateful people. Smollett-Bell proves to be an inspired choice for Dinah, also known as Black Canary. She fully embodies Dinah's strength and attitude, and just you wait until she breaks out her Canary Cry.
Mary Elizabeth Winstead is a crossbow killer named Huntress, also known as Helena Bertinelli. Yep, that's her family's diamond everyone is looking for. Helena is on a lifelong quest for vengeance and often goes too far, leaving her feeling empty. Having spent most of her years in self-imposed isolation, she's awkward, angry, and doesn't have a lot of friends. Huntress is played for laughs more than anything else, but I find her such an interesting character that I'd love to see Winstead reprise the role with a more serious tone in the future.
My only gripe with the film is naming the pickpocket Cassandra Cain. This is a film whose characters reflect their comic book counterparts, all except the pickpocket. I'm not sure what the thought process was behind giving her the name of Cassie Cain, other than the fact she's played by an Asian actress. There is no other similarity with her comic book counterpart. But this is a small complaint for a film I otherwise greatly enjoyed.
Christina Hodson's script is crisp and fun, moving at a frenetic pace and never neglecting to flesh out character's motivations while highlighting their idiosyncrasies. Daniel Pemberton's score is constantly surprising, sounding like he threw everything and the kitchen sink together to reflect the insane action on screen. Erin Benach's costume design is on point, with multiple fantabulous looks for Harley, Huntress, and Canary. K.K. Barrett's Production Design is like something out of a 1970s Ken Russell production. It's just glorious. Every action set piece has its own distinct sense of place, its own feeling and style. Director Cathy Yan brings everything together with such a sure hand it makes me hope she returns to helm future adventures of the Birds of Prey.
Within the first five minutes of watching Birds of Prey you'll understand why it has the crazy subtitle of "…And the Fantabulous Emancipation of One Harley Quinn. It totally fits the manic fever dream director Yan, screenwriter Hodson, and producer/star Robbie were kind enough to unleash upon the world. These fierce women have made the first great film of 2020, one not afraid to be a violent, filthy, R rated comic book movie with a positive feminist message.