Hollywood Stalwart, 1916-2020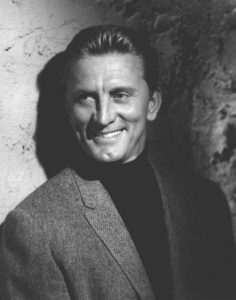 While not used much these days, the phrase "matinee idol" became the chief role that Kirk Douglas was born to play in a bygone era of entertainment.
His rugged good looks drew the attention of audiences worldwide. He performed in more than 80 films and numerous television productions during an acting career that spanned six decades.
The Golden Age of Hollywood lost one of its last remaining icons Wednesday when Douglas died at the age of 103. His son Michael paid tribute to the movie star, author and humanitarian on Instagram:
"To the world, he was a legend, an actor from the golden age of movies who lived well into his golden years, a humanitarian whose commitment to justice and the causes he believed in set a standard for all of us to aspire to."
Douglas was nominated for an Academy Award for Best Actor in Champion (1950), The Bad and the Beautiful (1953) and Lust for Life (1957). He was presented an honorary Academy Award in 1996 for being "a creative and moral force in the motion picture community." This was the 50th anniversary of his first feature film.
Receiving this award was a triumph for Douglas in more ways than one. He suffered a stroke less than two months before the event, and his speech was severely impaired. But he undertook speech therapy and continued acting for another decade.
Douglas came from a modest background, which forged his determination to excel. And after finding success, he shared his good fortune with others.
He was born Issur Danielovitch in Amsterdam, N.Y., on Dec. 9, 1916. His parents, Jewish immigrants from Russia, also raised six daughters. His family adopted the last name of Demsky.
Izzy Demsky, as Douglas was called, endured poverty while growing up. He worked a variety of jobs to earn a living. He once wrote about standing in line at a Salvation Army facility as a young adult just to get a Thanksgiving meal.
He hitchhiked the nearly 200 miles from Amsterdam to Canton in Northern New York in 1935 to attend St. Lawrence University. During the final leg of the trip, he rode on a fertilizer truck.
Douglas met with the school's dean, Edwin L. Hulett, and he highlighted his high school honors. He persuaded Hulett to admit him and offered the $164 he had for tuition. He paid for school expenses with an athletic scholarship and by picking up odd jobs.
Douglas was a member of the St. Lawrence's wrestling team and served as president of the student government. And, of course, he participated in school plays. He graduated in 1939 with a degree in English.
Douglas felt indebted to the school and remained connected to it throughout his life. He and his wife, Anne, gave generous financial donations to his alma mater.
In 1999, St. Lawrence University established the Kirk Douglas Scholarship with the $1 million they contributed through the Douglas Foundation. The couple donated $5 million to the school in 2012 to expand the scholarship. St. Lawrence named a new residence hall in Douglas's honor in 2014. In 2016, the Douglases made another large donation to the school: $1 million to the scholarship and $1 million to ensure the improvement, repair, maintenance and operation of Kirk Douglas Hall.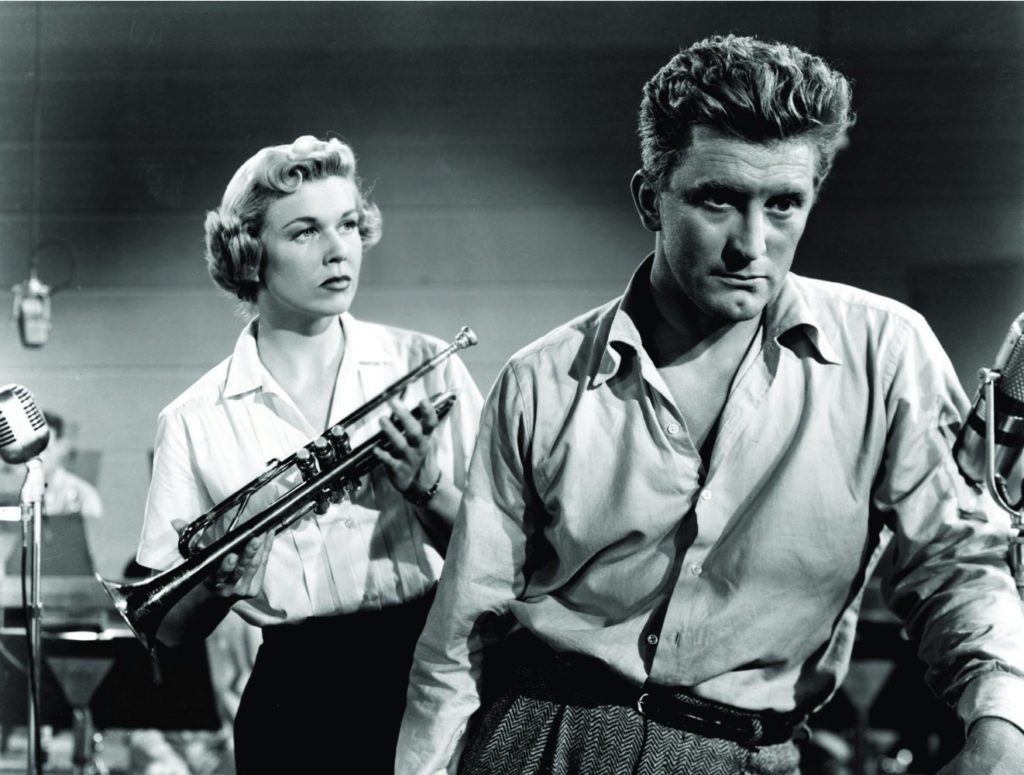 Following college, he began acting wherever he could find work. He changed his name to Kirk Douglas, moved to New York City and enrolled in the American Academy of Dramatic Arts.
He began dating Diana Dill, another student at the academy. They would marry in 1943 and have two sons: Michael and Joel. He also became good friends with Lauren Bacall. Douglas served in the U.S. Navy during World War II before resuming his acting career.
His first movie role was in The Strange Love of Martha Ivers in 1946 opposite Barbara Stanwyck. Bacall had recommended Douglas to the film's producer, Hal Wallis.
Film roles began being offered. Known for the intensity that he brought to each performance, Douglas became a box office draw. Other landmark movies in which Douglas starred include Ace in the Hole (1951), 20,000 Leagues Under the Sea (1954), Gunfight at the O.K. Corral (1957), Lonely are the Brave (1962), Two Weeks in another Town (1962) and Seven Days in May (1964).
Douglas divorced his wife in 1951. He married Anne Buydens in 1954, and together they had two sons: Peter and Eric.
He purchased the rights to Ken Kesey's novel "One Flew Over the Cuckoo's Nest" and turned it into a play in 1963. He later gave the rights to his son Michael, who produced a movie version that won five Academy Awards in 1976.
Douglas showed he wasn't afraid to rock the boat when he helped bring the Howard Fast novel Spartacus to the screen in 1960. He served as executive producer for the film and replaced director Anthony Mann with Stanley Kubrick. Douglas and Kubrick had previously worked together on Paths of Glory in 1957.
Douglas publicly announced that he hired screenwriter Dalton Trumbo to work on script. Trumbo had been blacklisted during the Red Scare of the 1950s. The risk paid off as Spartacus received glowing reviews and was a box office hit.
This act of defiance on Douglas's part mirrored the complex characters he portrayed. In presenting the Hollywood legend with his honorary Oscar in 1996, Steven Spielberg said this:
"There's a single thread drawing all his characters together, and it's called 'conscience.' Every person he ever played had one. And because Kirk Douglas never made his characters simple, no good guys or bad guys, he shaded heroics with self-doubt and shaped his villainy with compassion. His characters weren't bigger than life; they were life reconverted — something we could all identify with, something that would touch us out there in the dark, something that gave the dark a life and a life of its own."