Mid-1960s Amnesia Thriller Captures Mid-century Trauma And Tragedy
1965/DIRECTED BY EDWARD DMYTRYK
STREET DATE: SEPTEMBER 10TH, 2019/KINO LORBER STUDIO CLASSICS
Although its black-and-white photography, and the reviewer's inability to spot sartorial nuance, disallows calling star Gregory Peck's Greatest Generation Everyman a definitive Man in a Gray Flannel Suit, Peck's David Stillwell, in Edward Dymtrk's 1965 suspense puzzler Mirage, nevertheless registers onscreen as one — as per his earlier, emblematic role in the 1956 drama of postwar conformity — while fugue-drifting among studio-bound office lobbies, afterhour cocktail bars, and New York city-shot street corners and park pathways. Suited, tied, and Florsheimed, Stillwell's initial level of comfort among a pedestrian sea of like-dressed men, his easy interactions with beehived secretaries and glib responses to uniformed doormen and bartenders, and the spacious apartments and subterranean spaces his literal amnesiac dreamwalks through is subjected to a gradual unravelling of confidence as two years of workaday routine sink in an unknowing (and as-yet unknown) quicksand of mental crisis. Like its title, memory, thought, and (re)action play tricks on our mid-1960s, screen-projected stand-in, making us, like our confused protagonist, call into question the reality of what is initially presented us in movie- and story-terms as an assured portrait of its upright times.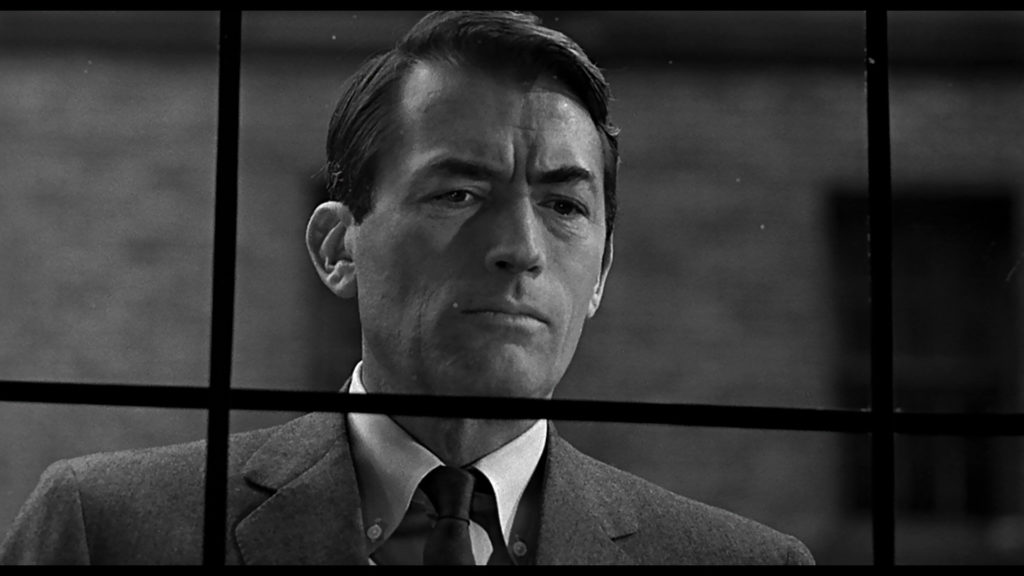 Credits-rolling on the familiar nighttime skyline of upper Manhattan, the iconic view of urban splendor is quickly undermined when one of its tallest skyscrapers suddenly goes dark; the unexplained power outage immediately setting an uncertain tone for this thousand-and-first coda to our temporarily-stalled saga of the naked city. Offering well-tailored salary-type David Stillwell (Peck) an intriguing Mad Men-era use of an upstairs office with two working gals, inhibitions fleeing with the lights, Stillwell still later meets office pal Josephson (Kevin McCarthy), replete with ring-a-ding business lingo, and eventually a mysterious and unknown woman identifying herself as Shela (Diane Baker), who claims an acquaintance and even intimacy with the unmoored, mid-level desk-warmer.
Leading him down four SUB-level floors beneath the skyscraper lobby, the encounter leaves Stillwell considerably shaken as his subsequent attempts to retrace his activities leading up to the power outage — along with his memories for the past two years — prove unsuccessful to an inexplicably altered working and living environment. Returning home after a hard day of frustration and frightening dislocation, during which news of a powerful foundation beneficiary named Charles Calvin (Walter Abel) and his top-story suicide leap at least partially explains the power outage, Stillwell is accosted past an automated elevator ride by an armed stranger named Lester (Jack Weston), who holds Stillwell in his own strangely unlived-in apartment for purposes even which overpowering the thug and demanding answers at gunpoint can't explain.
Continuing in this confusing and confused vein past an unsatisfying interview with a police detective (Hari Rhodes), and an even less satisfying examination by prominent psychiatrist Dr. Bowden (Robert H. Harris) — the latter of whom, amongst other doubting observations, calls into question amnesiac Stillwell's self-identification as a "cost accountant" — Stillwell finally turns to exceedingly low-rent "AAA" private detective Ted Caselle (Walter Matthau), who proves wilier past his deceptively disheveled appearance in teasing out the two-year lacunae of Stillwell's personal and professional life. As the mysteries deepen and their explanations unravel, however, the increasingly deadly pursuit by a mysterious Major's (?) sinister agents continue unabated around a claustrophobically converging network of sinister interests representing atomic energy, compromised philanthropy, corporate-level skullduggery, and their military-industrial superimposition on a terrifying logo reading "The Future Is Here".
This cautionary Cold War scenario plays past its familiar thriller trappings with a vivid undercurrent of unknown trauma. Joseph MacDonald's crisp, restrained black-and-white photography registers false and true memories alike, with veteran editor Ted J. Kent cutting between them with a sophistication equal to European arthouse contemporaries while never stylistically diverging from basic tenets of studio filmmaking. Rather, director Edward Dmytryk orchestrates the visual and plot elements with a deceptively straightforward lack of pretension that title-like dissolves and shimmers onscreen without those devices being once employed. The falling death of a plenipotentiary to the busy street below, an unnerving encounter in the skyscraper basement with no SUB-floors, the chase-ending bridge-tunnel attack with bullets ricocheting from one corner of the park pathway to the next; unspooling with the stark immediacy of nightmare, Mirage subverts its surface realism to reveal the imminent danger lurking just beneath.
As solidly represented by Gregory Peck, the very postwar image of stolidly reassuring masculine strength, his David Stillwell may be unaware that Idlewild has been renamed Kennedy Airport — indicating a more national level of trauma between his missing years of 1963 and 1965 — but his character's staunch willingness to confront those hard truths head-on propels the plot through its many layers of surface realism. Bridging a loose trilogy between screenwriter Peter Stone's earlier Charade (1963) and later Arabesque (1966) — forming a companion piece of sorts with Stone's much later script for the New York City-shot, Walter Matthau-starring The Taking of Pelham One Two Three (1974) — the similar close concern with picturesque location, a near-sadistic facility with character- (and audience-) deception, and its hard-edged treatment of light-surface subject matter exact a price on its characters (and audiences) for all Mirage's surface-level ease.
As in the other films — along with the realistic character portraits that makes Taking such a joy among visceral 1970s thrillers — each satisfying yet discomforting plot revelation comes, in Mirage, with a security guard memorably named Joe Turtle (Neil Fitzgerald) definitively receiving a bash to the skull in in an empty lobby; a steel-rimmed, glasses-wearing hired gun (George Kennedy) perfunctorily dispatching Jack Weston's Lester down a blind alley; a senior citizen hitman (House Jameson) rushing across a busy parkway and fatally failing to collect his profession's only pension; and — most disconcertingly — a charmingly rumpled private detective being abruptly strangled with a live telephone wire. Each innocent's and not-so-innocent's demise brings Stillwell closer to the "truth", with the last climactically precipitating both the unglamorously violent breakdown of the film's star and his character's mental breakthrough. In story terms, the traumatic truth of the film's past 90 minutes is finally revealed, but at a considerable cost to Stillwell's own forgotten complicity in the plot's multiplicity of tragic outcomes: it is neither literal exaggeration nor figurative understatement to say that through the cunning misdirection of the film's quotidian style, our postwar breadwinner has got his uptown-coiffured hair-style mussed.
All of which the reviewer leaves for deserving viewers to discover for themselves. Kino Lorber's Blu-ray plucks an equally deserving title from the forgotten depths of unjust obscurity, the Mirage of its title once again playing crisply and clearly — with an audio mix to match — on one's home video equipment. In her 15-minute interview conducted exclusively for this Blu-ray, co-star Diane Baker, reminding this viewer in some of the film's more casual moments of Charade's Audrey Hepburn, reflects 54 years after the production on her role as mystery woman Shela in Mirage, sharing her memories of star Gregory Peck, co-star Walter Matthau, and the surprisingly subdued on-set working methods of director Edward Dmytryk. An 8 ½-minute photo gallery of wardrobe tests, production stills, and location photography imparts a similar level of appreciation for the work behind one of the last great black-and-white movies — in the old Hollywood sense of the descriptor — made by Universal Studios.
Finally, an audio commentary from the familiar trio of Howard S. Berger, Nathaniel Thompson, and Steve Mitchell comes as nearly layered as the film itself, native New Yorker Mitchell pointing out the film's locations as a precursor to the great New York City-shot films of the 1970s, Thompson contributing his connecting thoughts to the thriller sub-genre of the amnesia film, and Berger reflecting on a directorial technique that effectively escapes the rotund silhouette of the genre's most closely identified practitioner. (Regarding the thematic and visual layers of the film, in particular to the type of expressive work director Edward Dmytyrk had been making since the 1940s, the reviewer happened to wonder whether the settting of Mirage's most evocative scene — in the bullet-riddled Central Park bridge-tunnel — might not be the very same New York City location used to similar and no less suggestive effect in Anthony Harvey's later They Might Be Giants [1971], and still later in William Friedkin's Cruising [1980]?)
In all, a more than worthwhile presentation of an undeservingly underknown film, gaining much in the intervening years for both effectively evoking and simultaneously undermining its seminal era. While another viewing may be in order to discover the extent to which its initial presentation of character, plot, and imagery survives a 109-minute re-viewing, this film Mirage on a startling first view pulls apart and reconstructs its star, setting, and mid-century milieu with the deceptive (un)ease of its Gotham skyscraper views.
The images used in this review are credited to DVDBeaver and are captured from Kino Lorber's Blu-ray Release. Thanks to Kino Lorber for providing a review copy.