This Ain't no Party, This Ain't no Disco.
DIRECTED BY ALLAN MOYLE/1980
BLU-RAY STREET DATE: MAY 24, 2022/KL STUDIO CLASSICS
Back when Times Square was Times Square, there came Times Square– a melancholy rock n' roll drama about two teenage runaway girls with nothing in common other than their overriding need to chuck it all and make a break for it.
None other than Robert Stigwood, the quite powerful late-'70 high profile record and film producer, (Saturday Night Fever; Grease) ushers us into a Big Apple that is now lost to the ages. The common lament for this bygone trashed-out, sleazy, rough n' rotten Times Square can resonate as a tired cliché (particularly the description of what's replaced it as "Disney-ified"), even as the punk-fueled nostalgia is understandable. Director Allan Moyle, filming in actual NYC locations, is interested in both the positive, freeing sides of this dynamic, as well as the imprisoning negative ones. Fewer other mainstream films of this era embarked on such a prolonged and unblinking immersion into this uncompromised scene.
Trini Alvarado plays Pamela Pearl, the young teenage daughter of a self-proclaimed "good liberal" politician (Peter Coffield) crusading to clean up Times Square. He describes the area as "rated X", and of course it's hard to argue with that, considering the overwhelming smut glut that dominates any given shot of the various storefronts and theaters. Yet, Pamela doesn't take well to his inclusion of her in the speech he's giving. She recoils once and for all at his self-righteous hypocrisy by abruptly running off stage and out of the venue. Her jarringly justified demonstration lands her in a mental institution.
Pamela's roommate in the institution, the homeless hard-rockin' Nicky Marotta (Robin Johnson) has already been established as a tough-blooded punk-ass punk. Her street background couldn't be further from the privileged upbringing of Pamela, yet they manage to bond a bit over poetry and self-expression. When the opportunity comes to make a break for it, the pair are off and running. They steal an ambulance and everything.
The girls quickly garner media attention, as Pamela's father publicly accuses wild Nicky of kidnapping his daughter. Meanwhile, an enigmatic radio DJ called Johnny LaGuardia (Tim Curry) realizes that Pamela is the anonymous listener who's been sending him her poetic writings of loneliness and isolation. He helps the girls establish themselves musically as "The Sleez Sisters". Their brash demonstrations persist with a rash of dropping television sets off of tall roofs to explode on the sidewalk below. Will their fate be a similar one?
Along with a striking new HD master from a 4K scan of the original camera negative, KL Studio Classics' Blu-ray edition of Times Square offers not one but two optional audio commentary tracks. While most any decent commentary track is welcome over any movie, these are particularly exceptional insofar as we get two separate vital perspectives on the film.
The first commentary track dates back over two decades to when Times Square hit DVD, courtesy of Anchor Bay. (Remember Anchor Bay? Oddball movies with crummy menus… This title was definitely its jam). It's got the film's director Alan Moyle and its star Robin Johnson enjoyably recalling their experiences making it, but also a forthright recollection from Moyle about how the Robert Stigwood Organization took the film away from him to recut it in the interest of somehow wringing out broader appeal. While Stigwood's people were looking to manufacture another bit fat multi-platinum soundtrack album out of this, some of the added songs play like square pegs being pounded into round holes. These songs are in the service of after-the-fact montages that replace what's described as more overt lesbian moments than anything that remains in the existing cut.
The second commentary track is a brand-new addition, with film historians Kat Ellinger and Heather Drain. Ellinger and Drain (not credited on the packaging, but an equal contributor) make for a very natural pairing in their analysis of Times Square and its punk rock teenage ethos. Ellinger is, as always, fearless and forthright in sharing some of her own angry teenage experiences in the similarly vibed Soho of the era. No blatant "tag team" quality is felt in this shared commentary, though they never get off track or waste a minute. Ellinger and Drain's track functions as a solid follow-up commentary to Moyle and Johnson's, which is an excellent approach.
Going forward, Moyle would continue to would go on exploring contemporary youth rebellion. He succeeded with 1990's spirited Pump Up the Volume. He's also directorially responsible for 1995's Empire Records; an inferior and deliberately lighter outing of indie record shop-based youth in rock n' roll rebellion. Times Square, to varying degrees, stands as a kind of attitudinal precursor to both of those better-known and fondly remembered films.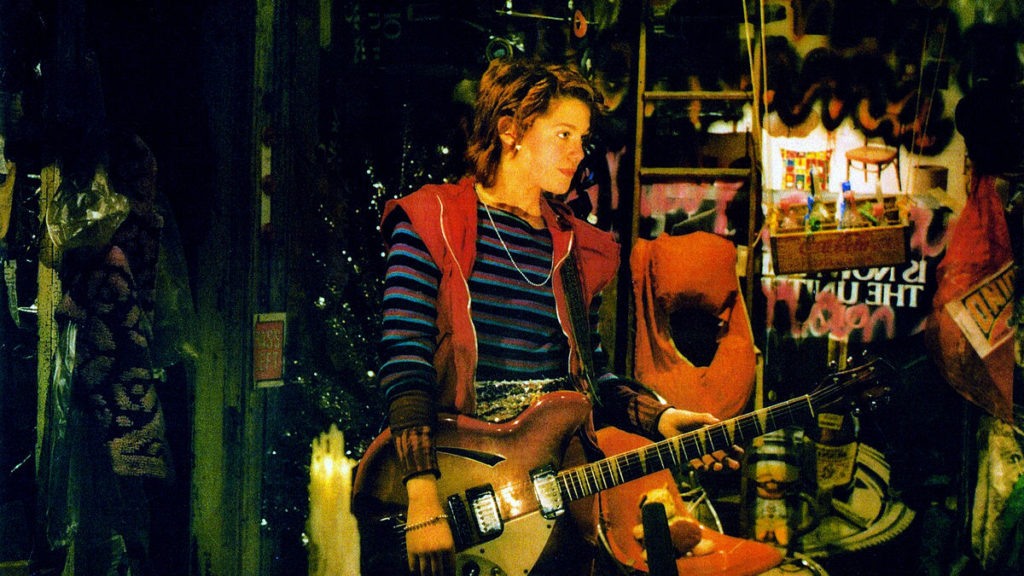 Being a Stigwood production, one can almost feel the intentions of "another Saturday Night Fever" radiating from it. The soundtrack definitely has its moments, to say the least (Talking Heads, The Ramones, The Cars, Joe Jackson, The Cure, The Pretenders, Lou Reed, XTC, Roxy Music, Patti Smith… the list actually goes on…). But, as outstanding as that playlist is, it can't give this film that kind of Fever. While there's collective chemistry in the Johnson/Alvarado casting, and cold Curry is never not commanding of the screen, they cannot add up to the central magnetism of a young John Travolta. The movie essentially follows suit.
Had Times Square never become the unrecognizably gentrified version of itself that it has, one wonders if Times Square would hold the same nostalgic appeal. Back then, if anything sold the movie (beyond the flaunted Stigwood name), it had to have been its unrelenting punk rock attitude. Today, that remains as potent as ever. But it still can't compete with the dark and dingy cigarette-burnt "rated X" vibe of the bombed-out era gone by.