Steven Soderbergh's Netflix Feature Debut is a Slam Dunk
DIRECTED BY: STEVEN SODERBERGH/2019
Basketball. Politics. Race. Privilege. Revolution. Give this sports agent 72 hours. Andre Holland (Moonlight, 42, Selma) is Ray, a high-flying sports agent who represents the number one NBA draft pick, Erick (Melvin Gregg- The Land). Unfortunately, Erick isn't able to capitalize on this at the moment due to the current NBA lockout. With Erick unable to play, practice with his team, or do endorsements, Ray finds his cash flow is dwindling as well. With his nameless boss (played by Zachary Quinto- Star Trek) breathing down his neck, Ray is feeling the pressure to do something to change the status quo, and get this lockout over with.
The battle that is set up for Ray to face captures the political minefield that exists between the owners, with one particular sleazy owner being played by Kyle MacLachlan (Twin Peaks), and the players union, who is represented in the negotiations by Myra (Sonja Sohn- The Wire). As Ray tries to grease the wheel of negotiations, with the help of his ex-assistant Sam (Zazie Beetz- Deadpool 2), and get the two sides talking when it is apparent that they are settling in for several months of gridlock, he turns to an old mentor named Spencer (Bill Duke- Predator) to give him the opportunity to circumvent the legal restraints on his client, turning to live streaming as his salvation.
With a script from Moonlight scribe Tarell Alvin McCraney, director Steven Soderbergh again breaks out his Apple iPhone to shoot High Flying Bird, just as he did for his previous film Unsane. The results are surprisingly good, and used effectively well when the film cuts to interviews with various NBA players that gives a more documentary type feel as Reggie Johnson, Karl-Anthony Towns, and Donovan Mitchell discuss their experiences as first year players contrasted with the differences of what a more experienced veteran is worried about. This helps contextualize more of how an NBA lockout would affect a rookie like Erick, compared to the bigger stars who can afford to wait it out.
Ray wants to create a revolution, bypassing the big networks to showcase his client, but the player's contract would forbid that. Revenue for an unplanned event that gets live streamed, however, is fair game. Ray longs to show that streaming is a way around the rich, fat-cat owners who negotiate the television rights to their own advantage, forcing the many players to share the revenue of what is left over once the owners pocket their share.
The fact that an Academy Award winning director, like Soderbergh, bypassing the big studios to shoot a small film, with a talented cast, to stream it across Netflix, is actually the plot of this movie. It even comes complete with its own product placement shout-out in the film where Netflix is being referenced as one of Ray's possible streaming sources. This isn't lost on the audience….it's shoved in our faces. While that might be a bit too on the nose, Netflix is in fact changing the game. While it has made overtures in the past, they are now attracting top talent like Soderbergh, and most recently Alfonso Cuaron who directed his film Roma for the streaming giant, earning several Academy Award nominations in the process. Should Roma win Oscar gold next month, High Flying Bird might be the follow-up film that reveals Netflix's larger corporate strategy. Big studio fat cats beware. Several 20th Century Fox big-wigs have reportedly already hitched their wagons to Netflix in the midst of the Disney-20th Century Fox merger that is currently taking place.
Race, privilege, and economic disparity are front and center in this story, but they are cleverly wrapped up in the finer negotiating details that Ray must navigate as he goes back and forth between owners, union reps, players and their agents, and his own agency. The contrast is easily made, as the owners are mostly white men, continually rigging the system for their own gain, building their empires on a sport whose athletes are 75% African-American. While one can argue that these athletes are making ridiculous amounts of money playing a sport, the fact is that Soderbergh easily demonstrates that this is still within a system that uses the multitudes of players to enrich the minuscule number of owners. Slavery is referenced constantly, alongside scripture, to demonstrate that all sides are neck-deep in this system, though Spencer, Ray's mentor, has a phrase he makes others use when such analogies are made, to try to keep the focus on the purity of the game.
Soderbergh seems to always champion fundamental issues of fairness in his films, and this is no different. High Flying Bird does muddy the water a bit as both sides are benefiting in a sport where the players are still making well-above than the national average. Here, its hard to empathize with the players as victims on a surface level view of Ray's negotiation. This, in contrast to Soderbergh's Erin Brockovich where the poor people of a town are clearly victims of a corporation found to be poisoning the ground water, indifferent to the disproportionate number of medical claims in pursuit of the almighty profit. While that film felt more cut-and-dried David vs. Goliath, High Flying Bird is more Goliath vs. Goliath, so it will be interesting to see how the racial and economic disparity discussions land once people start streaming this film, because despite NBA negotiations looking like a bunch of millionaire's bickering over broadcasting revenue and the like, there is something more systemically flawed in the system that Soderbergh is driving towards.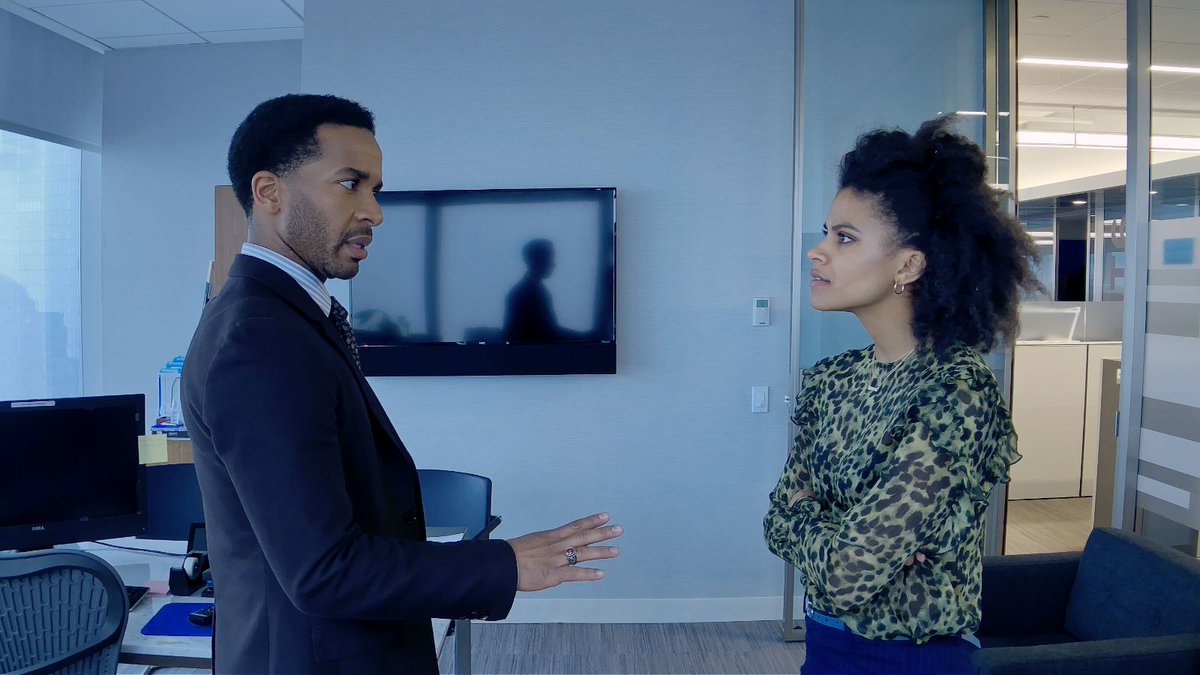 High Flying Bird is a film loaded with talent, both in front of the camera, and behind it, and it is able to deliver more than Netflix's previous attempts at original content have been able to muster, especially when pandering to the lowest common denominator with some of Adam Sandler's output for them. It does not rise to the level of Roma, but in fairness, it doesn't seek to.
The bottom line is that the owners, big networks, and players may find some middle ground to end the lockout and get back to work, much like theaters might give people enough reasons to continue to go to the theater to see big studio productions. What no one can deny, however, is that Ray found a way to take on these giants, becoming one himself. Netflix is proving that like Ray, it has, too.