Director: Taylor Hackford/2017
Life has been a series of ups and downs for Jackie (Robert De Niro), a gifted comic who is in the twilight of his career. Jackie is still forging ahead, trying to come up with fresh material, and make is way on what he is doing now. The public, however, still fondly remembers him in a signature television role where he had a catch-phrase that individuals will still come up and shout at him.
The fact is that Jackie loathes his past success. He refuses to say the catch-phrase to fans who request it, he won't attend conventions for fans, and as a result, it is very hard for his frustrated manager Miller (Edie Falco) to book him in any club of substance.
When a heckler at one of Jackie's performances turns out to be recording their insulting exchange for his own self-produced webisode, Jackie punches the guy out. Ordered to do community service, Jackie begins serving at a local New York homeless shelter, where he continues his insulting comic shtick to great response. It is there where he meets Harmony (Leslie Mann), a woman who is there under similar circumstances, having punched out her ex-husband and his mistress when she caught him cheating. Harmony is also the daughter of mobster Mac (Harvey Keitel), and is seeking to do things on her own without her father pulling out favors for her to keep her out of trouble. Together, she and Jackie, begin a journey of redemption that may be held back by their own self-destructive tendencies.
Like Jackie's fading career, this film will mostly be playing to empty rooms, but might find a life going more viral once it lands on home video and on-demand digital platforms.
De Niro and Mann certainly have chemistry and are one of the highlights in a film that largely falls flat. Despite the title, the film offers very little moments of genuine laughs. Not that this is designed to be a comedy in any way, but most of the humor is really just cringe worthy moments meant to portray Jackie as someone who cannot enjoy the laughs and happiness that he induces in others. This is especially true when he is asked by his brother (Danny DeVito) to come to the wedding of his daughter, Jackie's niece.
Jackie shows up with Harmony as his date. But once he is asked by his niece to speak, it goes downhill fast as Jackie does a no-holds bar routine using his niece's lesbian wedding as the target of his barbs, and then turning his ire on his real source of frustration, his sister-in-law, Flo (Patti LuPone). There is no real redemption in any of this, just biting humor that further alienates Jackie from those closest to him, and as a result, the audience of the film.
The film works to show the changing nature of the comedy circuit, with the idea of "going viral" in a video having more weight that earning your way up from playing seedy comedy clubs to the larger stages. Jackie's video punching out the heckler went viral, and so does another video involving him speaking to an assisted living home of senior citizens which Harmony's father Mac owns, where he turns the lyrics of a classic song into a giant song about old people "making poopie". But for Jackie, this idea of going viral seems to violate his own sense of self-respect that one "earns" their way through hard work.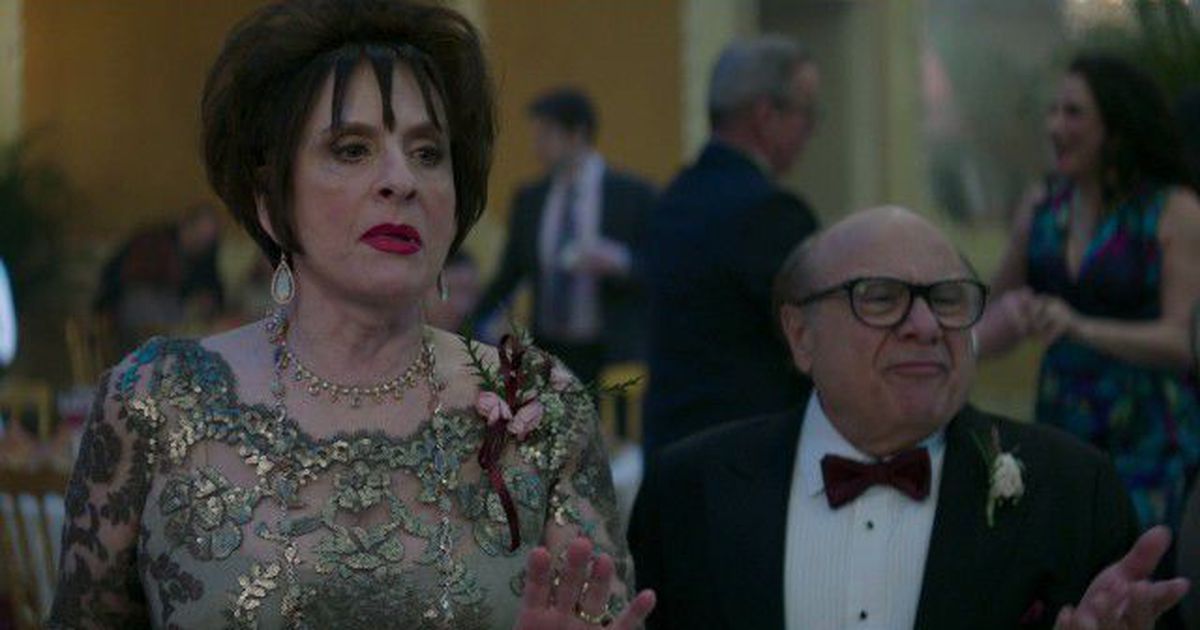 One of the highlights of the film is that it has a sense of gratitude towards the art of comedy. Numerous comedians make appearances throughout the film, both new and old. Many of the older comics are individuals who have done films in the past with De Niro and because of that, we get to see them grace the screen again after, in some cases, too long of an absence. This is primarily true for De Niro's Midnight Run co-star Charles Grodin, who is always great, but who mainly makes small appearances on television shows these days. Other notable appearances include Billy Crystal, Gilbert Gottfried, Jimmie Walker, as well as Hannibal Buress.
In the end, there doesn't seem to be much hope for Jackie. While the conclusion of the film seeks to find a happy ending, it wants to have its cake and eat it too. Jackie does find some level of happiness in a plot twist that seems very forced and formulaic, but at the same time, it is given somewhat of another cringe-worthy moment that is in keeping with what we've seen of Jackie, but again it feels like another punchline that feels flat.
The Comedian is a film that may get noticed due to the talent of the cast and the level of its performances, but it is contained within a narrative arc that is lacking. Like Jackie's fading career, this film will mostly be playing to empty rooms, but might find a life going more viral once it lands on home video and on-demand digital platforms.